The Massive Amount Of Cherry Limeade Sonic Sells Every Year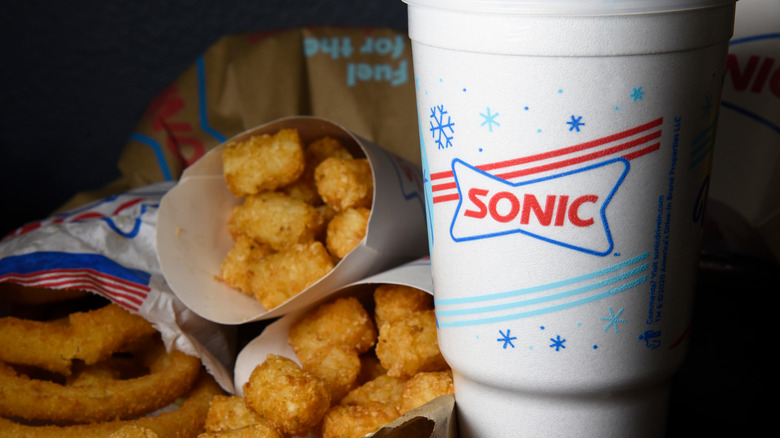 Wild As Light/Shutterstock
The iconic Sonic Drive-In, which first opened in 1953, now has more than 3,500 locations in 46 states across the U.S., per the brand. It became known for its style of service, where servers, known as carhops, would bring customers their food on roller skates. However, per Yahoo, today, whether carhops actually skate to deliver your food varies from location to location.
Sonic's menu is extensive, with items ranging from burgers and grilled chicken sandwiches to tots and mozzarella sticks. This makes Sonic a nice place to get some food with friends. A plethora of possibilities means that you'll be sure that there's something for everyone. 
Apart from the food Sonic offers, they have a surprisingly long list of drink options to quench your thirst (via Sonic Drive-In). So, whether you're in the mood for a soda, lemonade, slush, or tea, Sonic has you covered. But there is one drink, in particular, that is a huge hit among customers: the cherry limeade. And you won't believe how much of it Sonic sells each year.
Cherry limeade is incredibly popular
So what makes Sonic's cherry limeade drink so popular with fans of the fast food franchise? The answer: It combines tart lime juice with sweet cherry flavoring, per the fast food brand. This ideal blend creates sweet, mouth-puckering refreshment and is an instant mood elevator. What's in it? Cherry flavor, cherry fruit, Sprite, a lime, and ice.
Sweet and tangy, Sonic's cherry limeade is delicious, refreshing, and can be enjoyed at any time of the year. In fact, the drink is so popular with fans of the chain that Sonic sells the equivalent of what would fill 15 Olympic-sized swimming pools each year. Now that's a lot of freshly squeezed limes. The next time you're at a Sonic Drive-In and aren't sure what to order from the drinks menu, give the cherry limeade a taste test and you'll be in for a fun treat. If you're still not sold, the chain also offers plain, cranberry, and strawberry limeade versions, per the menu.