Alton Brown's Meeting With This Eggy Character Has Fans Cracking Jokes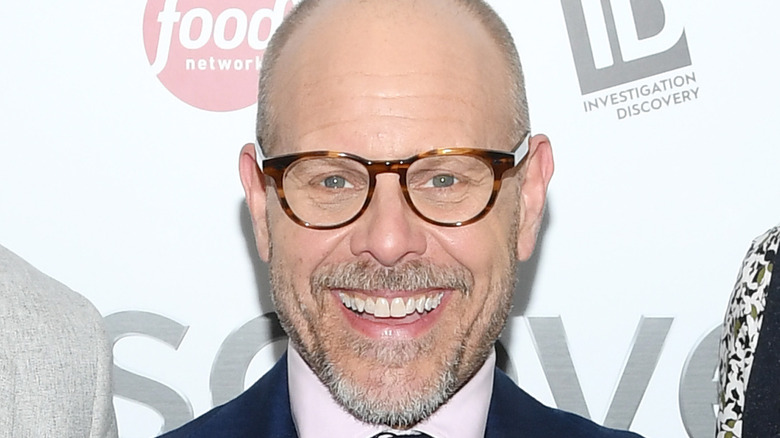 Dimitrios Kambouris/Getty Images
Alton Brown is known for his humor as well as for his knowledge of food, so what could be a better fit for the celebrity chef than a photo op with a giant egg man? In a recent Instagram picture, Brown showcases himself posing with a human-sized Humpty Dumpty statue. He wrote in the caption, "Hanging with #humpty in #coloradosprings @pikespeakcentercs #BeyondTheEats." The egg man is clearly a nod to the children's nursery rhyme of the same name that shares, "Humpty Dumpty sat on a wall, Humpty Dumpty had a great fall" (via HuffPost).
In addition to being whimsical fun, Brown's post set fans up with an endless supply of egg-themed jokes. Said fan @luckyyates, "Stay away from that egg, man, he's headed for a major fall," while @bendiamond05 warned, "Don't lean back!" Fan and follower @journals.of.josephine99 simply wrote, "Eggcalent!" while @maryfnurse described the scene, "One egg head to another!" We have to admit, considering Brown's humorous and entertaining persona, this could be the beginnings of an "eggs-traordinary" partnership.
Brown has some eggs-plaining to do
In his Instagram picture, Brown is sitting next to what is actually one of many Humpty Dumpty statues in Colorado Springs. According to Fox21 News, the egg man at the city's Pikes Peak Center is the original — and perhaps the most famous. He's called Hump D and was created by Kimber Fiebiger in 2003 for the yearly Art on the Streets program. The 200-pound Hump D has since been joined by three more egg men on South Tejon Street.
As for what brought Brown to Colorado Springs, he made a stop there for his live Beyond the Eats tour, which still has a number of available dates nationwide for fans looking to snag a ticket, per the website. In the meantime, people are leaving Brown with some parting thoughts — namely in the form of pleas to not crack this egg to make an omelet. Said fan @brock_blades, "Don't knock him off! He'll have a hell of a time getting back together."