Clean Out Your Fridge With Sunny Anderson's 'Bottom-O-Tha-Jar' Salmon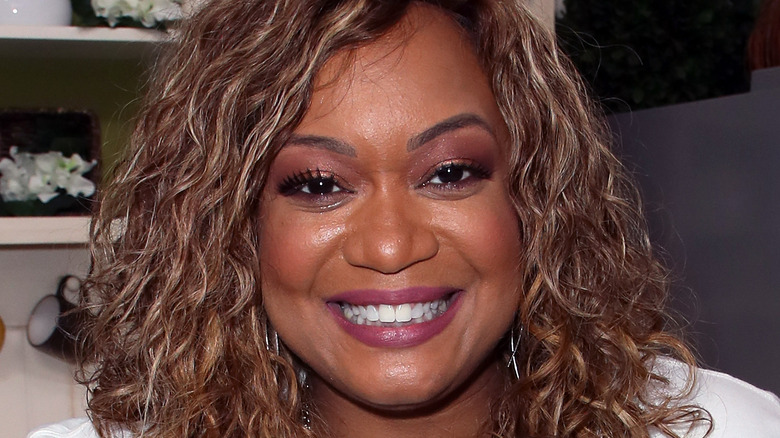 David Livingston/Getty Images
Take it from Sunny Anderson: culinary magic can happen when you know how to repurpose leftovers lying around in the fridge. On her Instagram, the Food Network personality and cookbook author shared her easy-peasy "bottom-o-tha-jar" salmon recipe for using up what's left in your fridge. The star schooled followers on the importance of proper hygiene, food safety, and food waste in the process.
In her Instagram photo caption, "The Kitchen" co-host detailed how cleaning out her fridge and polishing the exterior gave her a fresh outlook on standards for proper refrigerator upkeep. "Anything new going in will need a passport, visa and a thesis for why it needs entrance, tuh!" she writes. "And please wash ya hands before touching the door handle, mmmkay?" Though it may be hard to fully commit to Anderson's new super organized lifestyle, at least you know if life leads you back to almost expired marinara, you can do better than "just chuckin it in the trash" by repurposing it.
Sunny Anderson's "bottom-o-tha-jar" salmon couldn't be easier
Anderson explained how she makes this quick fish dish on Instagram and doesn't let one drop of leftover marinara sauce go to waste. Using only about ¼ cup of jarred marinara sauce, Anderson added ¼ cup of spicy honey, ½ teaspoon of liquid smoke, some salt, and a generous amount of black pepper. She then spreads the mixture on the top of a salmon filet placed on a baking sheet lined with aluminum foil and puts it "in the oven 350°F until it was done." In the more detailed recipe shared on her stories, the Food Network host stated this takes between 15-20 minutes. The glazed salmon is suitable to eat on its own, but Anderson loves it as part of a simple, nourishing bowl. She captioned she throws in "some grains, some greens" and, in true Sunny Anderson humor, "some fitting jeans," followed by a chain of laughing emojis. 
Anderson's photo received a positive reception, garnering over 6,000 likes and countless comments from inspired home cooks about their favorite ways to use leftover marinara sauce. "I didn't do it, but thinking eggs or shakshuka," writes one follower. Another takes a seasonal approach, sharing "In the winter, it's the base for tomato soup. In the sumner [sic], it's the base for gazpacho." Mozzarella sticks and pizza also received multiple mentions.