This New Children's Book Was Inspired By Waffle House Employees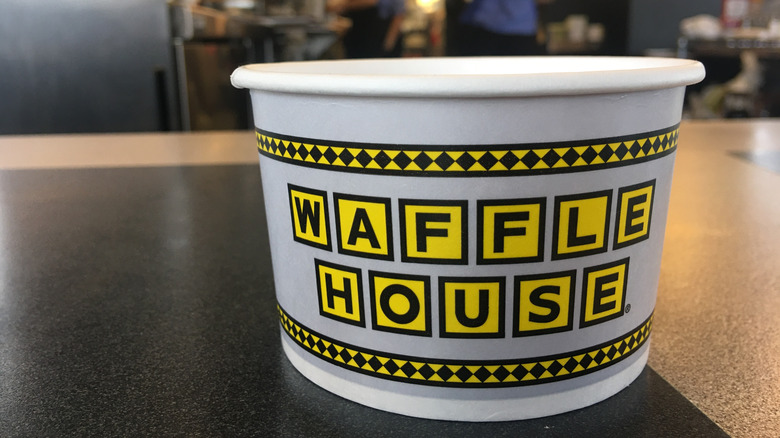 Eric Glenn/Shutterstock
Waffle House has long been known for its menu items like golden-brown waffles, crispy hash browns, and the occasional patty melt. Now, thanks to a new children's book, it's rep also includes a totally different type of side — kindness.
The book, titled "A Waffle Can Change the World," was inspired by 6-year-old Gaines Sturdivant III's firsthand observations of two employees, named Terrie and Dawn, at his local WaHo. Without giving away too many spoilers, a press release on PR Newswire stated, "Through their example, young Gaines comes to understand that individual acts of kindness can truly change the world."
Sturdivant III and his dad, Gaines Sturdivant II, pitched the book idea to Waffle House about the experience at the Nashville #473 location that they frequent. "We readily embraced his son's vision of sowing kindness in as many places as possible," said Waffle House CEO Walt Ehmer.
Whatever Terrie and Dawn expected when they went to work the day they inspired a first-grader, we're guessing international celebrity wasn't it.
Get a copy of the Waffle House children's book
Published by The Nautilus Publishing Company, it's easy to snag a copy of the book online at Waffle House's online shopping site or at the official "A Waffle Can Change the World" website.
Best of all, the "true story" of Dawn and Terrie's kindness isn't going to line any pockets. All net profit from book sales will go straight into the "A Waffle Can Change the World Fund." This fund supports nonprofits that specifically work to enrich today's youth, and provide education to "positively impact future generations," per the book's website.
The book's already well on its way to furthering those goals on its own, as it features themes like kindness, diversity, universal love, and inclusion. Not to mention, of course, that it shows that anyone, anywhere can be an inspiration, especially in the eyes of a child. Go get it, Terrie and Dawn!