Why Your Choice In Butter Matters, According To Martha Stewart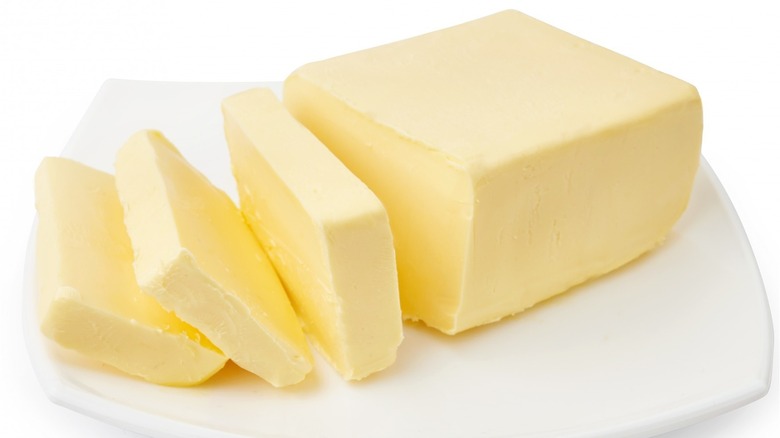 Tanya Sid/Shutterstock
Martha Stewart has long set benchmarks when it comes to high-level foods, fine dining, decorating, and entertaining. Stewart's brand at Martha Stewart Living has helped us all bring a little Hamptons to our homes through both guidance and an introduction to refined food and products. One of these products that may seem simple is actually the secret ingredient in many of Stewart's recipes — expensive butter.
When it comes to baking, Stewart prefers unsalted butter. In an interview at the Food & Wine Classic in Aspen in September 2021, the baker shared, "A lot of people prefer using salted butter in their crust. I usually add the salt to it so I can control the salt. Some butters are really salty" (via Food & Wine). Stewart also said her go-to butter brands were Vermont Creamery and Kerrygold.
So what is it that makes specific butter key, according to Martha Stewart?
European style butter has baking advantages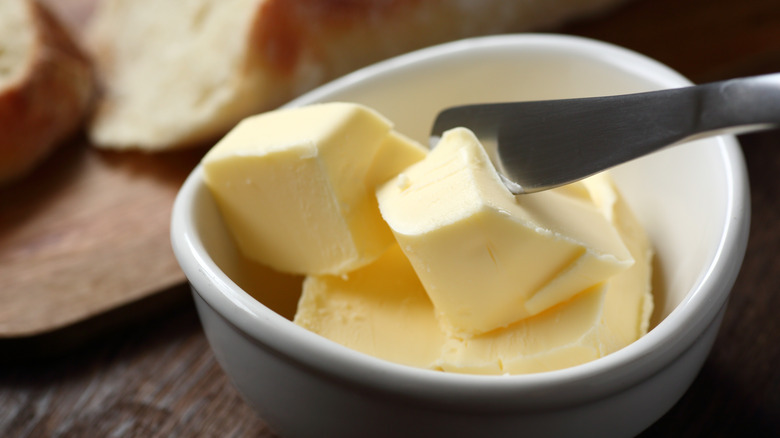 taa22/Shutterstock
Martha's Test Kitchen writer Erica Sloan explains more about the reasoning behind this strong butter preference, noting that while one of these products is made stateside, both Kerrygold Irish butter and Vermont Creamery butter are European-style products available to purchase and use in the U.S. (via Martha Stewart). 
Almost all European versions, however, will have a faster melting point, brighter yellow color, and softer texture due to the increased butterfat content. European style butter has a higher butterfat content than American butter: European butter has a typical butterfat content of 82% to 85% that is sometimes as high as 90%, compared to American butter that only requires 80% butterfat content. In addition, European butter is churned longer, which yields changes in taste, texture, and cooking results. Some European butter will be slightly fermented as well, adding to the flavor. These differences make the butter highly appealing to professional bakers like Martha Stewart. 
And while Stewart's go-to options are widely available in the United States, the European butter market is reportedly expanding (via The Kitchn). We can't wait to keep trying all these new options.