Costco's 5 Pound Mashed Potato Tins Will Make Thanksgiving A Snap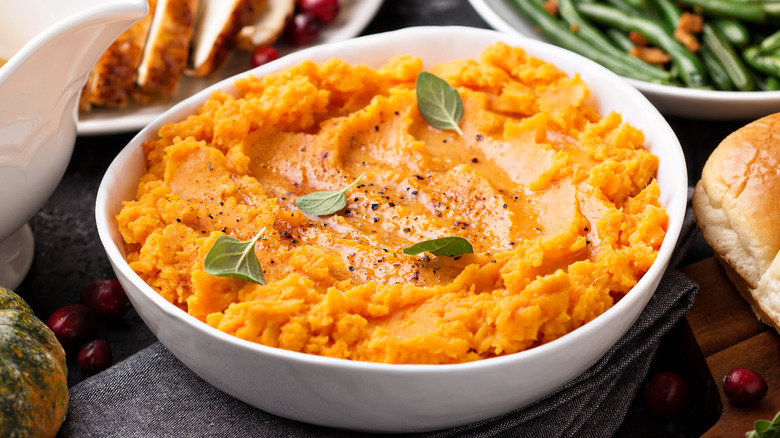 Elena Veselova/Shutterstock
Prepping for a hearty Thanksgiving meal is no joke. You need to get ready to welcome your guests and ensure that you have a definite menu in place. You'll need to also ensure that you pick up all your groceries in advance and start cooking with enough spare time to tackle any unforeseen issues. Thankfully, there are lots of options to play around with. Maybe you're someone who likes to serve Thanksgiving turkey with delicious side dishes such as stuffing, mashed potatoes, a green bean casserole, cranberry sauce, and more. Or perhaps you stick to two or three classic dishes and get creative with food options like dinner rolls.
It can be pretty overwhelming to plan for Thanksgiving dinner, but luckily, there are ways out. Per an Instagram user, Costco has some tempting products that are definitely worth considering for the holidays, including readymade mashed potato options that can make meal prepping much easier.
Shoppers are very excited
Per the popular Instagram account Costco Buys, Costco has two options that deserve a place in your shopping cart: mashed potatoes and mashed sweet potatoes. The best part? These dishes simply need to be heated and are available in ready-to-eat tins. Unsurprisingly, fans are thrilled about this product. One Instagram user said that they would not want to pick between the two options, implying that both look rather tempting. Another said that they would opt for the regular mashed potatoes and think that they're definitely worth the buy. They explained, "One less last-minute side dish to prepare!" Exactly. A Costco fan agreed with this idea and said, "These potatoes are great and worth the convenience of not worrying about one more dish." For someone else, the sweet mashed potatoes would have been perfect if they included marshmallows. 
Can't choose between these two mashed potato options? Buy both for your festive dinner!