Costco's 5 Pound Mashed Potato Tins Will Make Thanksgiving A Snap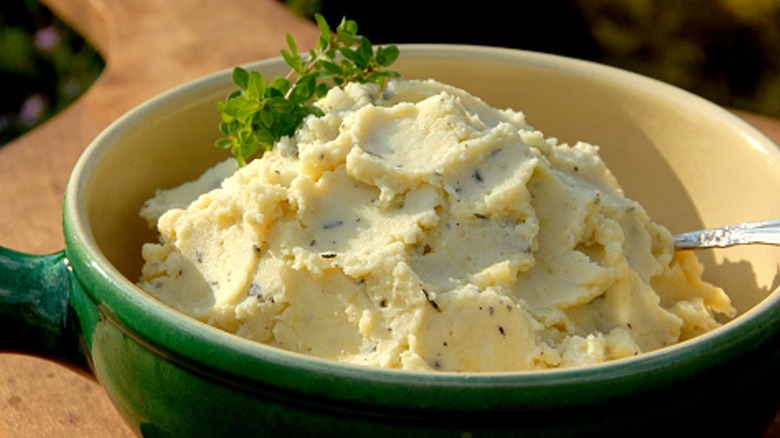 Funwithfood/Getty Images
There are some popular Thanksgiving side dishes that most people just can't imagine the holiday without, and for many folks, mashed potatoes fall into this category. When the time comes to prep this beloved side dish, there are plenty of ways to do it. From countless mashed potato recipes to instant options that some people swear by, this is a side dish that can range from very time-consuming and difficult to surprisingly simple. Still, if you typically make a full home-cooked meal for Thanksgiving, or if you're in charge of prepping multiple side dishes, you'll probably want to take as many shortcuts as possible to get dinner on the table on time and with ease. If this is the case, then it might be time to get your hands on Costco's 5-pound mashed potato tin.
Costco offers these pre-made mashed potatoes in its refrigerated section for the holidays each year. They're all ready to heat and serve, and plenty of folks consider them a standby for Thanksgiving that makes prepping for the big meal much easier and quicker — but just as delicious.
What makes Costco's pre-made mashed potatoes a Thanksgiving staple?
Costco's premade mashed potatoes come in two varieties: Yukon Gold potatoes and sweet potatoes. And as people have come to expect from the popular wholesale store, each package comes at a great price and with way more mashed potatoes than you might have imagined. You can get about 5 pounds of mashed potatoes for just around $10-$15. The package also includes microwave instructions, so not only do they require less than 20 minutes to prepare, but you won't have to worry about using the oven, which is likely already full of plenty of other dishes on Turkey Day.
It's easy to see why plenty of Costco shoppers come back every year to snag these easy-to-prep potatoes. And as of 2023, the store is offering a brand-new option for mashed potato lovers who are looking for something a bit more exciting: Costco is now selling loaded mashed potatoes. In addition to the Yukon Gold potatoes and butter in the original pre-prepared tin, this option includes bacon, parmesan and mozzarella cheeses, and sour cream.