Cereal Prices May Be On The Rise In 2022. Here's Why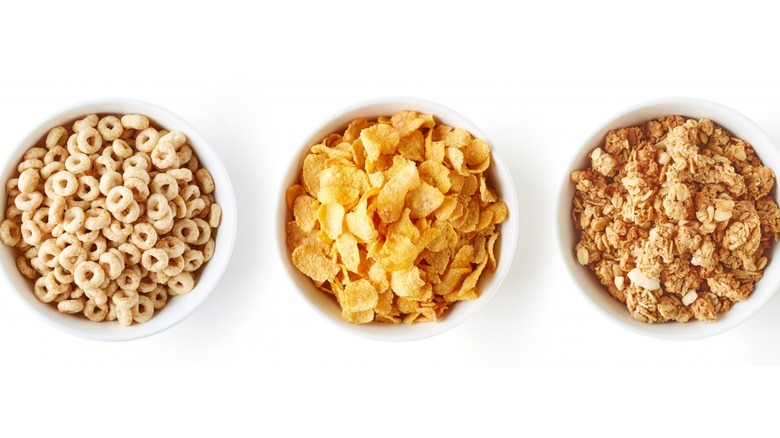 bigacis/Shutterstock
As 2021 slowly moves into 2022, experts predict global food prices to continue to rise. According to Modern Farmer, rising gas prices, bad weather, the ongoing global pandemic, and several other factors have caused global food prices to increase, while the availability of easily-purchased food has also fallen according to UN records. This change in food production and availability should affect many key areas, including cereal.
According to CNN, General Mills has informed customers that they plan to raise their prices on Cheerios, Cinnamon Toast Crunch, Lucky Charms, Wheaties, Reese's Puffs, Trix, and more, in addition to other brands, like Yoplait and Annie's. Some items may see a price increase of up to 20% in the coming year, and General Mills joins other major food producers like Tyson, Kraft Heinz, Mondelez, Procter & Gamble, and Kimberly Clark in the price hikes.
While the cost increase has a potential to get absorbed by the stores that sell cereal, an anonymous source that leaked the price spike info inferred that consumers should expect to bear the brunt of the cost increase, per Food & Wine.
Why cereal prices are spiking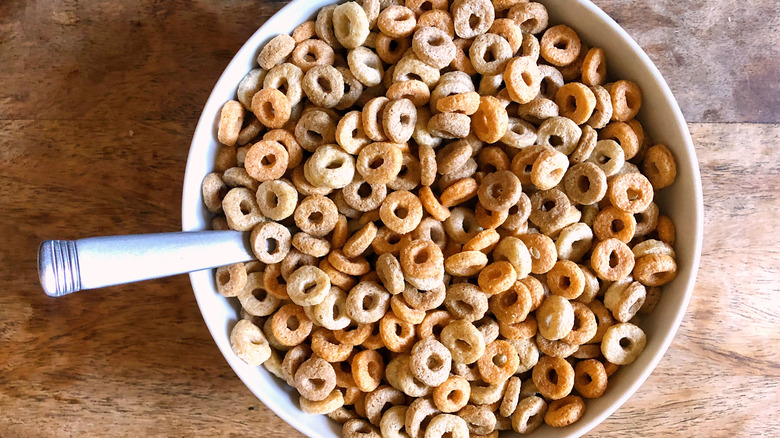 Niko Natsuki/Shutterstock
Not every store plans on keeping cereal at consistent prices. CNN reports that certain retailers may raise prices faster than their competitors. Out of all the chains, Walmart claims the widest price gaps due to the company absorbing more of the rising food prices instead of passing it on to buyers. While some stores may manage to lessen the pain in your wallet, expect higher prices for goods, the cost of labor, transportation, and other variables to trickle down to your favorite cereal's price tag. General Mills also claims that it has responded to these aspects that lead to a higher price tag on your Cheerios. But if the unnamed source's information proves correct, you can expect a significantly more expensive breakfast next year.
If you love starting your morning with a bowl of your favorite cereal, make sure to financially brace yourself for the potential upswing in prices. With any luck, the rising cost of cereal won't completely throw off your breakfast budget, but either way, get prepared to shell out a bit more if you can't imagine starting your day with another meal besides this staple.