Rick Bayless Just Announced This Spicy New Smashburger Collab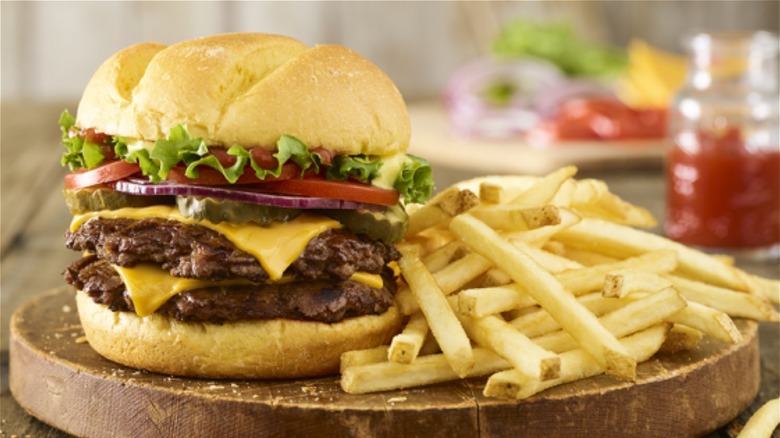 Smashburger
Smashburger always tweaks its menu in order to give diners an optimal dining experience. According to The Daily Meal, Tom Ryan, one of the co-founders of the fast food chain, uses his Ph.D. in flavor and fragrance chemistry to fine-tune the flavors of the burgers. Each location has a unique local burger on the menu, and the bread and barbecue sauce at each restaurant gets locally sourced. While many have found something to love on the chain's menu, diners might have noticed that the restaurant lacks any Mexican-inspired items. With Smashburger's latest offering, this all changes.
According to a press release sent to Mashed, chef Rick Bayless developed a brand-new Chorizo Cheeseburger that hits participating locations for a limited time. From November 30 until February 15, 2022, diners can pick up this new offering that features Angus Beef smothered in V&V Supremo's spicy all-natural Mexican-style pork chorizo, melted cheddar cheese, jalapeño pico de gallo, lettuce, and mayo. This is all packed into a spicy chipotle bun. If you have always craved a chorizo burger or just a sandwich with a bit more of a kick, then this item has your name all over it.
A ton of flavor to love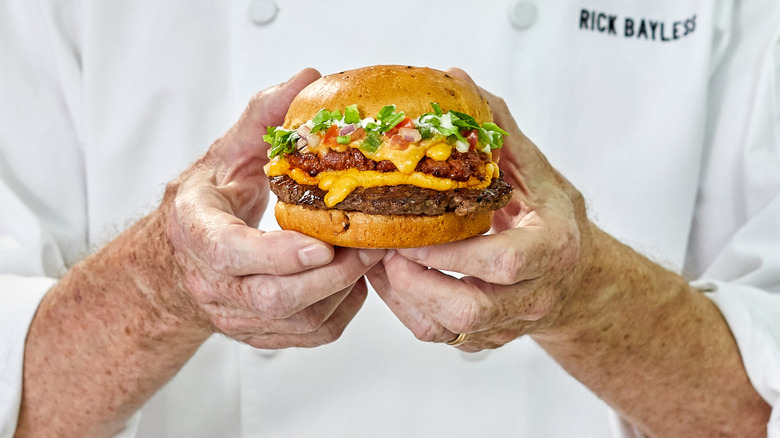 Smashburger
Smashburger also has some plans to get people in the door and excited to purchase this new burger. According to the statement Mashed received, the restaurant plans to offer a BOGO deal on December 2 where customers can buy a Chorizo Cheeseburger and add a second one to their order for an additional $1. While this burger graces menus, Smashburger plans to match consumer donations from every purchase of the sandwich in order to raise $75,000 for Frontera Farmer Foundation, a nonprofit organization established that supports small, sustainable farmers throughout Midwest America.
If you're looking for a tasty way to support a good cause or just love chorizo, consider making your way over to a Smashburger to see if this burger is what you've been craving. Just make sure not to wait too long. After all, the Chorizo Cheeseburger is slated to go away in February, and who knows if or when you'll see it again? With any luck, the momentum might get more restaurants to embrace chorizo as a great burger topping, thanks to Smashburger helping to put it on people's radar.