How Trump Tower's New Bar Menu Pays Tribute To Trump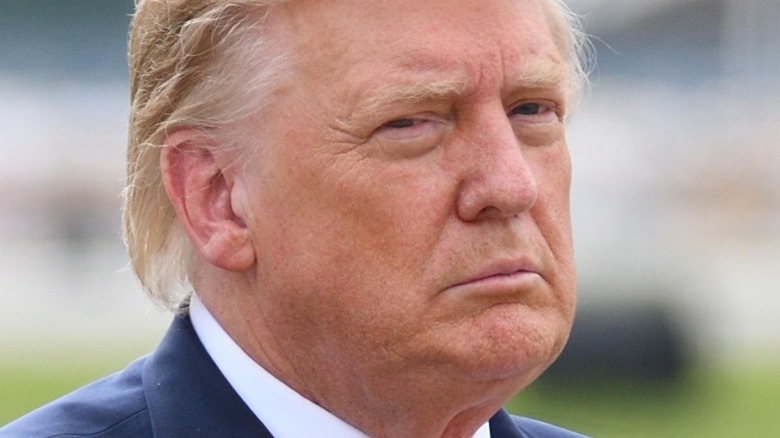 Former President Donald Trump has a new bar dedicated to his single term as leader of the free world. 45 Wine & Whiskey is the brand new watering hole located inside Trump Tower in New York City. 
Of course, the name of the establishment denotes Trump's numerical place in the line of U.S. presidents, but 45 Wine & Whiskey bar also seems like it's determined to pay more than just a passing reference to the former POTUS. According to Forbes, the bar's decor includes something of a presidential greatest hits pictorial, including one shot of a stonefaced Trump, seated in the Situation Room and observing "the raid in which U.S. forces killed ISIS leader Abu Bakr al-Baghdadi." The venue's Instagram page shows off more glimpses inside the posh-looking, gold and brass-trimmed lounge, which appears to be a re-branded version of the former establishment known as The Trump Bar.
While it's unclear, as of this writing, who actually owns the bar (Trump Tower leases residential and commercial space), the joint is definitely open for business — and those who do choose to visit the swanky saloon can expect to find a plethora of presidentially-themes cocktails at the venue, too. 
The menu is a top to bottom Trump tribute
The cocktails at 45 Wine & Whiskey are undoubtedly a nod to former President Donald Trump. Specialty cocktails at the venue include the Rose Garden, The West Wing, The FLOTUS, and, of course, The Mar-A-Lago Spritzer, named for the so-called "Southern White House." The prices range from $25 to $29. There's also a drink called the Forty-Five which is essentially an Old Fashioned, and is priced at its name. It has Demerara sugar, Wyoming whiskey, and orange bitters. Why is it so expensive? Patrons who order the Forty-Five also get "two American Beef Sliders" and a Diet Coke, the famously preferred beverage that Trump had on demand at the White House at the push of a button. 
Naturally, the wine list at the tony tavern features no shortage of Trump Winery offerings. In fact, as of this writing, only three other vineyards, Josh Cellars, Joseph Carr, and Girard have a few selections on the menu. Several of the 45 Wine & Whiskey's cocktails also include wine sourced from Trump Winery. The FLOTUS, for example, blends St. George gin, Trump Blanc de Blanc, lemon juice, and simple syrup. Meanwhile, the Rose Garden has Trump Rosé, rose water, and St. George gin, and the aforementioned Mar-A-Lago Spritzer combines Trump Sauvignon Blanc, grapefruit, and seltzer.