How Army Mess Hall Cooking Led To The Creation Of Stubb's BBQ Sauce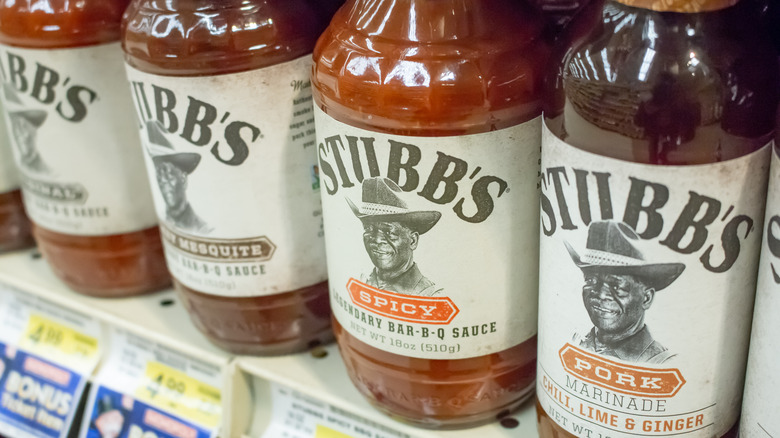 Tonelson Productions/Shutterstock
We may receive a commission on purchases made from links.
Do you love barbecue? We know we do. Whether it's a sticky mess of baby back ribs, a big beef brisket sandwich, or an easy-peasy platter of chicken, the wide-ranging world of BBQ is a favorite companion to crunchy coleslaw, smoky baked beans, and a cold beer. One of our favorite pastimes is barbecuing at home, but we've been known to take some shortcuts when we do. Sometimes we reach for a grocery store BBQ sauce in a bottle to make things quicker and easier, and one of the many brands we like is Stubb's.
A basic, dependable sauce made with tomatoes, vinegar, molasses, brown sugar, paprika, onion, garlic, and hickory smoke (via Amazon), Stubb's Bar-B-Q Sauce traces its origins to Lubbock, Texas, where Christopher B. "Stubb" Stubblefield opened his blues-and-barbecue spot, Stubb's Legendary Bar-B-Q, in 1968 (via McCormick). So who was Stubb and where did he get his cooking chops?
A mess hall cook turned BBQ sauce expert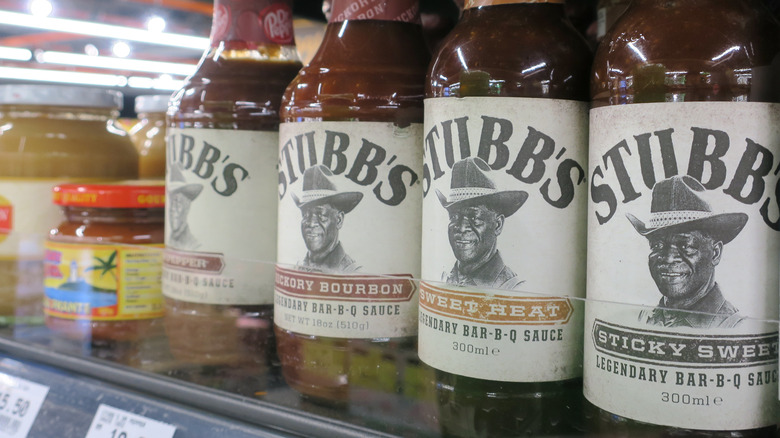 IZWAN IS/Shutterstock
According to McCormick, the spice and seasoning company that markets Stubb's Bar-B-Q Sauce, creator Christopher B. "Stubb" Stubblefield was born in 1931 in Navasota, Texas. He later served in the Korean War as a mess sergeant responsible for feeding thousands of hungry men. "Friends say the mess hall was the first real incarnation of Stubb's Bar-B-Q," the McCormick website notes, referring to the barbecue and blues spot Stubb opened in Lubbock, Texas. He opened the restaurant in 1968 after being honorably discharged from the service with two Purple Hearts.
The restaurant quickly turned into a favorite spot for live music and delicious barbecue meals and was regularly visited by the biggest names in country and blues music. In 1986, after basically being run out of Lubbock, Stubb opened the second iteration of his BBQ joint in Austin. Friends and patrons, beguiled by his delicious BBQ sauce, urged him to bottle and sell it. In 1992, Stubb's Bar-B-Q-Sauce hit supermarket shelves. Stubb passed away in 1995, but his sauces live on: The website lists available flavors that range from Hickory Bourbon to Sweet Honey & Spice.