The White House's 2021 Gingerbread House Honors These Essential Workers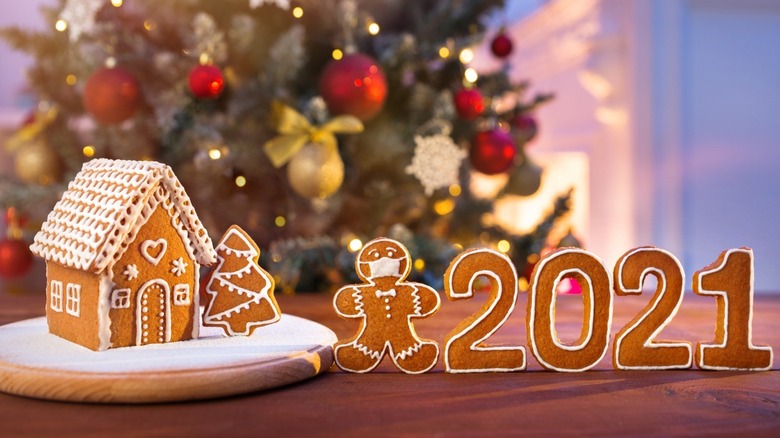 You may not know pastry chef Susan Morrison by name, but you're probably familiar with her work. Since 1995, the top level baker has worked in presidential kitchens, becoming Assistant Pastry Chef in 2002 before being promoted by then-president Barack Obama to White House Executive Pastry Chef in 2014. The distinction made her "first woman to serve in this role," according to the Obama White House Archives. 
All that time spinning sugar for the country's chief executive has given Morrison many opportunities not just to make desserts for state dinners, but to plan and execute gingerbread White Houses under different presidential administrations in time for the festive holiday season. Past festive gingerbread creations have featured cameos of presidential pets, Santa's workshops, and creatures from popular children's literature (via White House History).
This year, First Lady Dr. Jill Biden wanted things to be a little bit different, because she wanted to shed a spotlight on all the people who kept essential business and services going during the coronavirus pandemic. Morrison was tasked with bringing Dr. Biden's vision to life, and she certainly delivered. 
The Biden Gingerbread White House is more like a Gingerbread community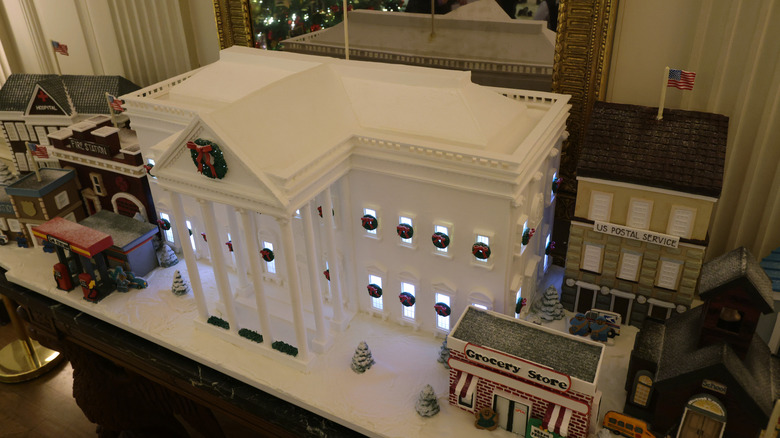 Alex Wong/Getty Images
The Biden administration's first gingerbread White House (above) sits amid a cozy neighborhood with buildings that play an important role in any American community. There is a hospital, a fire station, a post office, and a schoolhouse, along with a grocery store, a warehouse, and a gas station (via ABC News). Morrison says it took five people "several weeks" to work on and finish up the 350 pound display. The First Lady, who is a teacher, even had the chance to add a gingerbread figure that's surely close to her heart: "a gingerbread schoolteacher holding an English grade book and a apple-filled satchel reading '#1 teacher.'" (via The Washington Post). 
Jill Biden's first gingerbread White House is something of a departure from the last pastry creation undertaken under her predecessor, Melania Trump, who embraced a more simple construction that saw the Executive Mansion recreated in pastry, down to its resident trees and flower beds (via The Independent).
This year's White House Christmas is built around a "Gifts from the Heart" theme. Dr. Biden explains (via ABC News): "For all of our differences, we are united by what really matters. Like points on a star, we come together at the heart. That is what I wanted to reflect in our White House this year. In each room, we tell a story of gifts from the heart."