The Real Reason Panera Bread And Au Bon Pain Are So Similar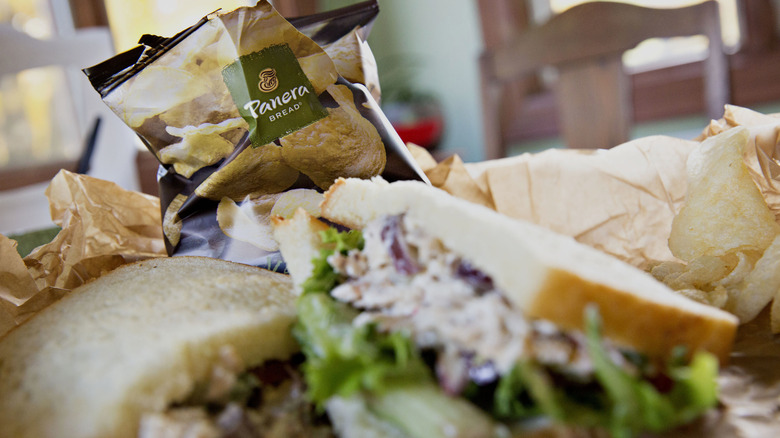 Bloomberg/Getty Images
Fast-casual restaurants, also known as quick-service restaurants or QSRs, have become increasingly popular over the last few decades. Technavio, a global technology and research company, predicts that the fast-casual restaurant industry will grow by more than $35 billion in the five-year span between 2020-2024. And one of those QSR chains leading the pack is Panera Bread, which grew its sales by nearly $6 billion in 2018 alone, per Restaurant Business.
Panera Bread has made a name for itself by being a café that offers a wide range of affordable meals, including sandwiches, salads, and a large bakery section. But some might recognize that the chain also resembles yet another fast-casual restaurant brand: Au Bon Pain. Both places offer limited service, and their menu items are similar. They mostly feature the same type of food: "café" options, including breakfast, sandwiches, soups, and more. And it turns out there is a good reason why these two places have so much in common.
Panera Bread once owned Au Bon Pain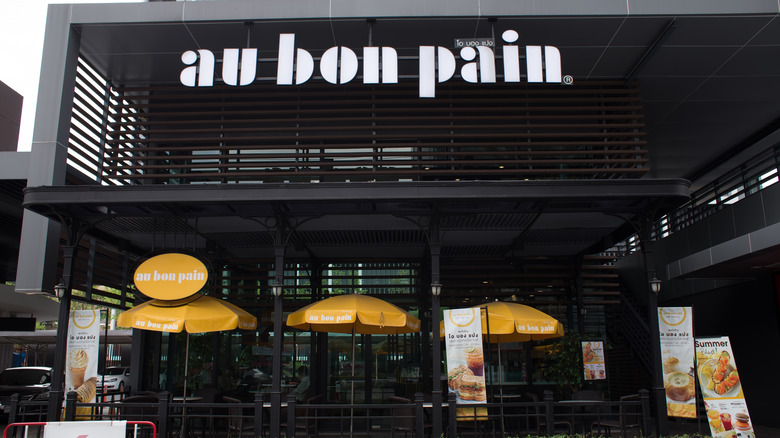 Settawat Udom/Shutterstock
If you're wondering why Au Bon Pain has such a similar menu to Panera Bread, it's because the companies were related at one time. Before there was Panera Bread, there was an independent cafe chain named St. Louis Bread Company. According to Delish, Au Bon Pain founders Ron Shaich and Louis Kane purchased the small St. Louis bakery, and the two men turned the company into Panera Bread. This meant Panera and Au Bon Pain were now operating under the same parent company. This explains the commonalities between the two chains.
Ultimately, the Au Bon Pain co-founders didn't keep the two names attached. Delish reports that in 1999, Louis Shaich sold Au Bon Pain to focus solely on the Panera brand. In 2017, though, Shaich purchased Au Bon Pain once more (via CNBC). But Restaurant Business reports the chains went their separate ways for a second time when Panera sold Au Bon Pain to Ampex Brands in 2021. Next time you step into either place and question the resemblance, you'll know why.