This Minty McDonald's Holiday Drink Is Back For 2021
It's back! McDonald's McCafé Peppermint Mocha is returning to menus again, just in time for the holiday season. And there's no shortage of love for the drink. According to PopSugar, who calls it "holiday perfection," the drink has the right balance of minty and sugary flavors and calls to mind the combination of an Andes mint mixed with coffee. Another blog, Fast Food Geek also appreciates the drink, noting it hits the spot when you're craving the combo of mint and chocolate.
According to McDonald's, this signature winter drink (available only for a limited time) comes in a small or large size, packing in 290 calories and 430 calories, respectively. The drink is made with whole milk, chocolate peppermint syrup, whipped cream, espresso, and a chocolate drizzle. Brand Eating reports that prices should start at around $2 for a small Peppermint Mocha, but also cautions not to expect every McDonald's to carry the beloved item, so plan ahead!
It's a minty pick-me-up for any time of day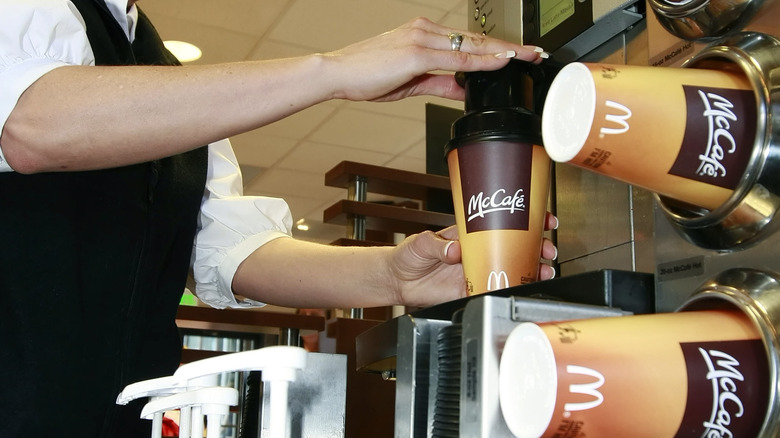 Bloomberg/Getty Images
You might wonder how this year's version of the McCafé Peppermint Mocha stacks up compared to previous incarnations of the drink. One YouTube reviewer got their hands on the coffee concoction a few days ago and stated that the drink resembles a peppermint hot chocolate, though laments that the coffee flavors didn't shine through. Another reviewer on the platform tried the iced version of the drink and enjoyed the flavor, but found the drink somewhat watery. 
If your local McDonald's carries the drink, you might want to give it a try yourself and see how it stacks up. With a bit of luck, your experience will exceed the average video reviews that have come out so far and might just give you that fresh pick-me-up you crave in the morning or during the middle of the day. Either way, the flavor combination can hopefully get you in the holiday spirit and ready for the rest of winter. And if you need another option, there's always Starbucks Peppermint Mocha instead.