Twitter Is Begging For A Skittles Follow After This Funny Tweet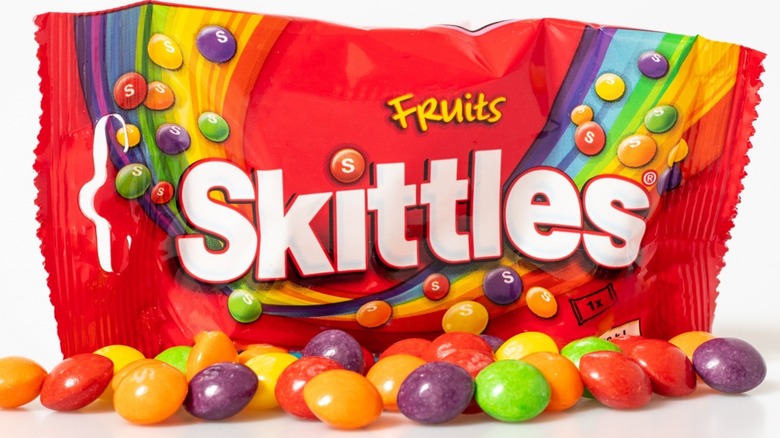 Cucu Andrei Adrian/Shutterstock
Wendy's Twitter is the queen of throwing some shade, but apparently the idea of Skittles dissing us causes widespread distress. Sending out a vaguebook-style message on Twitter on December 2, the candy brand wrote, "Skittles just unfollowed you." Then, following up on a nicer note 18 hours later, the company added, "But Skittles does still love you." What follows is a battle for Skittles' love that could only happen on the internet.
Twitter user Violet shared masterfully crafted image of a couple of Skittles bags held by a Minecraft character, along with a rainbow candy background, and said, "I literally put you in Minecraft I think I deserve the mutual." And luckily for Violet, the brand agreed, replying with a message that read, "Wow. Ok yes. Followed" (via Twitter).
But others weren't so lucky. QuinteXotics huffed in frustration. "[That's] it [I'm] not selling your products no more," they wrote. In response, after taking note that the user was actually a snack shop that sold exotic options, Skittles asked, "I'm an exotic snack?"
This fast food company is followed by Skittles
Burger King was quick to check their status after seeing Skittles' tweet and after confirming they were still on the candy brand's coveted list, they shared a screenshot that showed Skittles still follows them. "Just checked," the told their own fans (via Twitter). Skittles has yet to reply, but fans were quick to chime in, calling the brand a "show-off" or "lucky" to be part of the popular rainbow club. Follower Bovine&Canine, had a more detailed theory that, "They're following to keep the peace. If they unfollowed a war would break out" (via Twitter).
And while proud fans may have grabbed that highly elusive Twitter follow, others aren't particularly interested. Non-fans include the general sprinkling of persons unhappy across all Twitter pages or those who are quite aware Skittles never followed them in the first place. One fan definitely made the rainbow candy nervous, however with this simple threat: "Ima mix you, m&ms, a Reese's pieces in one bowl and make you nit pick at them," BruhIDEKman stated. "You wouldn't," Skittles replied (via Twitter).
As of writing, Skittles is currently following 200 accounts with over 549,000 followers. Of those two accounts, Violet and Burger King are listed and BruhIDEKman is not.