Costco Shoppers Are Jealous Of Japan's New Food Court Menu Items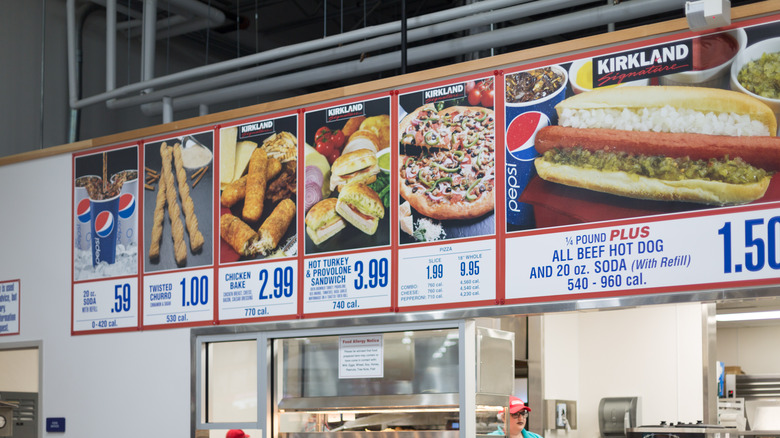 Helen89/Shutterstock
As exciting as the deals are at Costco in general, the most thrilling part for some hungry shoppers is visiting the food court on their way out of the store. That's where you can get items like hot dogs and soda for just $1.50, a whole pizza or just a slice, and their cult-favorite chicken bake.
But that's just at Costco food courts in the United States. Other countries have their own staples. Canadian Costco serves poutine and chicken wings and in Taiwan, they have lemon slush and seafood. Meanwhile, in the UK, you can get loaded jacket potatoes and cottage pie (via Buzzfeed). But Japan's food courts in particular seem to be coveted by Costco fans stateside. 
In the past, Costco shoppers on Reddit have salivated over items like dark cherry ice cream sundaes and meaty bulgogi bakes. So, when fans heard about the newest Costco Japan food court items to hit the menu, they got really excited.
Costco shoppers are excited about new ice cream and sandwiches
A recent post on the Costco subreddit showed a picture of the Japanese food court menu. It includes dessert items like caramel soft cream (soft cream seems to be a translation for soft serve ice cream), soft cream mix, and Hokkaido soft cream, which is an especially creamy and rich flavor (via Maido). On the savory side, there are a few different options, including the American-style Garden Burger and Cheeseburger, the Pulled Pork Burger, and an Aussie Beef Pie.
The reviews are in, and apparently most of the new Costco Japan food court items are pretty good. "I can confirm the caramel ice cream is amazing," said one reviewer. Another user confirmed that the ice cream is "so good," and said, "The cheeseburger is delicious, but dry." And though some were excited about the Aussie Beef Pie, others were sad because the Bulgogi Bakes seem to have been removed from the menu. Regardless, the overwhelming sentiment in the subreddit seems to be that American Costco fans wish that our food courts could be more like Japan's: "American Costco, why have you forsaken us?"