Trader Joe's Fans Are Loving The Coffee From This Black-Owned Business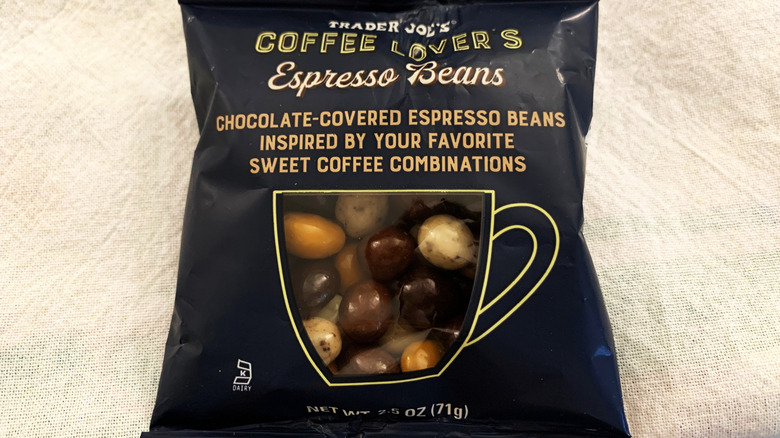 LnP images/Shutterstock
Trader Joe's has no shortage of fans, and for good reason. In addition to fan accounts like How to Trader Joe, Trader Joe's Geek, and Trader Joe's Kitchen (via TimeOut), many people keep up to date on news of the company and its selection of products because they love it so much. In fact, one of the most beloved things about Trader Joe's is its support and sale of small businesses' goods over big name companies. 
Although there are some who believe the company's more generic products are just rebranded from bigger names, Trader Joe's prides itself on its use of smaller brands to source its products over generic labels, at least for the most part. Overall, the products found at Trader Joe's cater to everyone from frazzled parents to broke college students, and there are always new items to try out. Recently, fans of the popular grocery chain found something new to get excited about — a coffee from a Black-owned brand that is sparking quite a bit of buzz. 
The new coffee is Black-owned and brewed
Earlier in 2021, Trader Joe's expanded its small business repertoire as part of a renewed program which included highlighting Black-owned suppliers in an effort to expand its promotion of inclusion and diversity through the products and companies it carries (via Winsight Grocery Business). Now, the major product getting attention is a coffee from Campfire Coffee Co., a Black-owned brand started in Tacoma, WA, which is garnering some pretty great reactions from fans of the store who have discovered its flavor. 
Reddit user dailywaffleblog recently posted an update about the coffee on the community site, sparking a deluge of support and agreement. One follower of the chain called it "super tasty coffee," while another stated that they haven't tried yet, but will "have to pick it up next time I go!" U/72PlymouthDuster was so excited by the find that they said, "You have made my week!!! I am doing a happy dance a-la-Elaine!" 
While Trader Joe's carries the Summer Camp flavor, Campfire Coffee Co. also have a ton of other flavors available for sale on the company's site and elsewhere, including Mountain Top Espresso Blend, which was called out by u/dailywaffleblog as a favorite of theirs. So, if you can't find it at your local Trader Joe's, it may worth visiting Campfire Coffee Co.'s website and seeking out some flavors for delivery instead.