Fans Are Divided Over Who Should Have Won The Buddy Vs. Duff Santa's Workshop Episode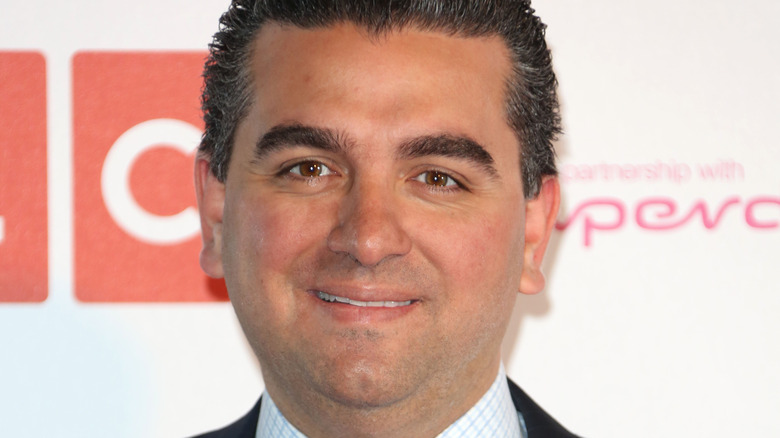 Featureflash Photo Agency/Shutterstock
Before a recent episode of "Buddy vs. Duff" aired, co-star and celebrity baker Duff Goldman gave a sneak preview of his team's submission on Instagram. For eager viewers, he posted a carousel of images of the makings of a spectacular holiday cake inspired by Santa's workshop. For the occasion, the team sculpted a train that appeared to have been carved from a tree trunk, a naughty and nice list, and even a tray of cookies for Santa.
Of course, people loved it. As fans know, Goldman is truly talented at making cakes look like real-life objects, people, and places. "Amazing as always!" one follower exclaimed, while another called the work "absolutely incredible." Both added a declaration of "#teamduff," lest we not know whose side they're on while watching "Buddy vs. Duff." Of course, not one to be outdone, co-star Buddy Valastro shared his team's creation on Instagram after the episode aired. The cake showed Santa dozing at a table, surrounded by toys and hardworking elves in his workshop. While it was more of a recap than a sneak peek, the post still managed to get many cries of, "Amazing," "They are the best in the world," and "Beautiful." 
Who won the "Buddy vs. Duff" Santa's workshop episode?
According to Food Network, the Santa's workshop-themed episode of "Buddy vs. Duff" aired on December 5. After watching the episode, which named Valastro's team victorious, some fans took to Goldman's Instagram post to tell him that he should have been the winner instead. "I think Team Duff should have won," one fan wrote. "The concept was original. The execution was flawless."
However, others took to Valastro's Instagram post to express their support of the judges' decision. "The right team definitely won. Duff's cake was amazing but did not hit the theme," a Valastro supporter commented. Another viewer directed to Goldman: "Your work was excellent, but you lost because there was no clue this was Santa's Workshop; just a Toy Shop. Even a sign saying North Pole; or the floor tile being Red & Green, or a Reindeer watching if you didn't want to have Santa." Allegiances aside, both sides seem to agree that the cakes presented were utterly amazing. And now, we wait to see how Team Buddy and Team Duff address the next episode's holiday-themed challenge: "The Nutcracker."