These Are The Ingredients Chef Pati Jinich Says She Can't Live Without - Exclusive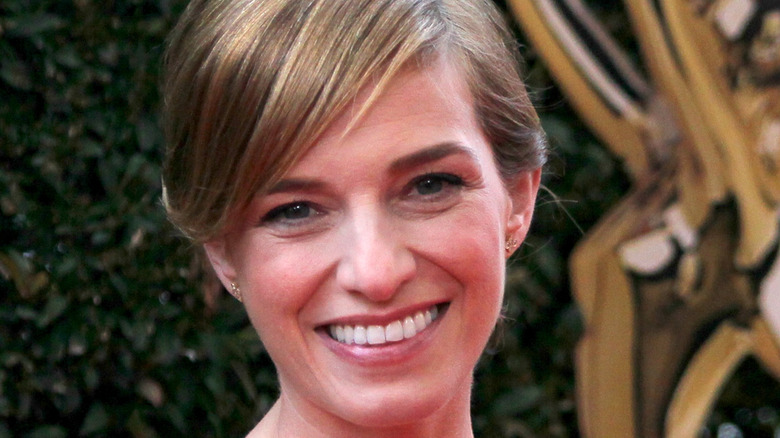 David Livingston/Getty Images
We may receive a commission on purchases made from links.
For Pati Jinich, Mexican food doesn't mean just tacos and tamales — not primarily, anyway. When this celebrated and award-winning chef thinks about the cuisine of her homeland, she thinks of foods she calls "wholesome," "nurturing," and, of course, delicious. As the author of numerous cookbooks, host of multiple TV cooking shows, and a tireless enthusiast when it comes to Mexican cooking, Jinich likes to talk not only about the Mexican dishes she loves to prepare and enjoy, but even about the ingredients themselves on a more granular level, as was discovered in an exclusive interview with Mashed.
Asked which ingredients she couldn't live without, the chef replied: "Chipotles in adobo sauce for sure. Ripe avocados from Mexico — we always have them in our kitchen, because you can do avocado toasts; you can make an avocado taco; and then the avocado is also the perfect ingredient to add to soups, enchiladas, and salads. [There are] so many things," she said, speaking of her favorite items to work with in the kitchen. "So, I would say chipotles in adobo sauce, ripe avocados from Mexico, beans (I go for black beans), ripe tomatoes, white onions, and jalapeño or serrano [peppers]. I think those are musts. Corn tortillas, also. And I'm obsessed with eggs. I eat a lot of eggs."
Jinich thought for a moment, and then added another to the list — an ingredient most Americans may associate more closely with Thanksgiving Day: green beans. "I'm in love with a green bean dish in my book ["Treasures of the Mexican Table"] that comes from the Yucatán Peninsula, where green beans are cooked in a sweet corn sauce and dressed with a chunky tomato salsa and pumpkin seeds."
Jinich also explains how varied chilis can be to cook with in Mexican dishes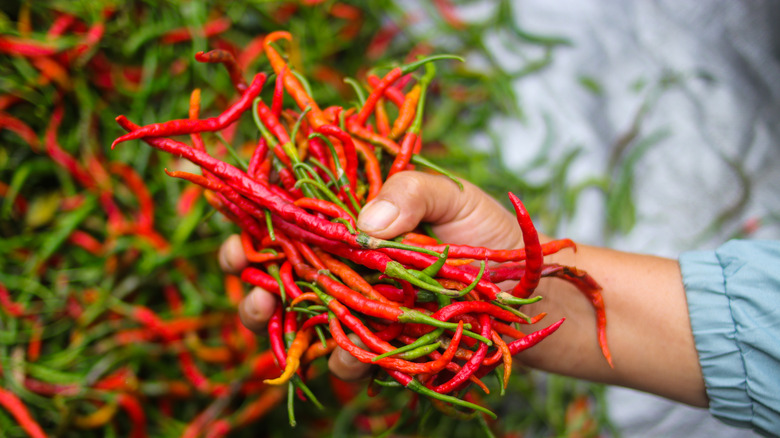 jamaludinyusuppp/Shutterstock
Perceptions about Mexican food are not always in line with what is actually behind traditional, authentic Mexican cooking, added Pati Jinich. Cheese, for example, may be piled high on Mexican food in the States, but it's used much more sparingly in traditional recipes. And while some tend to think of chicken, carnitas, or flank steak when they think of meats used in Mexican food, much of the classic cooking from this region actually leans heavily into seafood.
One other ingredient often associated with Mexican food is the chili pepper, an association that isn't wrong, said Jinich, but it's often misconstrued. "People tend to think about Mexican food as just overly spicy and having chili in everything, but we don't have chili in everything," she explained. "We do love our chilies and there are many chilies that are not spicy, but should be treated as condiments or vegetables." She recommended for people to try and expand their palate by bringing home dry and fresh chilis like anchos, yhelos, and chilies de arable. "They're really like different fruits. One chili is like a banana and another is like a pineapple, they're that different," she said. "So I would say bring in the dried and fresh chilies, and [then you] need to have ripe tomatoes and onions and corn tortillas and one kind of bean or another ... and just start playing with the dishes [with] an open mind."
If you want to explore some of the not-so-spicy chilis that can be worked into many dishes, consider the Anaheim Pepper, a mild but tasty chili that can be used in everything from salsas to soups to omelets and more.
For more inspiration, check out Pati Jinich's new cookbook, "Treasures of the Mexican Table," on Amazon.