Gingerbread Hot Chocolate Recipe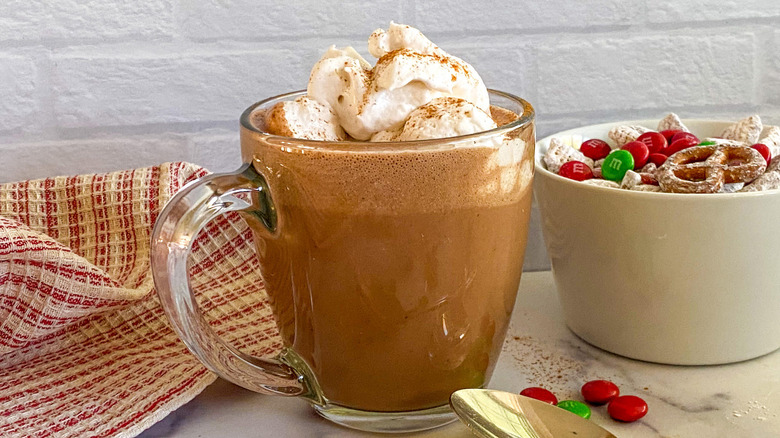 Miriam Hahn/Mashed
During the wintertime, there are several warm drinks that can keep you nice and toasty, but a lot of them involve coffee. There's no doubt that lattes are great, but every once in a while, a nice cup of hot chocolate just hits the spot. This gingerbread hot chocolate not only tastes amazing, but it is sure to be popular with everyone from kids to grownups.
Recipe developer Miriam Hahn came up with this tasty gingerbread hot chocolate, that blows plain old hot chocolate out of the water. This tasty drink is perfect to enjoy in December as you get into the Christmas spirit, but you definitely shouldn't forget about it as the season progresses. "This homemade hot chocolate tastes so much better than pre-made packets," Hahn says. "My favorite thing about it is how creamy and decadent it is, plus it is simple to make at home, and the ingredients are pantry staples." Keep reading to find out how to make this warm treat that will leave you wanting more!
Gather the ingredients for the gingerbread hot chocolate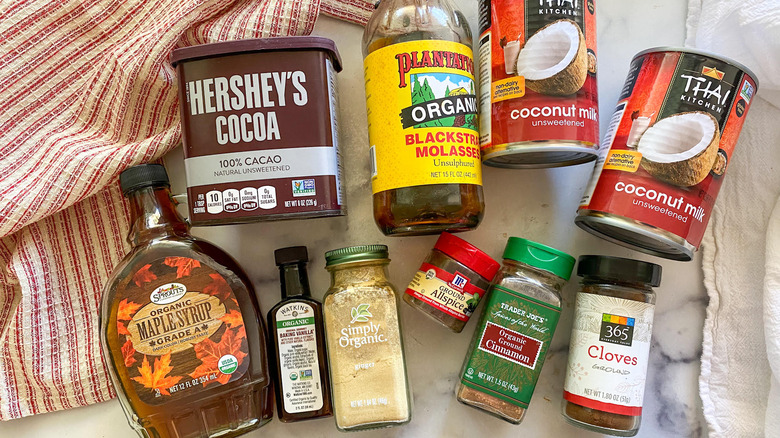 Miriam Hahn/Mashed
Okay, so you've decided to make this hot cocoa, and we're excited to take you along the journey with us to make it. But before you do anything else, you will need to make a list of ingredients to pick up at the store. Start with a couple of cans of coconut milk, and make sure it's unsweetened. Then, you will need some cocoa powder and maple syrup. Like most gingerbread-inspired dishes, you will also need molasses, cinnamon, and of course, ginger. To complete your list, get some allspice, vanilla extract, and cloves. If you want to be extra indulgent, be sure to get some whipped cream to top your drink.
This gingerbread hot chocolate is healthy and delicious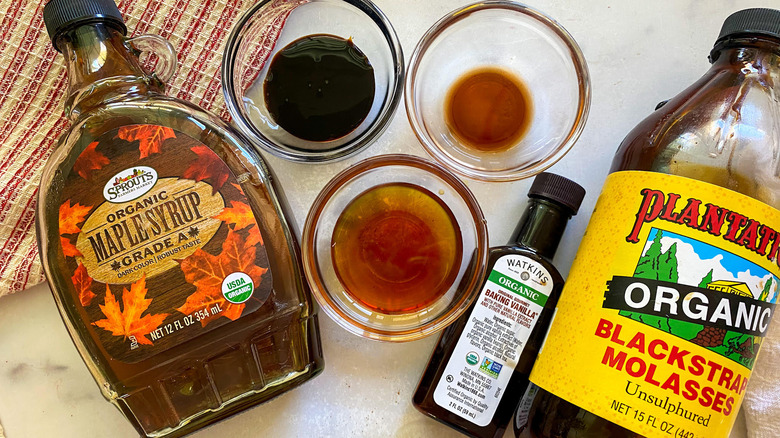 Miriam Hahn/Mashed
Even though this recipe is for hot cocoa, the ingredients still contain a lot of health benefits. "This recipe is totally vegan making it great for the many people who can't have dairy. Coconut milk is high in magnesium, copper, iron, and especially high in manganese which is good for calcium absorption and blood sugar regulation. I also love using molasses in recipes because it contains calcium and several other minerals while offering a sweet, but not too sweet flavor. It is what gives us that 'gingerbread' taste," Hahn explains. "The cocoa powder I use is unsweetened, so you are getting the benefit of the raw cacao bean, which is super high in antioxidants, and the spices I have used all offer antioxidant benefits as well. Maple syrup in the pure form, (not the processed Log Cabin type) also offers minerals and is such a great sweetener choice over processed sugar."
Add the ingredients to a pot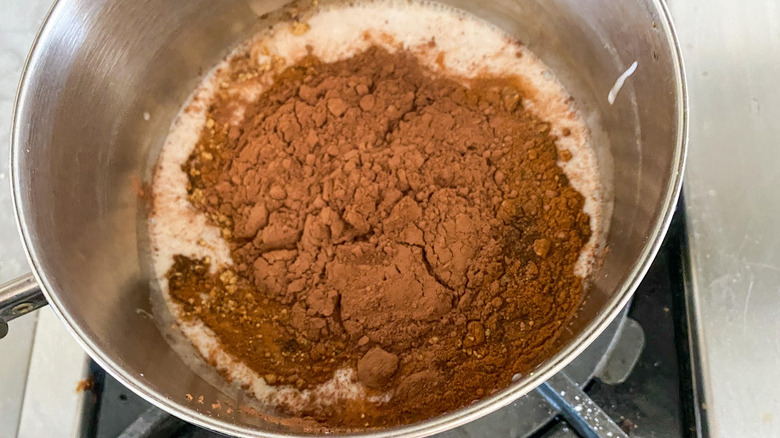 Miriam Hahn/Mashed
Now that you have all of your ingredients in front of you, it's time to get started on the cocoa. Grab a medium-sized pot and place it on your counter. First, toss in the coconut milk and the cocoa powder. Then, add the maple syrup and molasses. At this time, you will also want to throw in the cinnamon, ginger, allspice, and vanilla. Then, move on to the next step. 
Heat the hot chocolate ingredients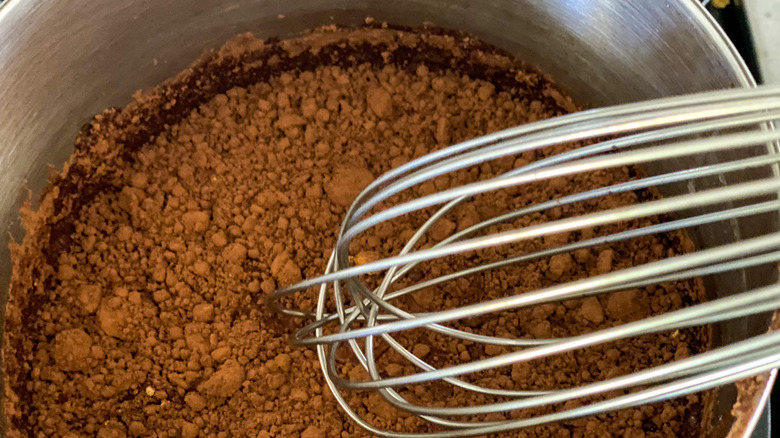 Miriam Hahn/Mashed
Now that you have all of the ingredients in a pot, place it on the stove and kick the heat up to medium. Be sure to stir the mixture with a whisk to blend the contents and eliminate any chunks. It should only take about 5 minutes for the liquid to start bubbling. Once it does, reduce the heat to low.
If you'd prefer, you can also heat the cocoa another way. "You can use a microwave (I don't have one) instead of the stovetop method. You can just blast for a few minutes and check it," Hahn says.
Serve this warm gingerbread hot chocolate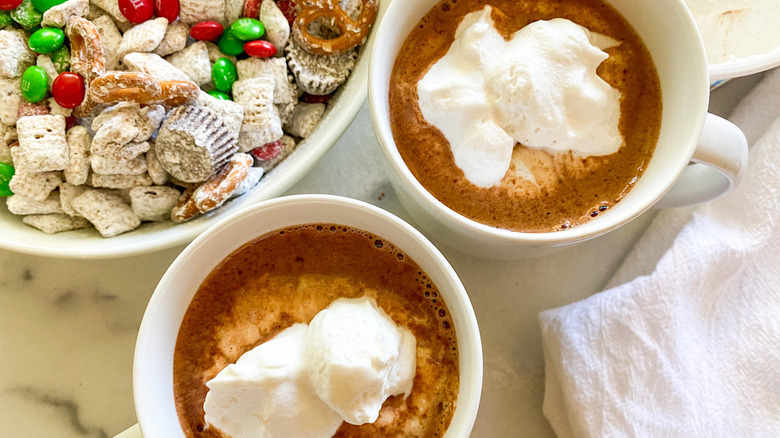 Miriam Hahn/Mashed
Now, it's finally time to enjoy the hot cocoa. Pour it in mugs and top with whipped cream and more cinnamon if you'd like. "[It's] best to serve while steamy hot. [It's] great with marshmallows too! I used coconut whipped cream, a great vegan alternative but good ol' cool whip works fine if you don't care about the vegan aspect," Hahn shares. "You can also serve with candy canes as your stirring tool."
If you don't finish your drink, no worries. "This actually saves really well," Hahn shares. "I save [it] in mason jars in the fridge for up to a week. You can just reheat [it] on the stove or in the microwave." We hope this one hits the spot!
Gingerbread Hot Chocolate Recipe
Stay warm with this gingerbread hot chocolate, a twist on a classic favorite. It's creamy and decadent, perfectly spiced, and even happens to be vegan.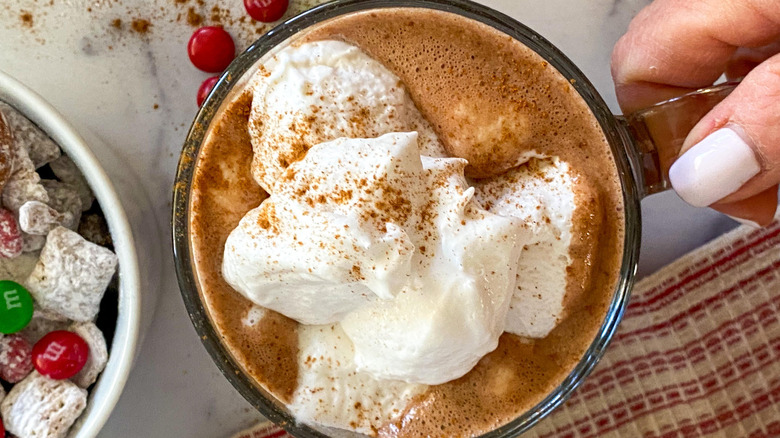 Ingredients
2 (13.5-ounce) cans unsweetened coconut milk
6 tablespoons unsweetened cocoa powder
2 tablespoons maple syrup
1 tablespoon molasses
1 teaspoon cinnamon
1 teaspoon ginger
1 teaspoon allspice
1 teaspoon vanilla extract
¼ teaspoon cloves
Optional Ingredients
whipped cream, for topping
cinnamon, for topping
Directions
Add the coconut milk, cocoa powder, maple syrup, molasses, cinnamon, ginger, allspice, vanilla, and cloves to a medium-sized pot.
Warm on medium heat, stirring with a whisk to blend for about 5 minutes.
When it starts to bubble, reduce the heat to low.
Pour the hot chocolate into mugs and top with whipped cream and additional cinnamon if desired.
Nutrition
| | |
| --- | --- |
| Calories per Serving | 443 |
| Total Fat | 42.0 g |
| Saturated Fat | 36.9 g |
| Trans Fat | 0.0 g |
| Cholesterol | 0.0 mg |
| | |
| --- | --- |
| Total Carbohydrates | 21.9 g |
| Dietary Fiber | 3.5 g |
| Total Sugars | 10.3 g |
| Sodium | 30.7 mg |
| Protein | 5.5 g |