This Absolutely Massive Burger Is Back On The Hardee's Menu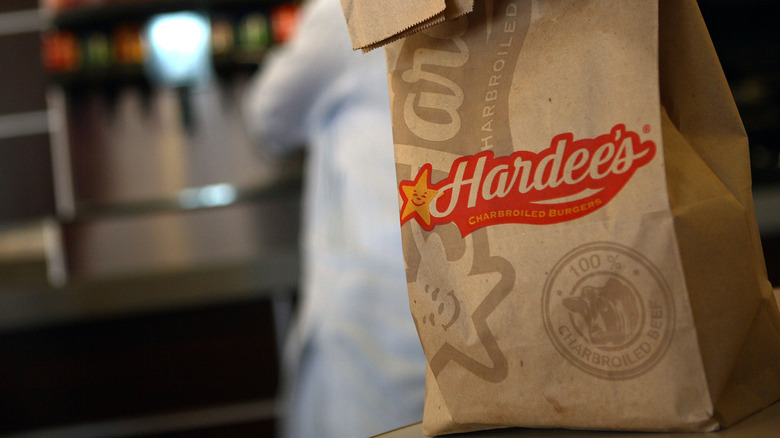 Bloomberg/Getty Images
For burgers that leave you feeling utterly satisfied, Hardee's is a good option, with a long list of menu items meant to impress every kind of consumer. The brand has plenty of mouthwatering choices: charbroiled burgers, breakfast platters, desserts, chicken sandwiches, and a lot more. Per its website, the company has over 1,800 restaurants in the U.S. as well as outlets in 14 countries. 
Also, Hardee's likes to offer massive meals to its fans whenever it can. For example, the brand once sold what was known as the Monster Thickburger. It was so popular that many news outlets covered the menu item when it was launched in 2004. According to NBC News, this burger had  "one-third pound slabs of Angus beef," some bacon strips, several cheese slices, and mayonnaise on a buttered bun. Hardee's was really proud of the burger, and former chief executive officer Andrew Puzder said, "This is a burger for young hungry guys who want a really big, delicious, juicy, decadent burger."
The company has now reintroduced a burger that's referred to as the Really Big Hardee. According to its website, the product "is an all new, bigger, bolder option."
It is a massive burger
According to a piece by Brand Eating, the Really Big Hardee burger has made a comeback to the company's outlets for a limited period. The burger has ... wait for it ... not one, or two, but three beef patties, to go along with the lettuce, three American cheese slices, and classic sauce that's served on a sesame seed bun. It's the big brother of another menu item, the Big Hardee, that is similar — but, as you'd probably expect, served with a lesser number of beef patties and cheese. 
The burger is a tasty one, according to customers who've tried it. A reviewer said on YouTube that the patties are thankfully juicy and not dry. Also, the combination of the sauce with cheese seems to work well (via The Endorsement). For one commentator, there was far too much meat in the burger, though, as they wrote, "I think two patties would be just enough. Just like the Big Mac." Of course, if you lost the meat, it wouldn't be a Really Big Hardee anymore.