Frozen Cocktails You Should Make This Summer
Shutterstock
It's summer, which means temperatures are climbing and the sun is setting later in the day. Whether you haunt happy hour at your local dive bar or prefer to play mixologist at home, frozen drinks are a delicious way to both cool off and get your boozy buzz on. Plus there are all kinds of seasonal fruit available at your local farmer's market, giving you a perfect excuse to buy that pineapple and carton of strawberries you've been eyeing. As long as you have the right tools at home — especially a blender or some kind of food processor — this is the perfect time to experiment. So here are a few favorite frozen cocktails you should make this summer, both from my favorite recipes and from expert recommendations. 
Frozen mojito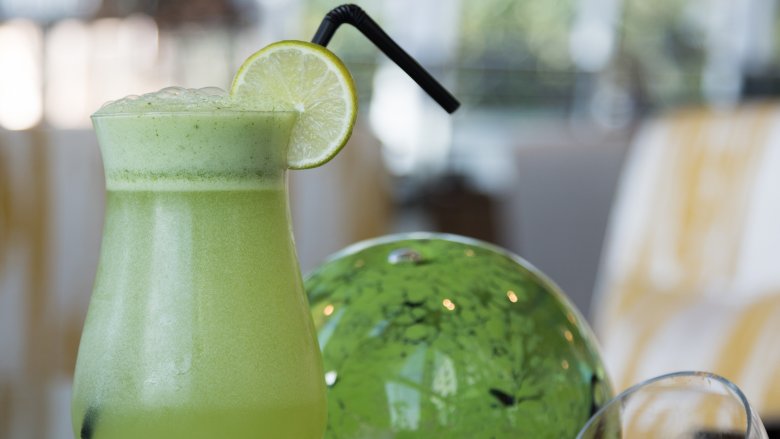 Shutterstock
As a Cuban-American living in Florida and a mojito purist, I'm of the belief that few (if any) drinks are more refreshing than a mojito in deep summer. The mojito is a simple beverage, but it's also extremely nuanced in its flavor profile. It's also a perfect poolside libation. And if you take it easy on the sugar, you'll seldom get a hangover.
Bobby Flay at The Food Network has a frozen version of this classic recipe that's a fantastic go-to for summer party hosts. It has all the same ingredients as a classic mojito — think fresh mint, juiced lime, a good white rum and simple syrup — but to make it a frozen slushie, you put all of the ingredients into a food processor and blend with ice. 
Enjoy on the beach if possible.
Frozen raspberry and vodka lemonade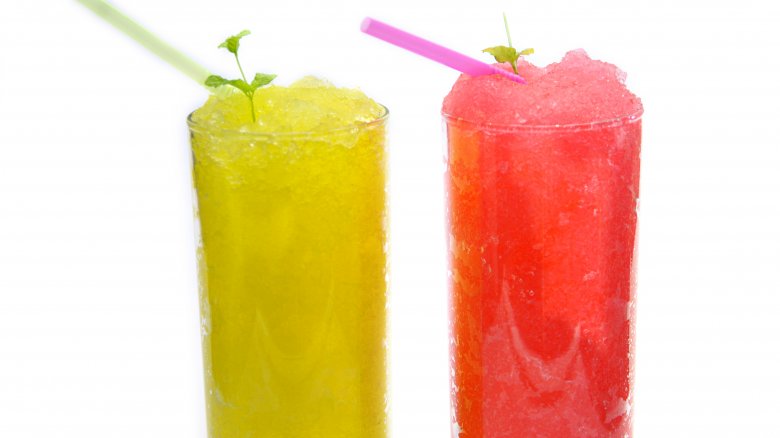 Shutterstock
Any repertoire of frozen drinks has to have at least one lemonade-centered beverage featured. It's a nostalgic throwback to childhood for anyone who's ever set-up a lemonade stand, for sure, as well as a sneaky way to make sure you get your vitamin C. And you can also develop some sophisticated citrus flavors, which always lends themselves nicely to vodka-based beverages. 
Food Network sophisto Geoffrey Zakarian has a fantastic boozy lemonade recipe that features frozen raspberries, lemonade from concentrate, and vodka. It's super simple too, given that all you need to do is drop your ingredients with ice into a blender. To finish it off, garnish with fresh herbs like mint, and share with friends.
Frozen banana daiquiri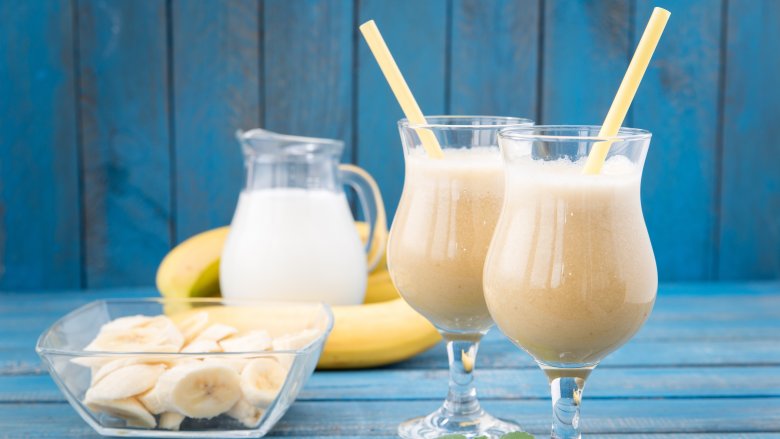 Shutterstock
It's not uncommon to wind up with leftover bananas around the house — they don't last very long, after all. And while banana bread is tasty, it's not the only way to make use of the excess fruit.
So how about banana cocktails? Cynthia O'Connor O'Hara, a food and lifestyle writer, TV cook, and author, recommended one of her favorites: the frozen banana daiquiri. This tropical drink combines bananas, rum, lime, triple sec, and ice to make a frothy, foamy banana beverage. Garnish with lime and add sugar to taste.
Frozen honeydew margarita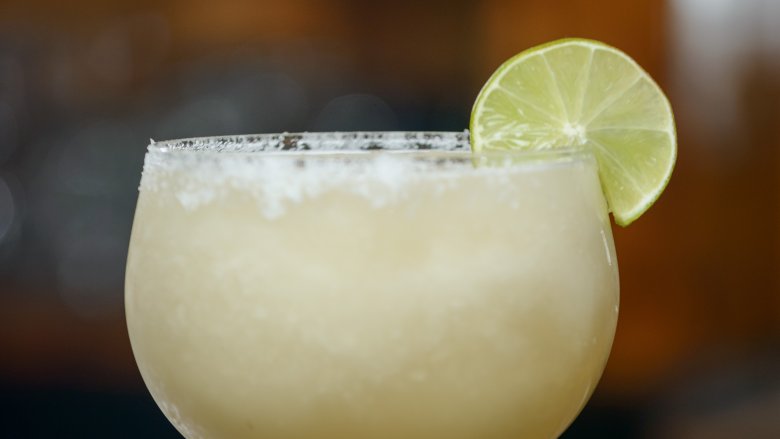 Shutterstock
If ever there was a versatile drink that can be prepared in a variety of ways, it's the margarita. And this recipe from Epicurious is a riff on the classic margarita, but featuring honeydew melon at the center. So if you see melons at the farmer's market or have leftovers from some especially large ones (super common), this is a great way to utilize this cheap and flavorful fruit. Plus it's super light and refreshing.
Basically, using your melon baller, scoop out equal sized balls and freeze them. Then, dump them into a blender with tequila, lime juice, and sugar to taste. Garnish with a lime wedge and salt, if desired.
Baileys frozen Russian cocktail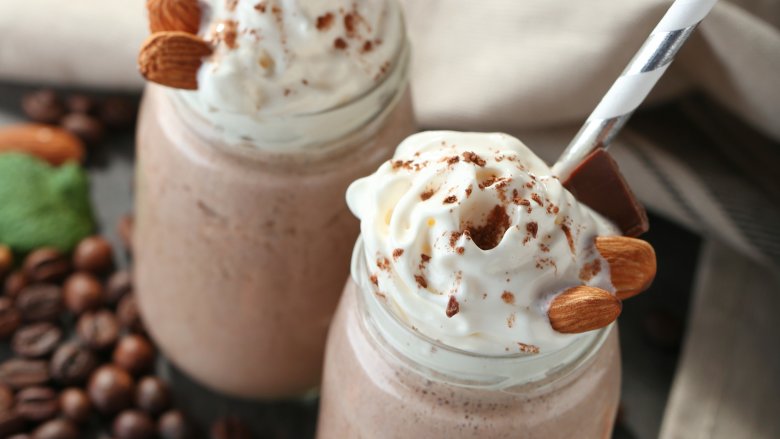 Shutterstock
You'd be remiss if you didn't have at least one super sweet, chocolaty cocktail on your summer bar menu to sip on while relaxing on the patio. This recipe from Delish will fill that flavor void, combining Bailey's Irish Cream, vodka, chocolate liqueur, and vanilla ice cream together for the ultimate dessert beverage.
Once you've blended everything thoroughly, pour into hurricane glasses. For an added flourish, garnish with homemade whipped cream and cocoa sprinkles, or cinnamon for a bit of flavor diversity. You can also bring almonds or crumbled nuts to the party to add a bit of crunch in your topping.
Orange creamsicle cocktail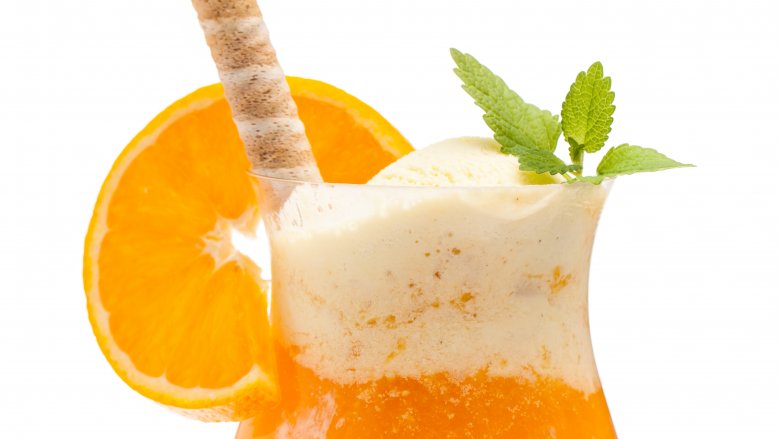 Shutterstock
Remember those popsicles you used to eat as a kid that had an orange outside but a creamy center? Well, there's an adult version of this flavor pairing known as the creamsicle, and this one has vodka in it, making it a great summer cooler. 
This recipe from Rachel Hollis is sure to delight your senses with its boozy take on a creamy childhood favorite. Combine orange sherbet, orange juice, ice, vanilla ice cream, and vodka in a blender and whip it together. Garnish your glass with lime and orange salt, then top with fresh whipped cream, and a mint leaf for a pop of green color and earthy flavor.
Strawberry daiquiri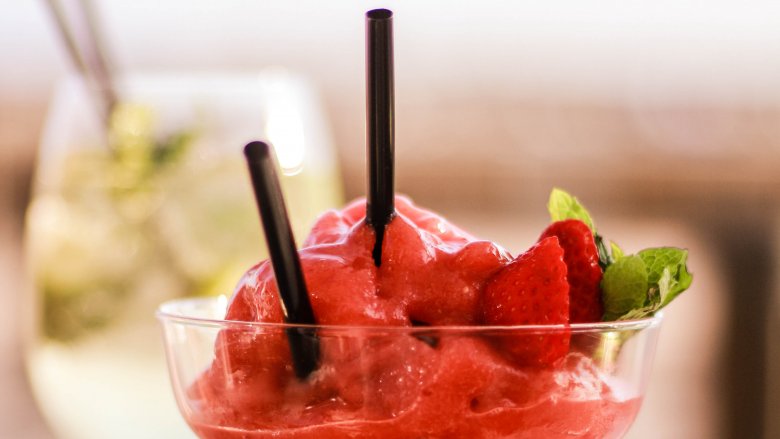 Shutterstock
While the strawberry daiquiri is a ubiquitous drink favored by bar newbies, I find it to be a refreshing standby that goes down easily and doesn't try too hard. It also tastes good and has a modicum of nutritional value. Steven Willems, of cocktailsandshots.com, agrees, and told me that he recommends it. "The frozen strawberry daiquiri is a classic citrus flavored cocktail that does it every time." 
For ingredients, he uses the standard: white rum, lime juice, syrup, strawberries, and of course ice. Since the set-up is so basic, you can make a perfect drink even if it's your first rodeo. As for instructions? Willems says to, "Mix the white rum, the lime juice, the sugar syrup and six strawberries in a blender, then blend. Next, pour the frozen strawberry daiquiris into a cold cocktail glass. Garnish your frozen strawberry daiquiri with the last strawberry."
Just be careful not to overdo the rum!
Bite's beer float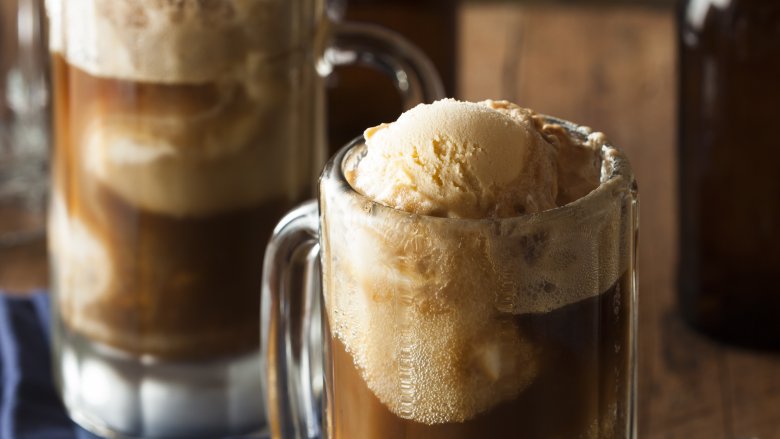 Shutterstock
A good cocktail not only uses the best and finest ingredients, but it also plays on nostalgia, as well as comforting flavors and combinations. Bearing this in mind, I spoke to April Cook, a mixologist at Bite Restaurant in San Antonio, TX, about her take on the perfect, sweet-but-robust frozen cocktail. Her verdict? The root beer float, but twisted. Instead of root beer, she recommends you select a fitting dark beer in which to scoop your ice cream.
Cook elaborated, "The float starts with a scoop of rich and creamy vanilla bean ice cream and is topped with a slow pour of a Vanilla Java Porter by Atwater Brewery. The vanilla and coffee notes of the porter meld beautifully with the vanilla ice cream, and the result is a treat reminiscent of childhood summer suds with a boozy refined flair of the Italian affogato."
If there's a better re-imagining of a childhood classic, you'd be hard-pressed to find it!
Peach and basil frozen daiquiri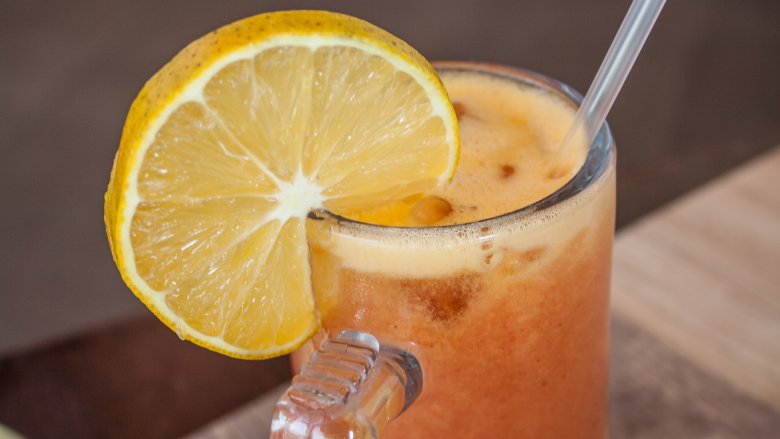 Shutterstock
I grow fresh herbs on my lanai, so I'm always on the lookout for innovative ways to use them up so none go to waste. And since my basil plant is especially bountiful, this recipe from Giada De Laurentiis at The Food Network is a wonderful go-to when I need to cull it back a bit. Plus the peach and basil combination is super fresh and delicious.
It does take a bit of preparation; you have to boil the basil with sugar and water to soften it, then strain and cool the mixture. But once that's done, you toss it in a blender with rum, frozen peaches, orange liqueur, and lime for an acidic pop. Pour over ice, and garnish with more fresh basil. 
Frozen rum runner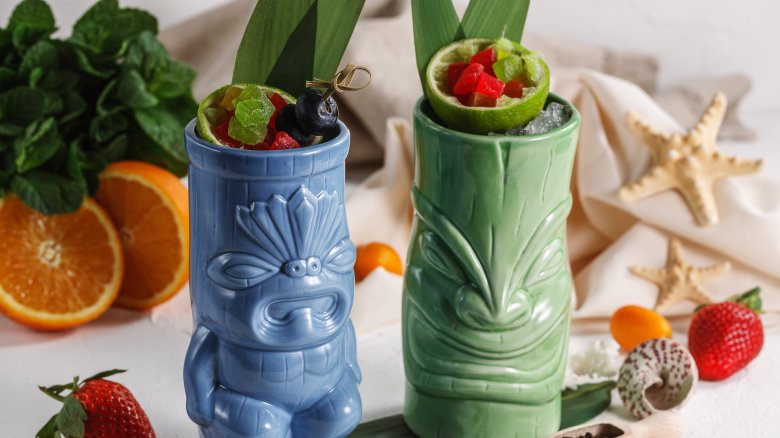 Shutterstock
Another drink that I as a Floridian appreciate both for its flavor and its history is the rum runner.  According to local legend, the rum runner was invented in the 1950s in the Florida Keys. Certain liqueurs had to be used up before more inventory arrived. The result was a delicious and super boozy mixed beverage that packs a serious punch.
When the summer storms move in and the temps spike, I like to make a frozen version similar to this recipe from The Florida Keys Guide. Blend rum (or rums), juices, and liqueurs with ice and a bit of Spanish grenadine, pour into a frosty glass, and top with an ounce of 151. Garnish with an orange slice or your fruit of choice.
This one sneaks up on you, so go slow!
Boozy hibiscus popsicles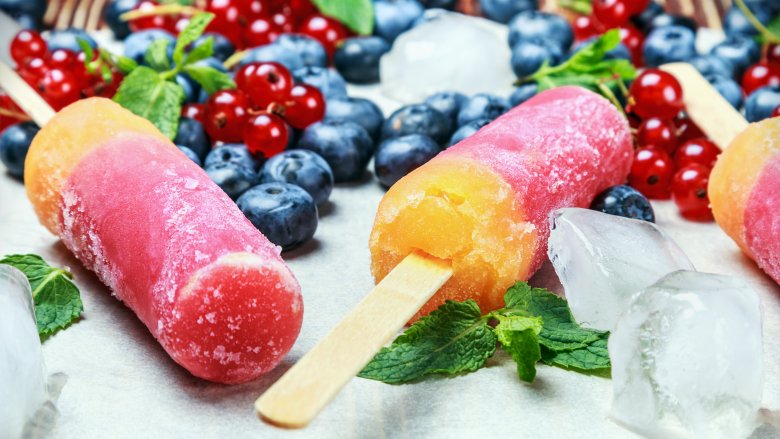 Shutterstock
The popsicle is a fantastic format for frozen summer cocktails. What's more fun than getting tipsy when eating an ice pop when the weather is hot?
This recipe from Lonestar Lauren is a fruity, vodka-based treat that also brings hibiscus to the party — and will definitely get you tipsy. Essentially, you'll combine hibiscus-infused vodka, lemon juice,  and blackberries together, muddling the ingredients all together. Then you'll add sparkling water and pour everything into your popsicle mold. And in a few hours, you'll have a sweet and simple frozen treat.
You can also riff on this with regular vodka and chilled hibiscus tea — this will give you a stronger hibiscus flavor, as well as a deeper red color.