Instant Pot Recipes That Make Dinner A Breeze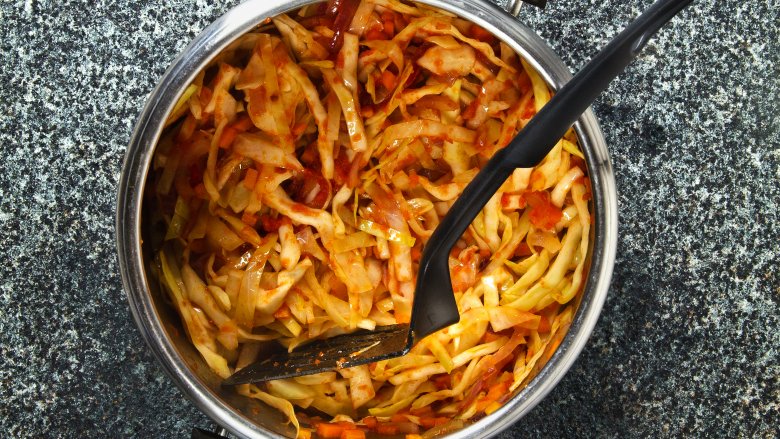 Shutterstock
There's a lot of buzz right now about the wonders of the Instant Pot, an electric pressure cooker that also functions as a slow cooker, a rice cooker, and more. And yes, it's true that you can throw a in frozen chicken breast and have dinner in ten minutes, or that it makes perfect hard-boiled eggs every time. There's good reason to join the Instant Pot cult!
It's also a great way to cook healthy and delicious dinners in a fraction of the time it takes using other methods. On top of that, it's super portable and easy to clean. So without further ado, here are some Instant Pot recipes that will make dinner a total breeze.
Congee (Jook)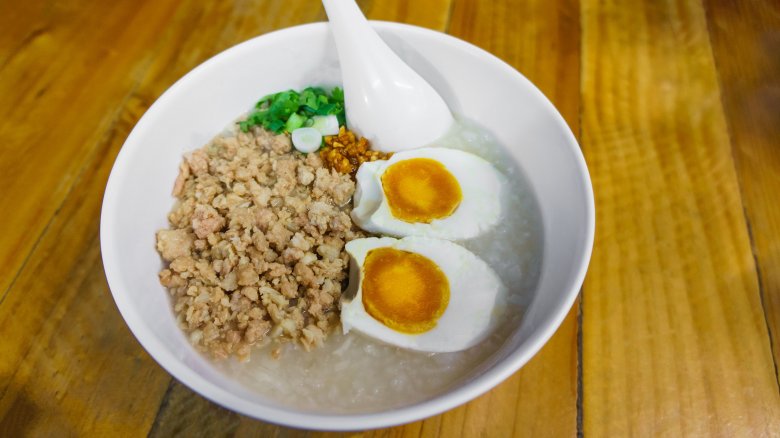 Shutterstock
One of the first things I made when my Instant Pot arrived was this tasty recipe from Budget Bytes. Congee (or Jook) is a rice porridge made with rice, chicken, ginger, mushrooms, and other toppings and flavors of your choosing. Normally you need to simmer congee for a long time so the flavors set in, but with the Instant Pot it's ready in about half an hour.
To make this one pot wonder, start by putting uncooked rice at the bottom of the pot. Then, add garlic, ginger, and mushrooms; top with the chicken, add water, and close the pot. Set it for 20 minutes on manual, and let it release naturally. Once it's done, all you have to do is shred the chicken and return it to the porridge, mixing it together evenly. 
Once you've ladled it into a bowl, top it with fresh cilantro, soy sauce, chopped peanuts, green onions, and sesame oil. Feel free to toss a soft-boiled egg on top, too!
Chicken tikka masala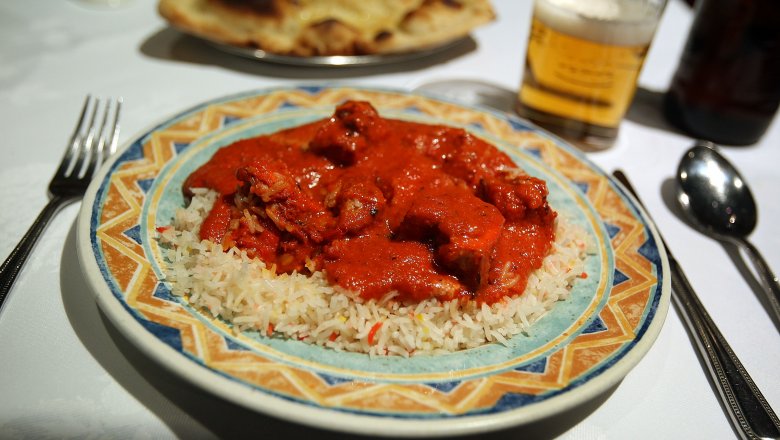 Getty Images
If you've never cooked Indian food in your home kitchen, it can seem a little intimidating. But once you have the right spices on hand, you'll realize it can be quite easy to make some amazing chicken tikka masala. This recipe from Wholesome Delicious is an easy, flavorful version, adapted for the Instant Pot.
Hit the sauteé button, then add oil, onion, garlic, and ginger. Once they're softened and the flavors are mingling, add your spices and make a paste. Then you'll add canned, diced tomatoes, and on top of that, arrange your chicken. Dump in the broth, select manual, and pressure cook for seven minutes.
When it's finished, fork apart the chicken on a cutting board, and put it back in the pot. The final step is to add coconut milk, making the sauce creamy and expanding the flavor profile. Garnish with fresh cilantro.
Whole chicken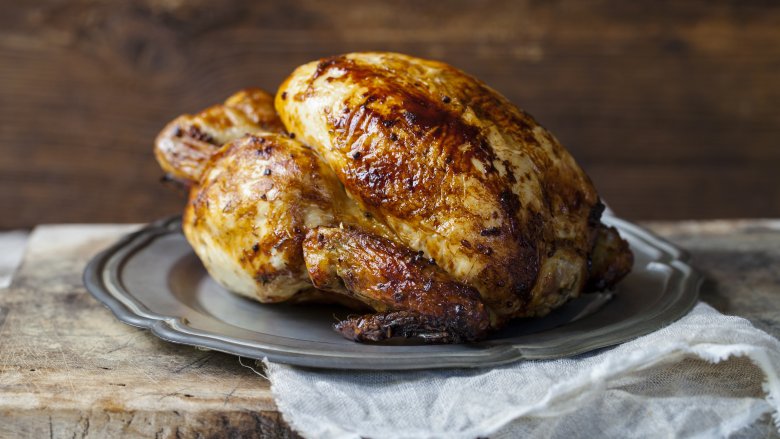 Shutterstock
A good roast chicken recipe is an important staple for any chef, whether you work in an exclusive restaurant or are just an ambitious home cook. And while it's not hard to properly roast a chicken in the oven (though perfecting your personal touch can take a bit of experience), you can save a little time and preserve moisture by cooking your bird in an Instant Pot.
The prep is exactly the same as if you were going to roast it; select and blend your spices and seasonings, then rub them all over the rinsed and dried chicken. Hit the sauteé button and place the bird breast side down for 6-7 minutes. This ensures you have a crisp skin. Then, flip the bird over and add garlic cloves, lemon, and chicken broth.
Slide the lid into place and pressure cook for 25 minutes, letting it release naturally when it's done. 
Lentil sausage soup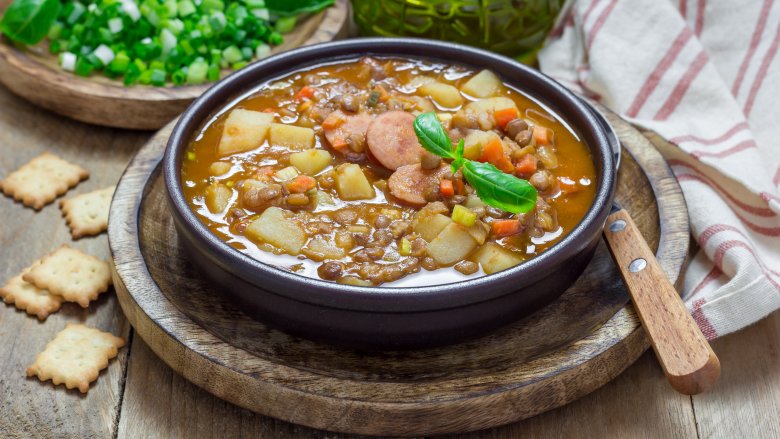 Shutterstock
Lentils and sausage are a classic pairing, but I seldom cooked with lentils until I had an Instant Pot because they take a long time to soften. Now I make some form of lentils quite often, and this recipe from Dads Cook Dinner is an easy but flavorful standby for weeknights. It calls for Hungarian sausage, which is delicious, but you can use whatever sausage you have on hand; I find it works nicely with turkey sausage as well.
Sauteé the sausage in the Instant Pot until it's cooked, then remove it, leaving the fat. Next, keeping the pot hot, add chopped onions, carrots, celery, paprika, and salt until softened. Turn off the pot, add the lentils with water and stock, as well as the sausage. Hit manual and pressure cook for ten minutes. If you like it creamy, add a little sour cream and stir.
Barbecue pulled pork sandwiches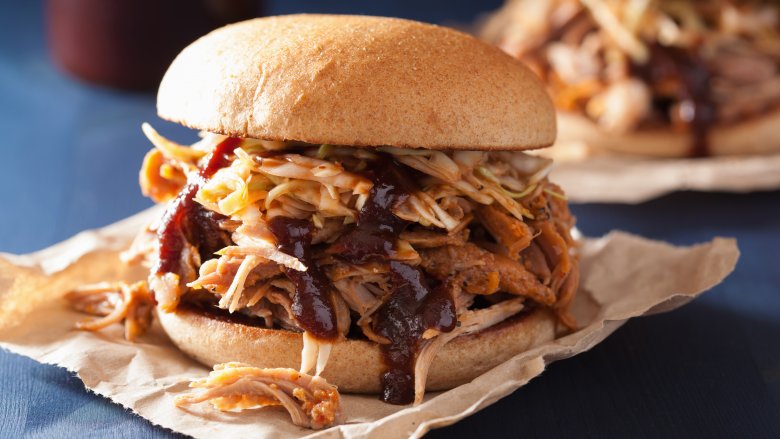 Shutterstock
This recipe from The Food Network is a bit more time consuming than others, but it's absolutely worth it because this pork is fall-apart tender and delicious. Plus it's still faster than slow-cooked pulled pork and relatively easy as there isn't a ton of labor involved.
Once you've rubbed the seasonings on each piece of pork shoulder, sauteé them on high until they're browned on all sides. Remove the pork briefly to make a sauce with the drippings, water, vinegar, tomato paste, and brown sugar. Put the pork back in, and pressure cook for one full hour, then remove and fork it apart while you let the juices simmer and reduce for about 15 minutes.
Combine the pork and juices, add vinegar and salt to taste, and serve on fresh rolls with coleslaw. You'll need a couple of napkins for this sandwich!
Butternut squash soup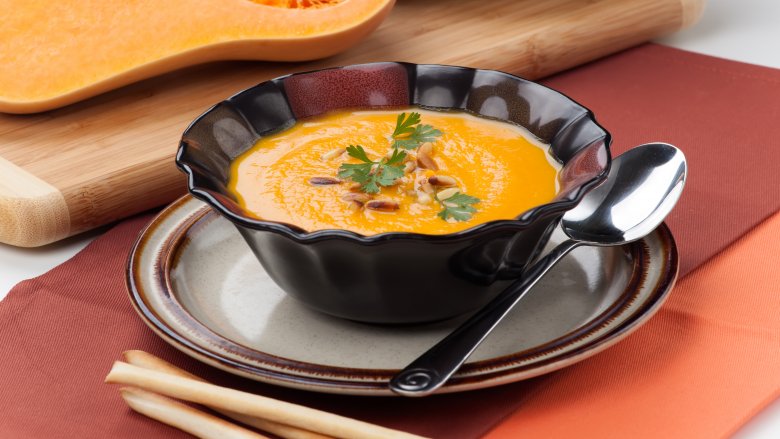 Shutterstock
I love cooking with squash because it's so cheap and easy. And of course, with an Instant Pot, it's pretty fast, too. So as long as you have an immersion blender, this recipe from Hip Pressure Cooking for cream of butternut squash soup should be a practical go-to for vegetarian night.
Using the sauteé setting, soften the onions with fresh sage and black pepper. Then, add in cubed butternut squash until it covers the bottom of the pot. Once they've browned for about ten minutes, add the rest of the squash, along with nutmeg, ginger, and vegetable stock. Hit manual and cook on high pressure for 15 minutes. 
Once it's finished, remove the sage and discard it. Then, using an immersion blender, puree everything in the pressure cooker to make your soup. Top with toasted pumpkin seeds, if you like. I like to fry a bit of sage for a garnish, too.
If you're not one for vegetarian night, there's always bacon! Sauteé the squash in bacon fat and garnish the soup with bacon crumbles.
Salmon and rice pilaf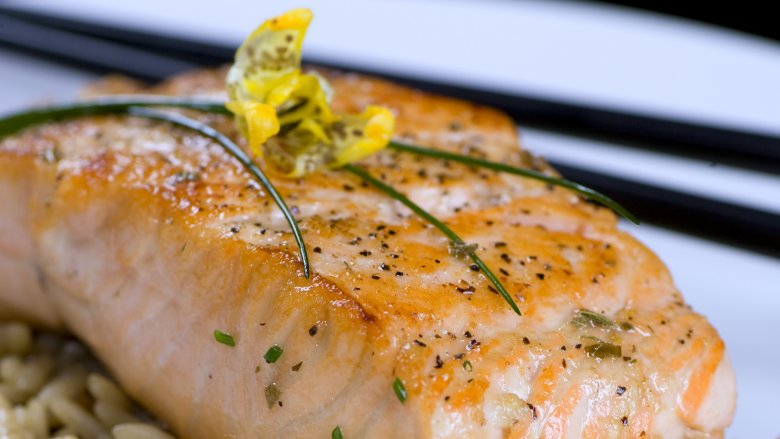 Shutterstock
There's more than one way to cook a moist, tender piece of fish. While many cooking shows would have you believe that searing fish until the skin is crispy is the only way to go, steaming fish is a viable method too. And this recipe from Health Starts in the Kitchen uses frozen salmon fillets and uncooked rice — you can't beat that for convenience. 
The prep is as easy as it can be. Essentially, place all of the ingredients except the salmon in the bottom of the pot. Then, insert the steaming rack and place the frozen salmon fillets on top, making sure to season with salt and pepper. I also like to squeeze a lemon on top of my salmon so it gets a pop of acidity. 
Cook on manual for five minutes, then use a quick release. Garnish with lemon and fresh herbs, and enjoy some of the most tender and moist fish you've ever made.
Five-ingredient cheesy egg bake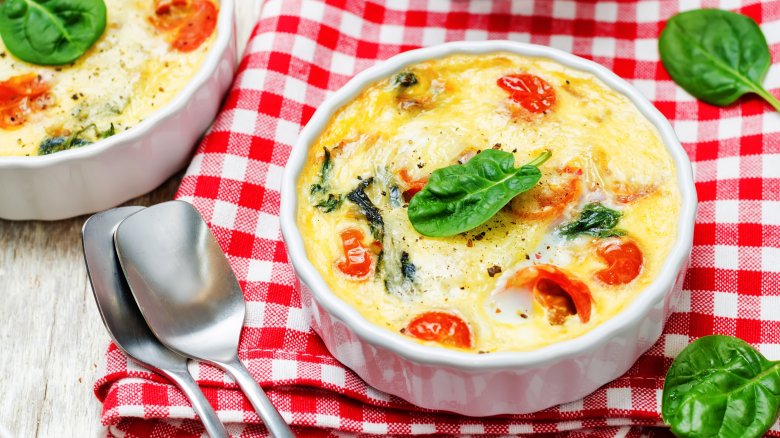 Shutterstock
Who doesn't love breakfast for dinner once in a while? And this simple, five-ingredient recipe from Kitchen Cat is a fun foray into Instant Pot cooking. 
The first thing you'll do is chop bacon and fry it in the pressure cooker on the saute setting. Once it's crispy, add in any vegetables you want to use. I like to use use onions, mushrooms, and red bell pepper, though you can really go to town here if you want. 
The tricky part of this dish is making sure you utilize the right bowl, as it has to be heat-proof and stand up to the pressure cooker. So if you have a plain metal bowl, I recommend using that. Don't use anything you're not 100 percent sure is safe! Once you've selected your vessel, grease it and fill it with the eggs, cheese, and seasonings; stir it up, then add the bacon and veggies on top. 
Pour water into your Instant Pot, then place the filled metal bowl on top. Pressure cook for ten minutes, quick release, and enjoy! Garnish with green onions and sour cream.
Chicken tortilla soup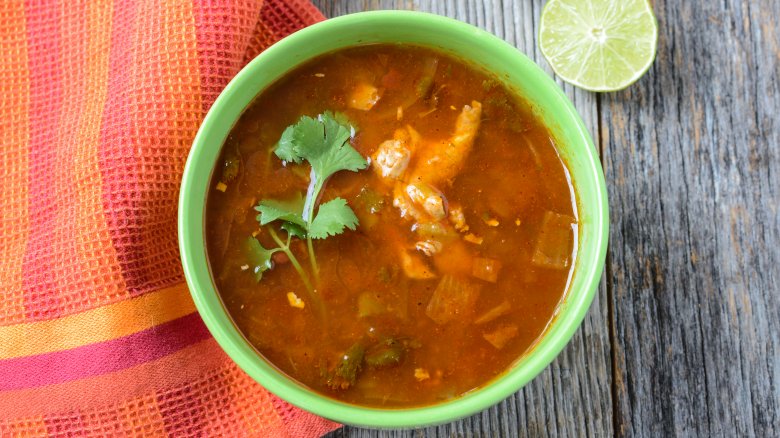 Shutterstock
This recipe from A Pinch of Healthy has turned out to be one of my absolute go-to recipes on work nights. For some reason, Mexican seasonings always seem to turn out perfectly in Instant Pot recipes, whether you're using chicken or tofu — something about the pressure imparts fantastic flavor. 
This is also one of the most basic recipes out there, in that you just throw every ingredient in the pot, then hit the manual button. Start by adding chicken stock, onions, tomatoes, and garlic. On top of that add the chicken and spices — swap the spices out for a taco packet if you're pressed for time. On top, place the black beans (though I prefer red kidney beans)  and corn, and you're good to go. Lock the lid and pressure cook for five minutes, then let it release naturally. 
Once the pressure has released, remove the chicken and fork it apart, then return it to the pot. Add lime juice and cilantro as a garnish, along with a generous dollop of sour cream and whatever other toppings you like: crispy tortillas, grated cheese, or guacamole. 
Chicken fajitas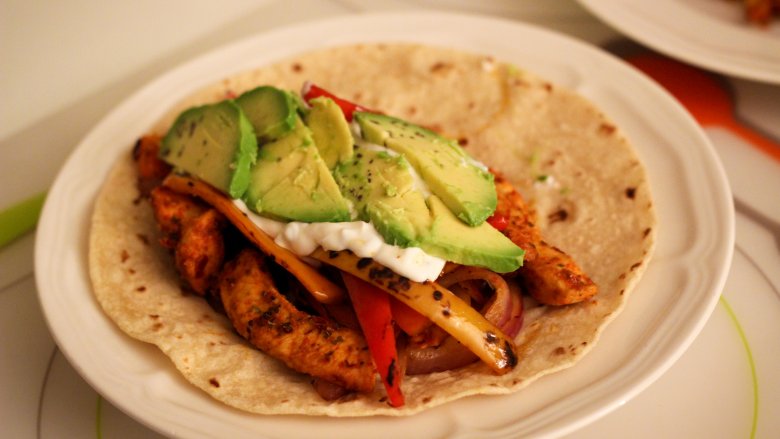 Shutterstock
If ever there was a stalwart recipe for when you really don't have the time to cook, this recipe from Recipes that Crock is a lifesaver. It's fast, easy, and delicious, as well kid-friendly.
Start by placing chicken tenders in the bottom of the pot, then sprinkle them with taco seasoning. Cover with a can of diced tomatoes, a squeeze of lime, sliced bell peppers (I use red and green), sliced onions, and garlic. Seal and cook, either on manual (my preference) or on the poultry setting for eight minutes. Use quick release, then spoon the fajita filling onto warmed tortillas. 
Top with avocado, fresh cilantro, and a dab of sour cream, or your favorite toppings of choice.
Risotto with Italian sausage and kale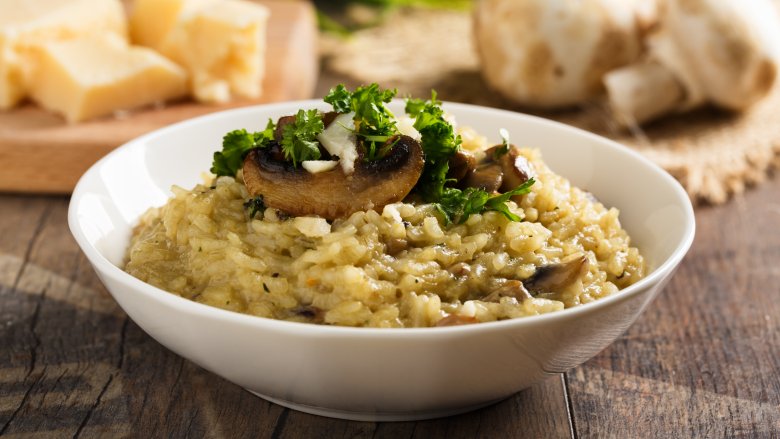 Shutterstock
Risotto is known for being as delicious as it is labor-intensive because you have to constantly stir it to achieve the right texture. Fortunately, this pressure cooker recipe from Magic Skillet removes the labor but leaves the flavor.
Start by heating a little bit of olive oil on the saute setting. Add the sausage, using a wooden spoon to cut it into bite-sized pieces, and cook until it's no longer pink. Then, drain the fat and add the butter; once it melts, add the onion and cook until they soften. Stir in the kale, salt and pepper, then the rice. Once coated, deglaze with white wine and add the chicken broth. Seal the pot and cook on manual for five minutes. Use a quick release, then open the pot and add the Parmesan cheese. 
If it's not quite the right texture, simmer in the pot until it firms up.
Thai red curry with chicken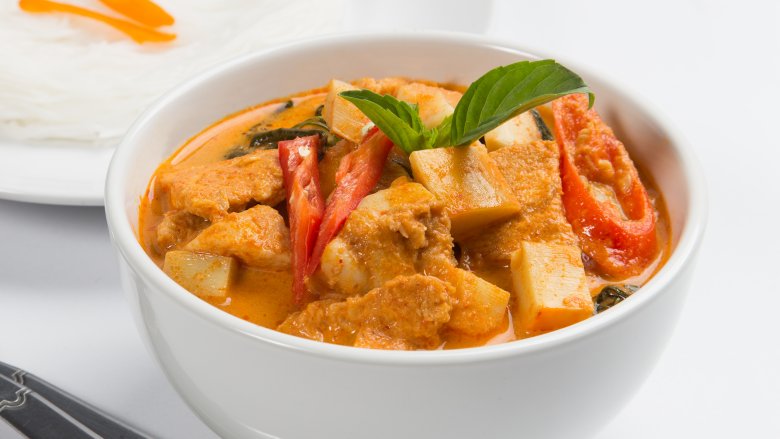 Shutterstock
Red curry is one of my absolute favorite foods, and the Instant Pot does a great job elevating the flavors of this classic dish. This recipe from Paint the Kitchen Red is easy and customizable, not to mention fast. 
Start by adding the coconut milk and curry paste to the pot, and cook until bubbly on the saute setting. Turn off the heat, then stir in the chicken broth and chicken; I like to add the fish sauce and onions here as well to impart a depth of flavor. Seal the pot, then cook on manual for four minutes (adjust as needed for your chicken cut). Use a quick release, then stir in the brown sugar, lime juice, peppers, carrots, bamboo shoots, and lime leaves. I also like to add baby corn for a textural element. 
Sauteé until the vegetables get crispy, then spoon a serving into a bowl with white rice. Garnish with Thai basil.