Instagram Is Loving Aarón Sánchez's Supermarket Shuffle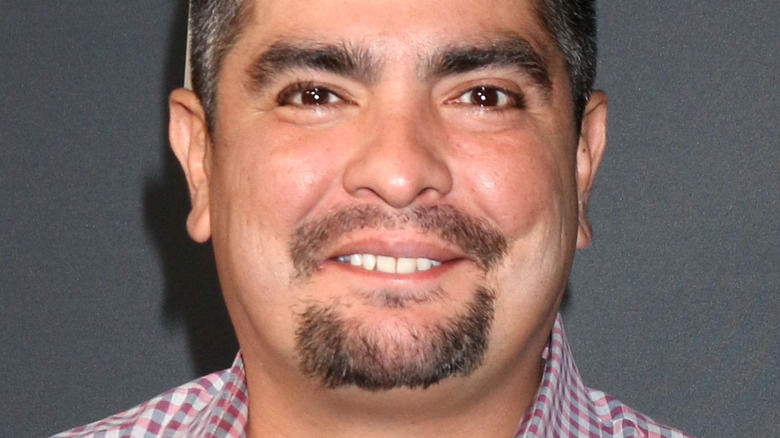 Kathy Hutchins/Shutterstock
Aarón Sánchez might be most well-known for being a "Masterchef" judge, but he also has some pretty smooth moves on the dance floor as well. In a recent Instagram video, the celebrity chef showed off his footwork as he did some grocery shopping. In the post's caption, Sánchez likens the fruit aisle to the club, writing, "No parking on the fruit aisle." Both fans and friends go crazy in the comments.
Fellow Food Network star, Martie Duncan, writes, "Sigue bailando. Chef!" This translates to "keep dancing" in English. Duncan isn't the only one who can't get enough of Sánchez's moves. A fan wrote, "I love you lol," a sentiment repeated by another Sánchez stan, who commented, "I love your zeal for life," and added a clapping hands sign emoji on the post.
A couple fans also loved the fact that Sánchez was wearing a Maui Brewing Company t-shirt, which is Hawaii's largest beer brewery.
The supermarket approves of Sánchez's dance moves
You can hear Sánchez reiterating his Instagram caption in the video: "I live by one simple rule: no parking on the dance floor." But this is far from the chef-turned-TV-star's first foray into musical expression. In just one other example, he sang a shockingly great few bars of what Austin After Hours dubbed "an Ode to Tacos and Tequila" during his appearance on the series. 
Now, if you saw this celebrity chef in the aisle of a local supermarket, how would you react? While one commenter jokingly wrote, "Don't pull this at Costco or someone will run you over," the Instagram account of the supermarket that Sánchez was at couldn't have been more delighted. "We love @chefaaronsanchez thank you for visiting us!!" La Blanquita Carnicería y Tortillería is located in El Monte, California, and East Los Angeles, commented.
Although Sánchez says on his website that he lives in New Orleans, where his restaurant, Johnny Sánchez is located, he has to travel back to Los Angeles when filming for "Masterchef" (via Deadline). Maybe the next time you're in the fruit aisle, keep an eye out for Sánchez, who may be busting a move.