Instagram Is Divided On Gordon Ramsay's 'Delicious Lunch'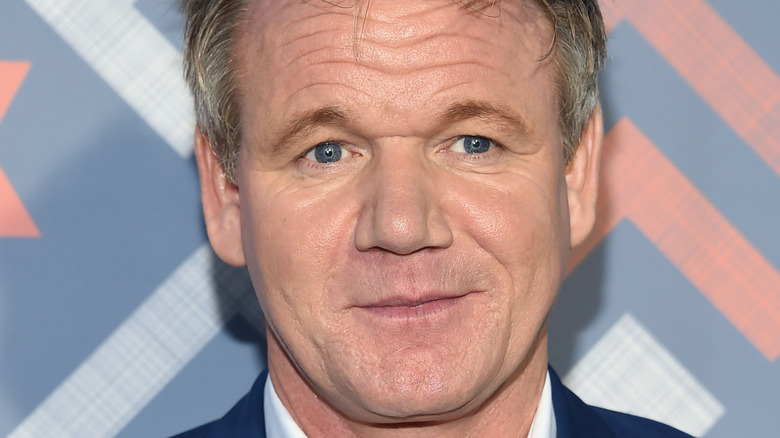 DFree/Shutterstock
"Hell's Kitchen" host, celebrity chef, and restaurateur Gordon Ramsay seriously knows his way around the kitchen. He has turned scrambled eggs into an artform, perfected a wild mushroom risotto, and elevated broccoli soup with a touch of goat cheese, per TheRecipe. The chef also knows what it takes to make a refined, show-stopping tasting menu. Some of his own restaurants have featured this style of meal, and reviewers have applauded the presentation and flavors of small-bite items like Ramsay's "75% Grand Cru chocolate dessert with madeira, coffee and cocoa nibs" or the "Blue Grey beef from Cumbria with the black garlic and leek" (via No Mean Feast).
In a recent Instagram post, the chef showed off a set of images featuring what appears to be a tasting menu of exquisitely crafted lunch items. The dishes range from foods that look like a small piece of steak with black truffle to a spread of delicately sliced fruit or squash topped with a mound of caviar. Ramsay captioned the post, "Delicious lunch @helenedarrozeattheconnaught wonderful food with attentive brilliant service Bravo thank you." While the photos impressed some followers, not everyone was won over. Fans critical of the dishes didn't hold back their unabashed thoughts on this particular meal.
Some fans want more food
The pictures Ramsay shared on Instagram of his lunch from Hélène Darroze at The Connaught drew mixed reactions from followers. Some commented with glowing responses like, "Absolutely stunning, beautiful presentation!" and, "Art on a plate," in addition to the standard smattering of fans simply commenting "beautiful" or "amazing." Others, however, took offense to the small portion sizes. Negative gems include, "Do you know how pissed off I'd be if you handed me a plate with 2 bites of steak on it?" and "Lunch? More like a snack." One user found a middle ground, simply replying with, "All this looks....expensive."
Like all meals, tasting menus are of course not everyone's cup of tea, so it's important to know what you're getting into when ordering one. With the right expectations, you might just find a new appreciation for these masterfully prepared dishes that have the power to get even Gordon Ramsay excited.