Duff Goldman Fans Are Cracking Up At This Pic Of His Daughter Sleeping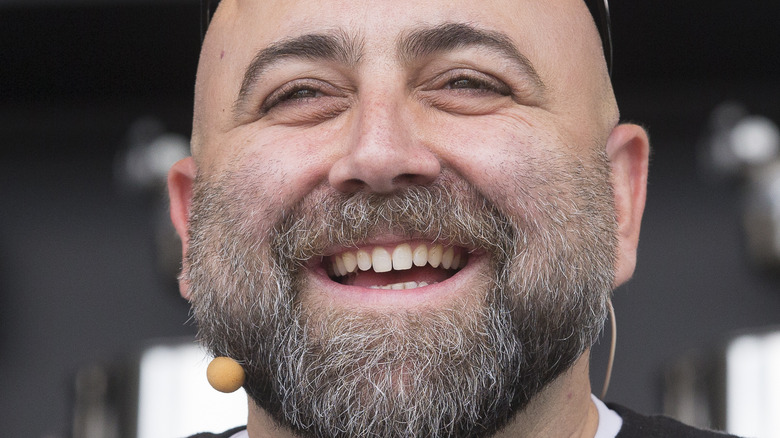 Sterling Munksgard/Shutterstock
Duff Goldman's social media saga of tracking the early development of his daughter, Josephine, continues, much to the enjoyment of the internet, who has fallen captive to it. In one of his latest Instagram posts, the former "Aces of Cakes" star, being the doting father he is, let his fans in on something that occurred around midnight, when he wanted to check on his daughter. 
 What he saw made him reach for his phone and the caps lock setting. "WHY DOES SHE HAVE TO TOUCH EVERYTHING?!?" he silently screamed in the post's description. "EVEN ASLEEP SHE HAS TO TOUCH EVERYTHING! SHE TOUCHES EVERYTHING ALL THE TIME!" In the gray-scale picture, you can see Josephine lying on her back with her head turned left and her left hand stretched out to brush the bars of her crib with her fingertips. As of writing, this paternal confusion has accrued more than 16,500 likes. Evidently, Goldman's fans found it adorable.
Why do babies touch everything?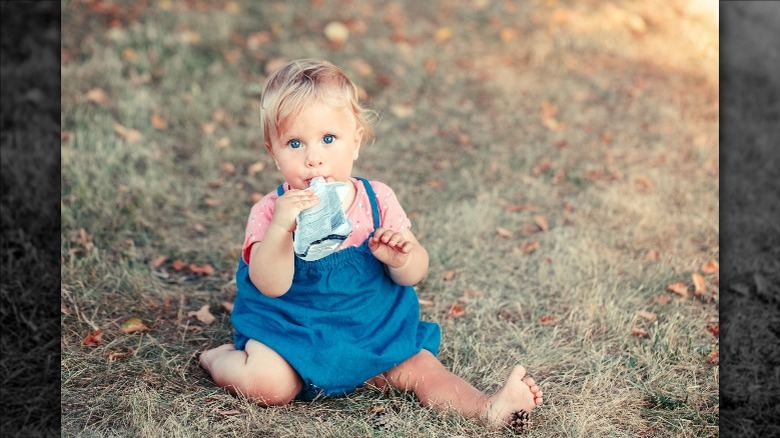 Anna Kraynova/Shutterstock
"It's only touching now," one parent wrote in the comments section of the Instagram post. "Later it's all going in the mouth." "Maybe she is more of a feeling instead of a thinking child," another fan suggested. A third decided to meet and raise the displayed exasperation with a joke: "Pressure feedback- she needs to know she's not in the matrix." Whatever the takeaway, though, it was universally agreed that the sleeping baby was quite cute.
Well, Mr. Goldman, you asked why Josephine has to touch everything and your question has prompted research. It's because babies develop a sense of touch first and use it to explore the strange, texture-filled world that they've fallen into. BabyCenter has written a timeline for this development. While the mouth is the first tool with which the nature of things is discovered, by the time babies reach Josephine's age of 10 months they're already transitioning to playing with objects with their hands. Doing this helps the child develop a better sense of how their body is connected to the environment.
As one commenter on the Instagram post suggested, "It's a baby thing."