Aldi Fans Can't Believe These Kettle Chip-Scented Candles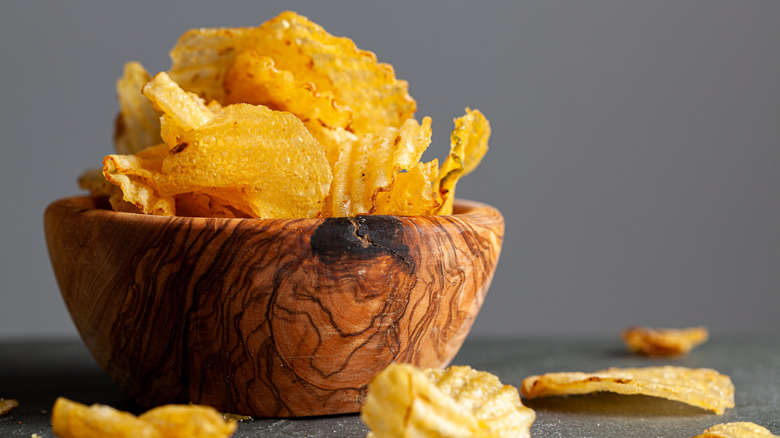 grandbrothers/Shutterstock
Thanks to its low prices, great-tasting groceries, and exclusive Aldi Finds, Aldi has become a very popular budget grocery store among many loyal fans. While people love the chain's snacks and beverages for their great flavor, true fans really want their homes to smell like Aldi products — even when they aren't eating. 
That is apparently why Aldi decided to launch an exclusive Fan Favorites candle collection for 2021, which features a set of specialty Huntington Home candles scented not with your typical flowers or ocean breeze, but with popular Aldi snacks and drinks, according to Apartment Therapy. These limited-edition candles — made with three wicks, a soy blend, and a special Fan Favorites label — were released in four scents themed around popular Aldi food products: Mama Cozzi's Take & Bake Pizza, Belle Vie Passionfruit Sparkling Water, Friendly Farms Oatmilk, and Clancy's Mesquite Barbecue Kettle Chips. These candles weren't available on shelves, however; Aldi fans had to enter into a contest for a chance to win one on the Aldi Insiders Facebook Group.
One lucky Redditor won an Aldi potato chip candle
One lucky winner of this fall's Aldi Insiders Facebook Group candle contest was u/mirandapanda64 on Reddit, where they recently shared a photo of their prize. "Received this Fan Favorite candle from ALDI in the mail today," they captioned a photo of their Mesquite Barbecue Kettle Chips candle, created in honor of the Clancy's chip brand carried at Aldi. Fellow Aldi fans were curious to see this one-of-a-kind Fan Favorites candle, as it's never been available in stores. "Is this real? Are you in some secret aldi mailing list?! Details please," asked u/Own_Wonder_5375.
Other Reddit users were simply intrigued by the unique scent, wanting to know if a candle scented like a chip could really emit a pleasant aroma. "Please report back once you light it. There was a barbecue scented candle at Homegoods years ago that was absolutely, comically vile, so I'm kind of intrigued by this one..." u/wellhoneydont replied. "So does this candle really smell like BBQ chips?" asked another user. Although the original poster did not report back on the scent of the lit candle as of this writing, they said its unlit smell is "interesting for sure."