Gordon Ramsay's Son Enjoying 'Hot Chocolate Time' Is Just Too Cute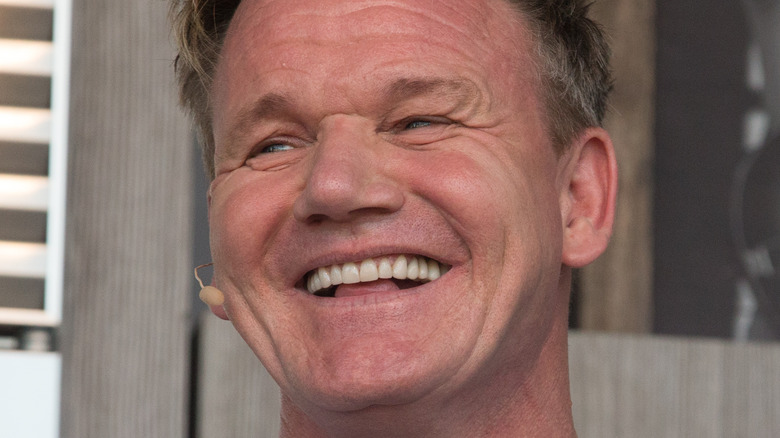 Sterling Munksgard/Shutterstock
Gordon Ramsay is sharing more adorable pictures of his youngest child Oscar — and we can't get enough. Young Oscar Ramsay happily enjoys his hot cocoa with a smirk worthy of his highly expressive celebrity chef father in this sweet pic that dad Gordon captions, "Hot chocolate time for @oscarjramsay," (via Instagram). As one fan, eureka.r observes, "Looks like serious business for Oscar."
Fan linda.angel.712 describes the scene well, sharing, "Hot chocolate on a cold day makes everything warm and fuzzy!! Gordon, Oscar is so adorable! Thank you for sharing this beautiful picture of Oscar!! Enjoy the. rest of the day!! Peace+ be with you." Peeking a little closer, it looks like young Ramsay might be spending time at a restaurant with dad, noting the style of table and chairs and the masked individual in the background. No matter the location, it's pretty clear the young lad is also enjoying a delicious chocolate wafer biscuit with his drink.
Chef Ramsay has frequently shared pictures of his adorable youngest son, so when fan allisonandfamily comments, "He must be so excited for Christmas" we have to start wondering about holiday plans.
Oscar Ramsay's hot chocolate looks simply delicious
Oscar Ramsay is quickly approaching the age where holiday time is extra fun, and we can't wait to see what the Ramsay family shares with us next. Past years may help us anticipate just a few of the holiday joys young Oscar will experience this year. 
Last year made the festivities difficult to judge due to pandemic limitations, but Oscar's dad shared the cutest holiday video of himself and big sister Tilly Ramsay dancing with abandon in their living room to the backdrop of a giant stuffed reindeer (via Instagram). We might hazard a guess that the large stuffed animal was intended for the youngest Ramsay. For 2019, Ramsay shares the most adorable picture of the entire family decked out in matching pajamas set to a backdrop of hanging white Christmas lights (via Instagram). This picture gives us definite visions of family fun and laughter, and maybe a beef Wellington too.
So what will this year's family fun and holiday bring to young Oscar? We'd bet smiles, family, and excellent food, and we can't wait for them to share it with us!