The Truth About Wiz Khalifa's HotBox Restaurant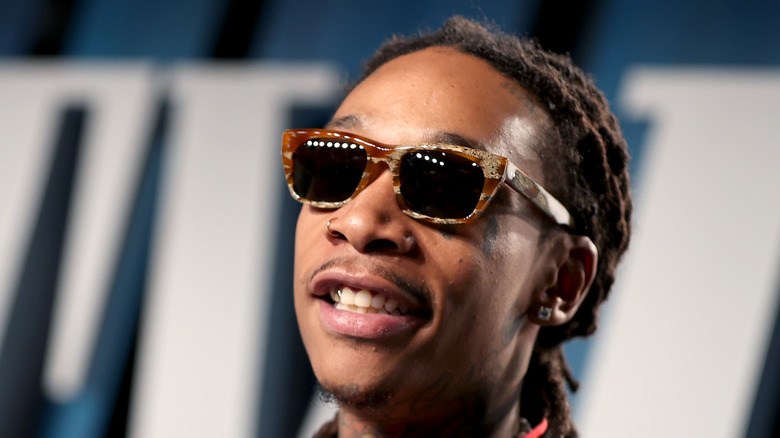 Rich Fury/vf20/Getty Images
Musician Wiz Khalifa made his debut in the food industry in 2020 by launching his virtual kitchen brand, "Hotbox," in October 2020. According to Houstonia Magazine, Wiz Khalifa had a simple mission: to reach out to customers with the "munchies" late at night. The rapper teamed up with several established eateries to get the meals ready and delivered them to consumers using food delivery apps such as UberEats and DoorDash. On the HotBox website, Wiz Khalifa mentioned that he worked on the menu himself with his team of chefs to come up with the dishes. 
He wrote, "This munchie menu is completely weed-free, with hits for the whole fam. I worked with our amazing chefs to make sure every item has the hometown taste that I love, and I know you'll love it, too." He added that they were serving food from "coast-to-coast" and had plans on being operational in many more locations. As per a press release from the company, Hotbox is available in Miami, Columbus, Pittsburgh, Los Angeles, Las Vegas, New York City, and Houston, among others.
The menu has several options
As per the Hotbox website, Wiz Khalifa's virtual kitchen brand is a Nextbite venture. The company basically teamed up with restaurants to prepare food in their kitchens and cater to customers based on their food preferences. A description on the website reads, "this allows those restaurants to thrive as they serve both the customers who are dining in with their own menu and those who are ordering online with ours." Nextbite was created in 2017. 
The menu is loaded with a variety of dishes such as buffalo wings, mac and cheese, potato tots, and more. These dishes are available in bigger sizes for those who'd like to eat something more filling. Additionally, customers can choose to order massive fried chicken sandwiches, a Cheetos burger, and a giant bowl filled with potato tots, mac and cheese, and a serving of fried chicken nuggets. These are garnished with Cheetos dust, spicy Buffalo sauce, and "thrill" sauce. Other add-ons include iced tea, lemonade, soda, sweet tea, salted caramel cookies, and more.
As per a Vulture review, the food is unfortunately not very impressive. The writer said that the chicken sandwich was "coated in burnt breading" and the brownie had a strong vegetable oil flavor. For them, the food felt like it came straight from a cafeteria located inside a hospital. Yikes.