Aldi Shoppers Can't Wait To Grab These Chocolate Holiday Pretzels
With the winter holidays just around the corner, anyone looking to tap into some seasonal flavor has a ton of traditional desserts to choose from, from yule logs to gingerbread houses and beyond. While these treats can tempt anyone with a sweet tooth, baking them up is easier said than done. Luckily, Aldi has your back with a new product that combines classic winter confections with bite-sized pretzels, making for a snack that's perfect for any holiday soiree.
Instagrammer @adventuresinaldi discovered the snacks on a recent grocery run and had to snap a picture. They captioned the image with text reading, "Yummmyyy!! These chocolate covered pretzels look like the perfect sweet & salty treat this holiday season! These would be perfect to put out on a charcuterie board or just serve as is! Love!! You can find them in the Aldi finds aisle right now! Have you grabbed them?!" and followers couldn't hold back their excitement. One commenter remarked that "the peppermint is my fav of the three– gave my bestie one– ... had to take her to aldi to get a box," while another simply proclaimed "Yummy." But the excitement didn't stop there.
A holiday pretzel perfect for any party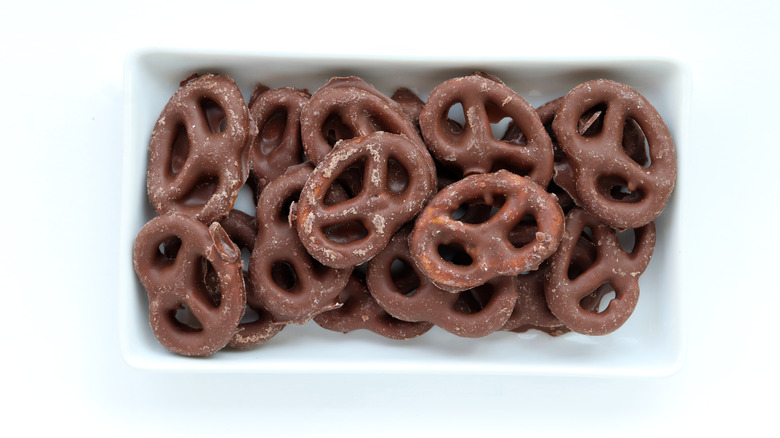 Juver/Shutterstock
Instagram user @aldisbuy also posted a photo of the pretzels with the caption, "Gourmet chocolate covered pretzels spotted in the Aldi finds aisle," but only one follower responded. Meanwhile, @aldifavoritefinds also posted about the snack on Instagram. "Gourmet Chocolate Covered Pretzels? Yes please! Have you tried these?" their caption read. Followers quickly replied with gems like, "We opened these up last night and I am regretting only getting one," and "We grabbed a pack of these for our postal service worker — she seemed excited about them!"
Others chimed in with, "So good I had to share with friends so I didn't eat them all!!" and "I need! I was about to go buy them at Trader Joe's. I appreciate the cheaper knockoffs." If these snacks sound too good to be true, make sure to keep an eye out for them on your next Aldi run. With any luck, they might just live up to the hype and give you an easy shortcut when you want to serve up a sweet offering that evokes the spirit of the holidays.