Salad Kits Recalled For Possible Salmonella Contamination In Canada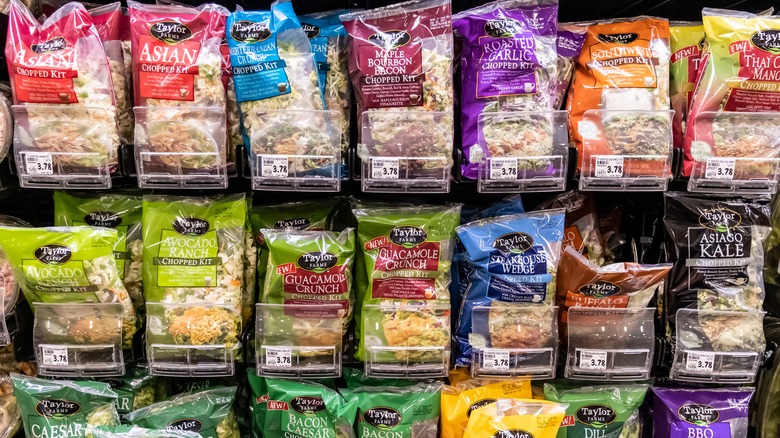 calimedia/Shutterstock
In October, a salmonella outbreak was linked to onions across 38 U.S. states, directly affecting nearly 900 people, per the CDC. The contaminated onions were imported from Chihuahua, Mexico, and consumers were asked to avoid purchasing white, yellow, and red onions if they couldn't pinpoint where they were sourced from. Meal kit companies HelloFresh and EveryPlate also got involved in the controversy when it was revealed that the onions were used in some of their meals, requesting that customers throw away all onions purchased between July 7 and September 8 (via Forbes).
According to the World Health Organization, common symptoms associated with salmonella include "acute onset of fever, abdominal pain, diarrhea, nausea, and sometimes vomiting." Most cases are perceived to be mild and don't require medical intervention, but there can be exceptions, and the disease may become more serious among children and the elderly. A salmonella outbreak is only declared if the disease affects a relatively large number of people, while most isolated cases go unnoticed. On that note, a product recall has just been issued in Canada over salmonella contamination fears, according to the Canadian government website. The product in question is a salad kit from Taylor Farms and is believed to have impacted at least five regions, if not more.
The Taylor Farms Maple Bourbon Bacon Chopped Kit has been recalled
According to the Canadian government website, the maple bourbon chopped salad kit from Taylor Farms (UPC 0 30223 06038 3) is being recalled on account of possible salmonella contamination. The product has made its way to British Columbia, Alberta, Saskatchewan, Manitoba, and Ontario thus far, and authorities suspect that it may be available in other provinces as well.
Consumers have been advised to avoid consuming the salad kit and discard it immediately or return it to the store. It has been revealed that contamination fears emerged after tests were carried out by the Canadian Food Inspection Agency. There "have been no reported illnesses associated with the consumption of this product" so far. The CFA is currently monitoring the situation and leading a food safety investigation that could potentially lead to other products being recalled. If you suspect that you may have the recalled salad kit at home, look out for this detail, "Best Before 2021 DE 11TFRS328A17," and make sure that you get rid of the product.