Trader Joe's Fans Can't Wait To Try Its Green & Red Chile Flakes Seasoning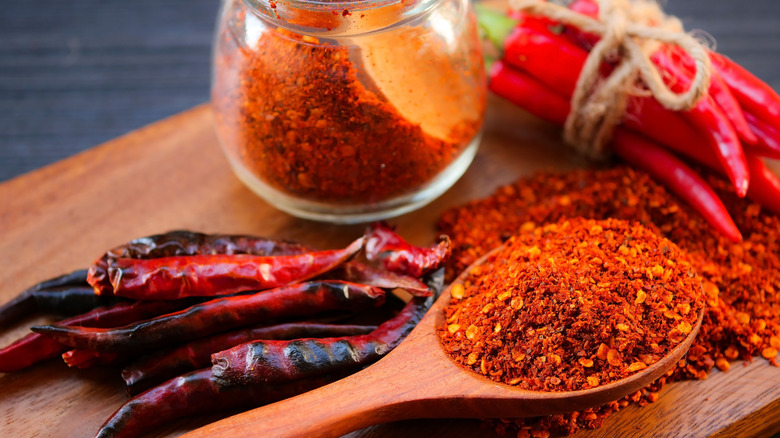 mayura benjarattanapakee/Shutterstock
Going shopping at Trader Joe's can be a bit of a chore, especially if yours has a parking lot that's less-than-stellar. But with all the seasonal goodies that come out at this time of year, a trip to TJ's becomes a magical and –- dare we say it –- fun experience. Hot cocoa, gingerbread, and peppermint-flavored everything lines the shelves for as far as the eye can see, putting a little pep in your step as you peruse up and down the aisles.
However, unless you have a rather large sweet tooth, you may find yourself heading to the checkout line with a basket of goods that are anything but festive –- though a recent release from the chain may change that once and for all. The cult-favorite grocery store's latest product drop is a flavorful new spice blend that just so happens to come in the colors of the season, which TJ's fan Instagram account @traderjoesafficionado alerted their followers about this week. "NEW ITEM🚨 Green & Red Hatch Chile Flakes!" the Instagrammer captioned a post on Tuesday, December 14 that also contained three images of the 1.9oz bottle that runs for $3.99. "Well, this is a nice holiday surprise," they add. The update has amassed more than 1,400 likes since going live, as well as several comments from followers who are eager to purchase a bottle of their own.
Serve your food Christmas style with Trader Joe's Green & Red Hatch Chile Flakes
According to the Trader Joe's website, the Hatch Chiles used to make their new Green & Red Hatch Chile Flakes are straight from the Hatch Valley in New Mexico and offer a "unique and savory taste" that works nicely in tacos, enchiladas, and burgers. In comparison to red pepper flakes, one Redditor who appeared to have already sampled the spice mix said "they are equally hot, but the hatch has a deeper flavor and lasts on the palate a bit longer." Meanwhile, those who haven't been able to nab the spice blend yet have expressed excitement to head to the store and pick up a bottle. "Just another one I need to go buy ASAP!! 🔥🙌," one person commented on @traderjoesafficionado's Instagram post about the product. "This looks great! 😍," said another fan.
A few other Instagrammers chimed in to clear up any confusion regarding why TJ's decided to drop the colorful spice mix during the holiday season. As user @joymulhollan shared, hatch chile season is in the fall, which is likely why a dried version is appearing on the grocery store's shelves right now. User @avotoastonthecoast commented with more insight, explaining that food served with both red and green chiles is referred to as "Christmas style" in New Mexico. "This is actually perfect for this time of year," they said.