Here's What Makes McAlister's Club Sandwich Unique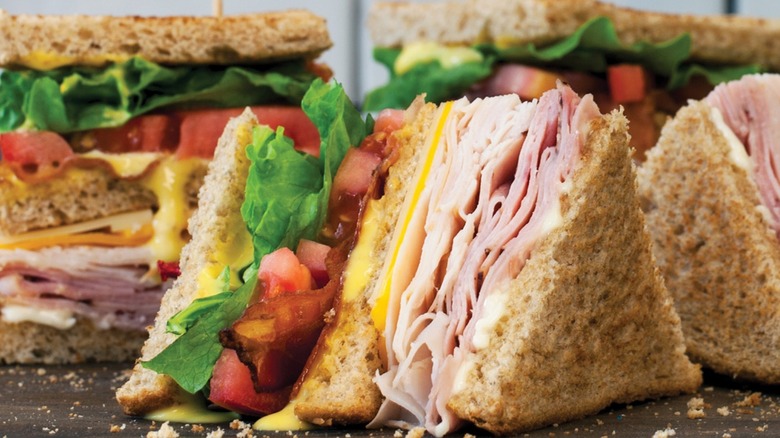 McAlister's Deli
Depending upon where you live, sandwich shops and delis may be a dime a dozen. But, with approximately 511 locations in 29 states (per ScrapeHero), the chain McAlister's Deli has managed to corner the market on satisfying sandwiches — with their club sandwich, in particular, being quite famous, says Delish. 
The popular type of sandwich — with meat and cheese and veggies piled high between slices of bread — has been around since around 1894, says The Kitchn, noting its origin began in New York. And Culinary Lore further offers up the explanation that the double decker sandwich was originally served in "railroad club cars" in 1895, hence the name. Regardless of who invented it or how the name came about, if you want a fast lunch that will surprise you with how good it is, the McAlister's club sandwich is a pretty solid way to go.
While some club sandwiches have a pretty meh assembly of just some turkey, a little bit of mayo, tomato, bacon, and lettuce, all divided up between a few slices of dry bread — the McAlister's club sandwich is in a league of its own for one big reason.
What sets it apart from other club sandwiches are all the layers
What really separates a McAlister club sandwich is the sheer number of layers it has. According to Delish, McAlister's has 13 layers consisting of smoked turkey, black forest ham, applewood smoked bacon, sharp cheddar, Swiss cheese, lettuce, tomatoes, honey mustard, and mayo, all piled high on sliced wheat bread. And, according to the brand's official website, the legendary King Club is double the size with twice the amount of meat and cheese, and served on country white bread. There are also a bevy of options you can add on – like, avocado (generally suggested by The New York Times), that makes the sandwich feel like a bit of departure from the original.
So, despite likely having all of the ingredients in your fridge at home, making your own probably doesn't provide the same experience as going to McAlister's to get their version.
"Since the first McAlister's opened in 1989, the club [sandwiches] have always been a guest favorite. With generous portions and a wide variety of options ranging from ham to veggie, there is truly a club sandwich for everyone," said Robert Dimson, McAlister's vice president of global marketing, in an interview with Restaurant News.