Chance The Rapper Just Got His Own Ben & Jerry's Flavor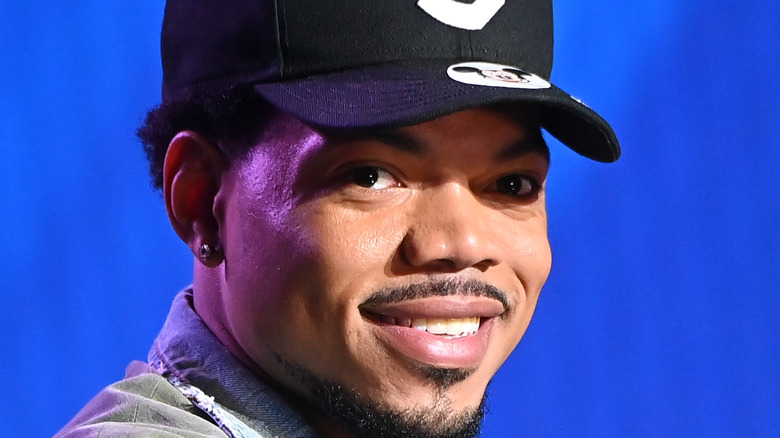 Paras Griffin/Getty Images
Ben & Jerry's is known for its fun ice cream flavors, and the company has collaborated with celebrities in the past to come up with flavors like Goodbye Yellow Brickle Road (Sir Elton John), Americone Dream (Stephen Colbert), and Phish Food (Phish), according to CNBC. The latest celebrity getting the ice cream treatment? Hip-hop artist Chance the Rapper.
The new ice cream flavor is Mint Chocolate Chance. It's a mint ice cream that's "loaded with fudge brownies" from Greyston Bakery, a kosher bakery in New York (via Greyston Bakery), and it will come in both dairy and non-dairy versions. The non-dairy version has a sunflower butter base, which vegan fans might remember from the Change the Whirled collaboration with Colin Kaepernick (via Food & Wine). According to the announcement on the Ben & Jerry's website, "Mint Chocolate Chance is an ice cream mixtape of Chance's favorite flavors," and while the flavor sounds delicious, there's more to the collaboration than just ice cream.
A portion of the proceeds will go to charity
As Ben & Jerry's noted in the announcement, Chance is "one of the most politically active, community-centered artists today — he donated millions of dollars of his own money to SocialWorks, a nonprofit he started in Chicago." That's why a portion of Chance's profits from the sales of the new flavor will go back to SocialWorks.
SocialWorks was started by Chance in 2016 with a couple of his friends. The Chicago-based organization funds a summer program for elementary and middle schoolers, a mental health and wellness service, an arts and literature fund, assistance for unhoused people in the winter, and hosts a monthly performance space for young creatives. In an Instagram post, Chance announced that "Brownies & Mint have teamed up to support Chicago ... Coming 2022," so if you're passionate about social justice and ice cream, then this is the flavor you should be looking for in the new year.