Costco Fans Are Loving This Cranberry Jalapeno Dip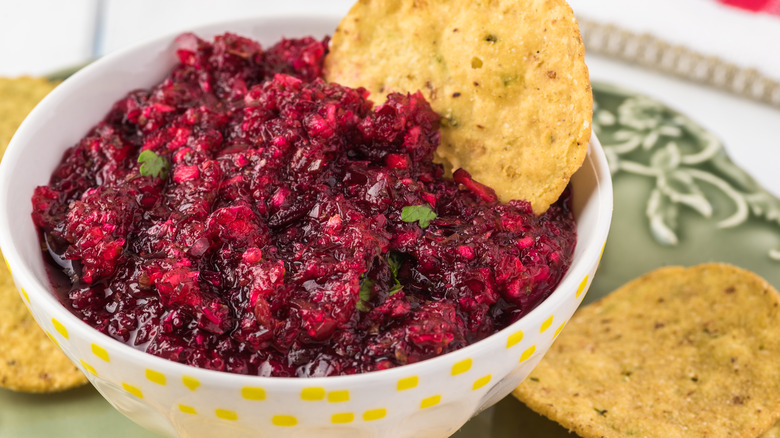 Natalia Wimberley/Shutterstock
Part of the fun of cooking, as well as eating, is experimenting with different flavor combinations to create a dish that is fun, tasty, and satisfying. There are some unconventional flavor pairings, like chocolate and chili, that perhaps don't seem like they should go well together — and yet, somehow they combine to create a totally delicious new flavor experience. 
One might also add cranberry and jalapeño peppers to that list of flavor combinations that might seem strange on the surface. However, fans of the La Terra Fina Cranberry and Jalapeño dip would be the first to say that these 2 very different ingredients combine to make the perfect spread. The sweet, slightly tart, cranberries complement the jalapeño peppers' kick of spice in a cream cheese and sour cream base, creating a flavorful dip that can be added to everything from crackers, chips, and veggies. It can also be used in more hearty recipes like sandwiches, wraps, flatbreads, and even pasta, according to La Terra Fina. Best of all, this rich and creamy dip is now available for a steal at Costco.
This sweet and spicy dip received rave reviews online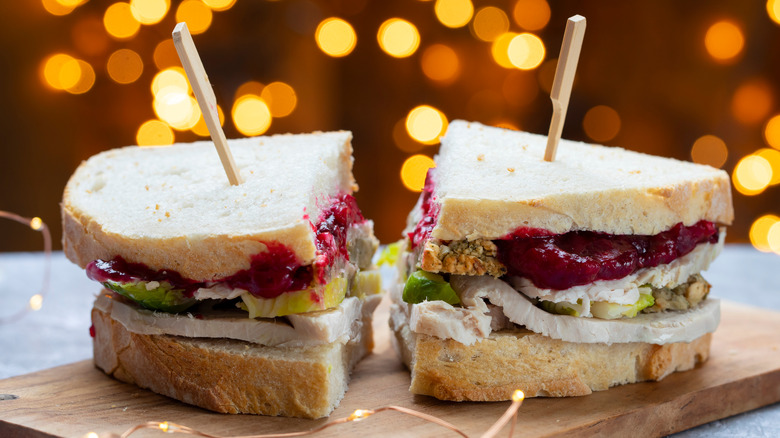 Magdanatka/Shutterstock
One Costco fan shared the news of the dip's arrival with their fellow Costo shoppers on social media. "Cranberry jalapeño dip is so good! This is great with snacks but it makes a delicious spread too!" @costcobuys captioned a picture of the item on Instagram. Many of their followers were equally excited to see this dip was now available at the wholesale grocery store. "This is amazing!! I hope they keep this around after the holidays!!" raved @curl_ann_hova. "This stuff is soooo so good!!" @targettakesmypaycheck agreed. 
Other followers responded with their own favorite foods to pair with the cranberry jalapeño dip. "I just put it on a slider roll with turkey!!" @danasalayi_ suggested. "Love this with crackers, bread or a sandwich," posted @beckyscott04, while another user said it was "great on bagels." Now, Costco shoppers can purchase a 31-ounce container of this popular spread for just $7.89. If you are looking for a crowd-pleasing dip for your next celebration, or are simply looking for a spread to give your next sandwich an extra special kick, then you might want to give this sweet and spicy Cranberry and Jalapeño dip a try.