Here's What You Need To Know About The Harris Teeter Ice Cream Recall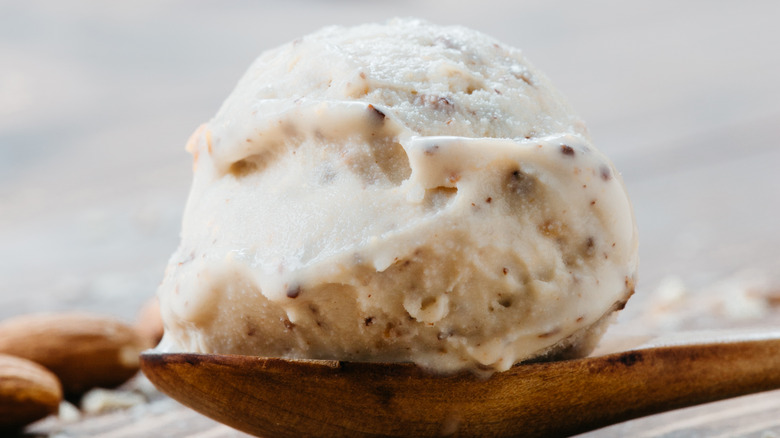 Stefanovic Mina/Shutterstock
An ice cream brand from North Carolina State University, Howling Cow is currently dealing with a controversy after it has been revealed that one of its products is now a part of a recall, as reported by the Miami Herald. The ice cream tubs were reportedly sold at Harris Teeter outlets in North Carolina and South Carolina, and the recall has been attributed to a "packaging error."
Howling Cow, per Southern Living, has a unique selling point thanks to the fact that is made by students and staff members at the university from scratch: Around 165 cows are milked a couple of times every day to create the ice cream and other items including milk, eggnog, chocolate milk, and heavy cream (via Our State). For more than 20 years, visitors at the North Carolina state fair were treated to the ice cream annually, but things underwent a major transformation in 2005 when the creamery got permission to offer its products to the public, leading to the inception of the Howling Cow brand. 
A description on the brand's site states, "Howling Cow is made right here on campus at the Department of Food, Bioprocessing and Nutrition Science's Feldmeier Dairy Processing Lab in Schaub Hall. Our traditional recipes start with fresh milk and cream from our Raleigh farm, with top-quality ingredients added to create our many delicious flavors."
The ice cream mix-up is concerning for those with allergies
Per the Miami Herald, things started to spiral out of control when it was revealed by customers that some of the brand's Butter Almond containers had servings of its Cookie Dough flavor instead: Around 8,040 pints were estimated to have been affected by the packaging hiccup. The products have a sell-by date of September 12, 2022 and have been recalled by the Maryland & Virginia Milk Producers Cooperative Association. The major concern with these products is that the Cookie Dough flavor contains allergens such as soy and wheat which are absent in the actual Butter Almond flavor.
According to the FDA, this notice shouldn't be ignored and "people who have an allergy or severe sensitivity to soy or wheat run the risk of serious or life-threatening allergic reactions if they consume the Howling Cow Butter Almond Pints." The product's UPC code is 0 74336 65079 6. No consumers have complained about being affected by the products so far. 
If you have a pint of the ice cream at home, it's advisable to get rid of the product or return it to the store for a refund. In case of any doubts, customers can call 1-800-552-1976 from Monday to Friday, 9:00 a.m. to 4:30 p.m. EST.