Ree Drummond Uses This Store-Bought Dough For Ranch Garlic Rolls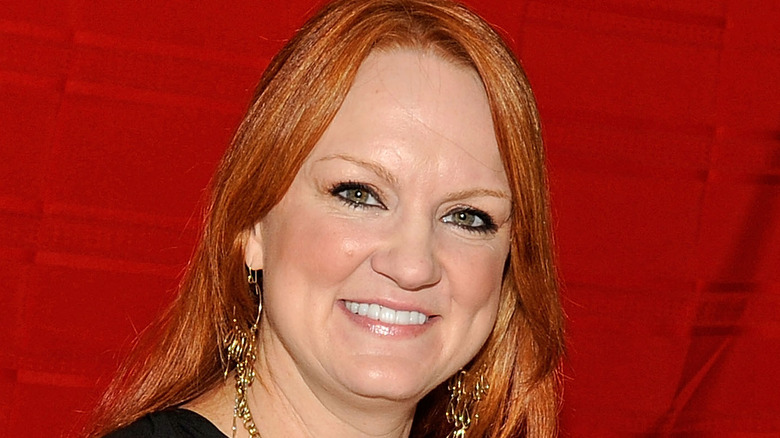 Bobby Bank/Getty Images
Watch any cooking tutorial and you'll know that making homemade pizza dough is easier said than done. The process of mixing, kneading, and proofing pizza dough challenges your patience and judgement, and may make you fear that you're doing everything completely wrong. This is precisely why for many home cooks, store-bought pizza dough is a great shortcut ingredient to buy and keep on hand that doesn't compromise on quality or provide extra cooking stress. It's a fast track solution to classic pizza pies, calzones, dinner rolls, and breadsticks. 
What's even better about pre-made pizza dough is its versatility. It can serve as the canvas for a plethora of unique baked goods, and best of all, they can all come together in a short amount of time with relatively little effort. Think monkey bread, pretzels, and even scallion pancakes. As it turns out, "Pioneer Woman" Ree Drummond's recipe for ranch garlic rolls — which is available on Food Network — also relies on this time-saving hack. 
How to make Ree Drumond's ranch garlic rolls
To make The Pioneer Woman's pillowy, buttery, intensely garlicky, utterly mouthwatering, and super easy ranch garlic rolls, you need six simple ingredients: salted butter, minced garlic, chopped parsley, flour (for dusting), pizza dough, and a packet of dry ranch seasoning (via Food Network). That's it!
Start off by preheating your oven to 400 degrees Fahrenheit. On low heat, melt the salted butter, then add in minced garlic and chopped parsley to release their aromatics. After that, roll out the pizza dough on a well-floured surface into a rectangle. In her YouTube video walking you through the recipe, Drummond opts for store-bought pizza dough, but says "you can use whatever dough you have at your disposal." Pour most of the butter mixture on the dough, leaving a small border around the edges, and brush evenly across. 
Next comes the fun part: sprinkling on the ranch seasoning, which Drummond likens to "the cinnamon sugar in the cinnamon roll scenario." Tightly roll the prepared dough into a log, cut into 12 one-inch pieces, and arrange them into a large skillet. Pour on the remaining herb butter, then cover the rolls and let rise for 10 to 15 minutes in a warm spot of your kitchen before baking them for about 15 minutes, or until golden brown. In the recipe, Drummond says to serve the rolls immediately and we'll happily do as we're told.