How To Best Use Your Holiday Leftovers, According To A Chef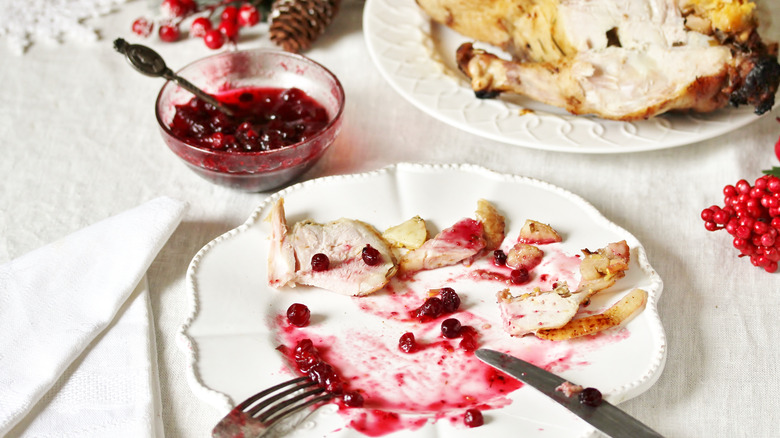 Lyudmila Mikhailovskaya/Shutterstock
Ah, the holidays: a time for hopefully getting some days off work, celebrating with loved ones, indulging in lots of delicious festive food, and then, of course, dealing with all those leftovers. If you've ever hosted a holiday meal, you've probably found yourself staring at a half-stripped turkey carcass or ham bone in your fridge the next day, wondering what to do with the excess meat.
Here at Mashed, we're huge fans of recipes that result in leftovers, whether they're served again as the meal's original iteration or are creatively repurposed. We know we'll want to make the most of the holiday season's mains and side dishes, so we asked Erin Wade, farmer and chef-owner of a farm-to-table family of restaurants called Vinaigrette, how to best use up leftovers like Christmas ham, cooked sweet potatoes, extra dinner rolls, and more. Here are all the unique and tasty techniques she recommends.
Turn holiday leftovers into yam smoothies, French dip salad, and potato fritters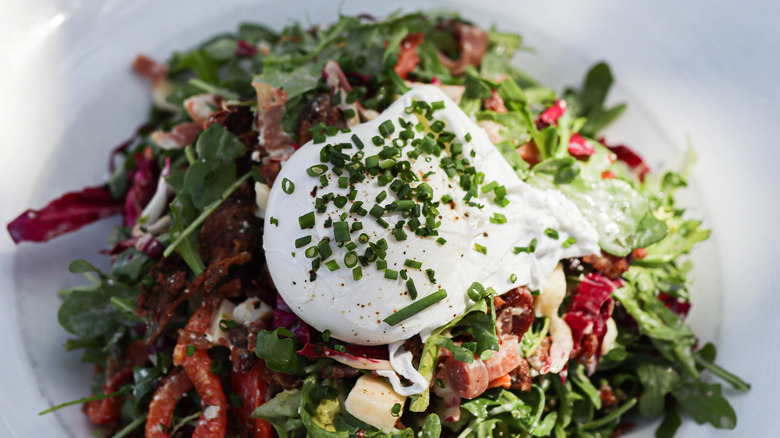 Resplendent Hospitality
Many of us have been stuck post-Christmas with a half-eaten ham, which Wade loves to chop up and fold into a crisp salad. "Cut the ham into small, thin pieces so each little piece becomes part of a perfect bite with lots of fresh greens," she told us. Plus, she said, you can always store ham to use later on in a soup or stew: "Cut it into the portion you will need for soup and wrap and freeze each piece." What about leftover cooked yams and sweet potatoes? Smoothie time, Wade suggested. "Scrape off savory spices and congealed butter and blend with frozen fruit, coconut water, a splash of orange juice, carrots, cardamom, fresh ginger, and turmeric."
With leftover bread or dinner rolls, Wade makes homemade croutons and breadcrumbs. If you have extra slices of rich, meaty prime rib, she recommends a French dip sandwich-inspired salad featuring "a creamy horseradish vinaigrette, arugula, sautéed onions or thin sliced red onions, provolone or Swiss, and some leftover bread croutons," plus the chopped beef. Finally, for a fun and unexpected take on leftover mashed potatoes, Wade goes for potato fritters bound with eggs and flavored with salt, garlic, Parmesan, and some raw kale for color. With these ideas, holiday leftovers won't last very long in your fridge this year.