Fans Of Wendy's Chili Won't Want To Miss This Deal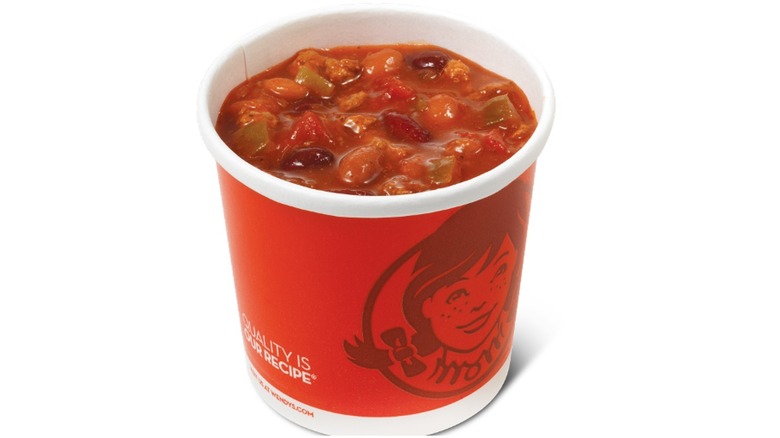 Wendy's
Diners can easily find something to appreciate about Wendy's chili. Back in 2011, one reviewer found this side item to adequately dish out hearty, comforting tastes, despite needing some extra diced onions or cheddar cheese to liven it up a bit, per Brand Eating. This tomato-centric side has slowly won fans over, but not everyone has jumped aboard. A Reddit thread exposed that the chili's meat comes from old Wendy's burger meat that dried out, causing some mixed responses.
Whether you love or despise this side, you can now plan to get a small chili for free in the coming days. According to Chew Boom, Wendy's app users can score a free small chili with any digital purchase from December 20 to December 26. The side continues to feature onions, celery, green peppers, beans, and ground beef as its staple ingredients, meaning that anyone who already loves the chili can't miss scoring a free one and detractors won't find anything new to love.
A chili cup with every order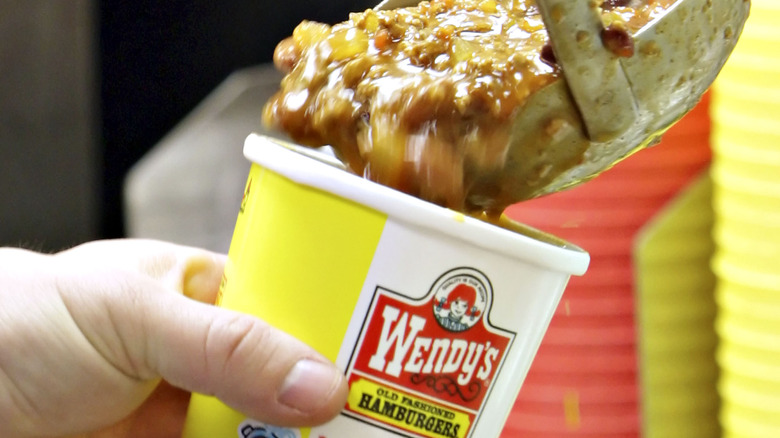 Bloomberg/Getty Images
If you need something to warm you up but don't feel like indulging in a cup of Wendy's chili, you can take heart knowing that anyone who orders through the mobile app can also get Baconator fries, per Chew Boom. This deal at participating locations just requires you to apply the offer on a mobile order, or scan your mobile app when you pick your food up from the restaurant.
If you love Wendy's chili or just need a break from the cold, the time has come to take advantage of this promotion. If you never fell in love with the product or feel weirded out by the idea that they use old burger meat, opt to grab some Baconator fries instead. Either way, make sure to act fast, as this deal comes to an end on December 26 and you don't want to get left in the dust on this promotion.