One Chicago Just Released Its Own Holiday Cookbook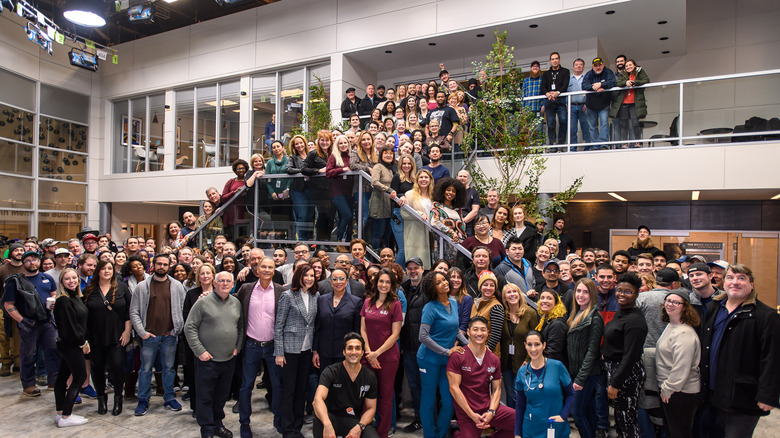 Timothy Hiatt/Getty Images
The storylines of "One Chicago" often crossover on Wednesday nights on NBC, so it comes as no surprise that the shows are doing so again — but this time, in a new collaborative holiday offering. According to Reel Chicago, "One Chicago" is a combination of the network's Windy City-based shows including "Chicago Med," "Chicago Fire," and "Chicago P.D.," which are always packed with emotion as they tell the tales of the characters' professional and personal lives. NBC calls the package a seamless merger that creates "one big, happy Chicago home." 
At first glance though, the programs that respectively center around a trauma center and the nurses and doctors that hold it together; the firefighters and paramedics of Firehouse 51; and the men and women of an elite unit in the Chicago Police Department don't seem to have any relation to anything to do with food, but the brand's most recent announcement changes that as "One Chicago" offers a new holiday cookbook pulling together the family dishes of the casts and crews.
Chicago's finest deliver some fierce food recipes
Recently, People Magazine announced the launch of a cookbook from the casts and crews of Dick Wolf's trifesta of shows: "Chicago P.D.," "Chicago Med," and "Chicago Fire." The cookbook, titled the "One Chicago Holiday Cookbook," will live digitally on Wolf Entertainment's website and "shares some tasty treats and family secrets" from the cast members you welcome into your home each week.
Included in the cookbook are more than 20 recipes, along with memories that make the recipes so special. Included are ideas for appetizers, entrées, sides, and desserts. And while People highlighted one recipe in particular, Aunt Phil's pizzelle cookies from Nick Gehlfuss, the free-to-download cookbook also includes some other unique recipes like Tracy Spiridakos' Greek speciality Kokkinisto and Dominic Rains' Sabzi Polo Mahi, a Persian dish his family passed down. If your holiday theme is trying new things, from the look of the these tempting dishes, no one who uses this cookbook will be disappointed.
"For the past ten years, you have invited us into your living rooms as 'One Night, One Family, One Chicago.' With the holidays approaching, it is our turn to invite you into our kitchens to share some tasty treats and family secrets," Dick Wolf writes in the introduction, per People. "In these pages, you'll find some of our favorite recipes and photos, along with the memories that make them special to us. We hope you'll enjoy them, and that they might find a festive place at your table in this season."