Here's How Wendy's Is Celebrating National Bacon Day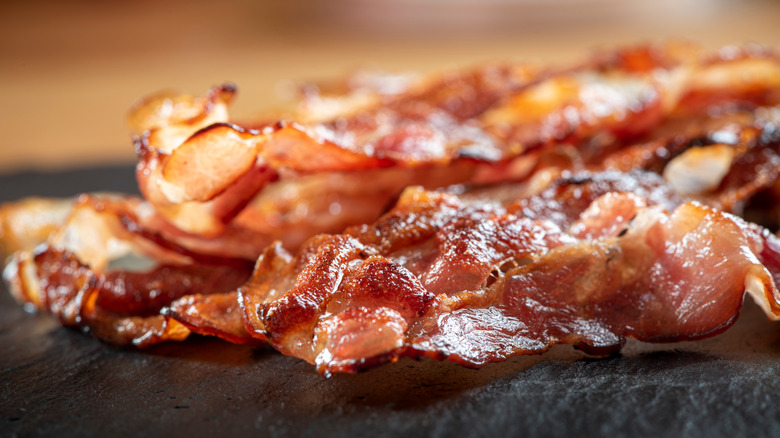 Svetlana Monyakova/Shutterstock
Food opinions differ from person to person, but if there's one universal truth in the culinary world, it's that bacon is just plain delicious. Okay, maybe that's not a universal truth, but we're willing to bet that the amount of people that agree with that statement is far more than the amount that would oppose. Perfect on its own, alongside a plate of eggs, or atop of juicy cheeseburger, bacon is something you simply can't go wrong with when you're cooking just about anything. The salty pork product can even be utilized in the realm of desserts, lending its mouthwatering date to things like donuts, cookies, and milkshakes.
Yes, bacon is truly one of life's greatest pleasures, and this month, it's going to get the celebration that it deserves. According to National Day Calendars, carnivores across the country will honor the succulent meat on Thursday, December 30, for National Bacon Day, which has been in observance since 1997. TODAY reports that there will be a number of restaurants observing the holiday this year, though the popular fast-food chain Wendy's has already gotten the party started. The eatery is currently offering customers several opportunities to celebrate bacon by offering free Baconator Fries from now until the beginning of 2022.
Add Baconator Fries to your Wendy's order for free
SF Gate reports that the average American gobbles down around 18 pounds of bacon every year, and if you're still trying to hit that mark or maybe even pass it, Wendy's can help. According to TODAY, the chain is offering customers the opportunity to tack an order of drool-worthy Baconator Fries onto any purchase absolutely free of charge because nothing is better than free bacon. For those that have never had this item before, Wendy's website says the dish comes with a serving of the chain's newly re-vamped French fries, which are smothered in a creamy cheese sauce and topped with shredded cheese and, of course, Applewood smoked bacon – a combination that Brand Eating has said you can "never really go wrong with."
Wendy's National Bacon Day deal became available for use once a week on December 20 and runs through Sunday, January 2. It can be accessed in the free Wendy's mobile app, which is downloadable to both Apple and Android devices. Once it's installed, just click on the "offer" tab and apply the coupon to your mobile order, or scan it if you're ordering in-store. As National Day Calendars suggests, make sure to put on your favorite Kevin Bacon movie once you pick up your free order of Baconator Fries from Wendy's, so you can celebrate the pork product in the way that the founders of National Bacon Day intended.