This South Dakota McDonald's Has A Massive Hamburger Statue In Its Parking Lot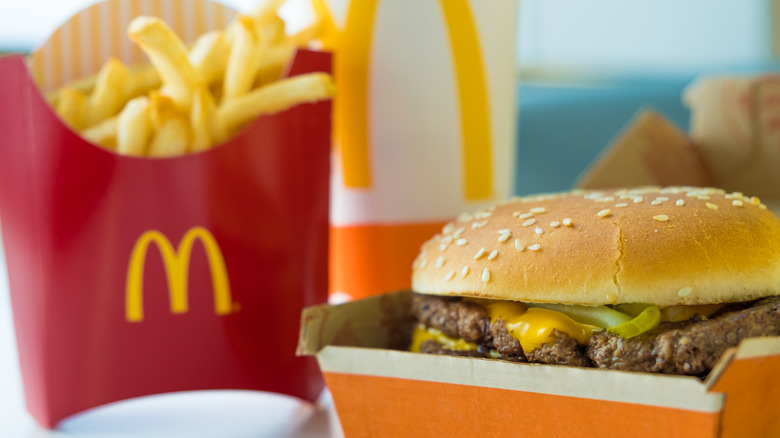 Moab Republic/Shutterstock
At some point, we've all thought about erecting a statue in honor of our favorite food. Well, maybe not all of us, but when you're passionate about a certain dish, it's hard to hide it. For the citizens of Rapid City, South Dakota, that favorite food may well be the Quarter Pounder with cheese from McDonald's. Why do we say so? Believe it or not, it's because there is a giant bronze statue depicting a Quarter Pounder with cheese in the parking lot of a McDonald's location at 3919 Cheyenne Boulevard in Rapid City, per the Rapid City Journal.
It's hard to believe that a chain restaurant that got its start as a hot dog business now seems to have a near-monopoly on the fast food burger. Nevertheless, the McDonald's Quarter Pounder with cheese has become a mainstay at the restaurant. That's evidently why the company sought to commemorate the best-selling menu item in a city already known for its many statues and monuments (via KOTA TV).
This Quarter Pounder statue commemorates the burger's 50th anniversary
McDonald's didn't only place a Quarter Pounder statue in Rapid City because its residents love statues. According to Atlas Obscura, the corporation chose the location because Rapid City consumes the most Quarter Pounders per capita. The Rapid City Journal reports that the sculpture is 8 feet wide and weighs 23,000 pounds, or about 92,000 Quarter Pounder patties. It was erected in February of 2020 to commemorate the 50th anniversary of the release of the Quarter Pounder.
For further size reference, News Center 1 notes that the sesame seeds on the bun of the sculpture are 20 times larger than real-life sesame seeds. And like any good bronze structure, the giant burger of course has a Latin engraving. Its plaque reads, "Hot and deliciously juicy" in Latin, according to Roadside America. If you live in the central United States and want to take a road trip to a piece of McDonald's memorabilia, this statue is much closer to you than the world's largest Big Mac at the Big Mac Museum in Pennsylvania.