Costco Shoppers Are Psyched For These Cream Cheese Biscuits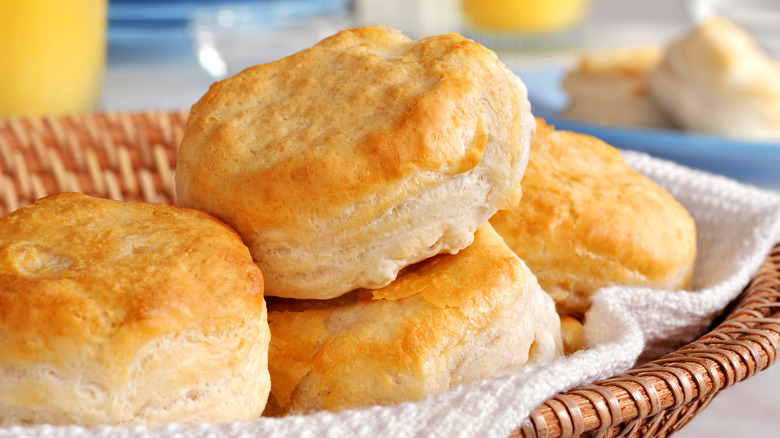 Marie C Fields/Shutterstock
It seems that this time of year, gourmet holiday meals, rich desserts, and festive drinks get all the attention. However, appetizers and side dishes can really make or break your meal or holiday party, and they deserve some recognition too! After all, what Christmas brunch or dinner would be complete without a flaky biscuit on the side, slathered in butter? If you haven't found the perfect biscuit to add to your festive menu, never fear — Costco has you covered.
Fans of the bulk grocery chain recently spotted Robinhood Meetinghouse cream cheese biscuits on Costco shelves, which are sure to be a hit with everyone at your holiday dinner table. These biscuits are getting rave reviews on Instagram, and are made with just seven simple ingredients: wheat flour, whole milk, butter, cream cheese, baking powder, sugar, and salt, according to Robinhood Meetinghouse. The biscuits would serve as a great appetizer or side dish, or could make the perfect Christmas morning breakfast, either paired with some eggs and bacon or eaten solo to avoid spoiling your appetite for the big holiday meal. 
These cream cheese biscuits received rave reviews
One biscuit fan was so excited to see the product at Costco that they couldn't help but post the news on social media. Instagram fan account @costcohotfinds shared with their followers: "Cream Cheese BiScUiTs!!! I'm a biscuit lover to begin with so I bought these as soon as I spotted them and will review later in the week! 24 in a box!" Many Costco shoppers were equally excited to see the store would be selling these tasty biscuits. "These are my all time favorite biscuits," one Instagram user raved. "Omg these are the best!! So versatile. I made biscuits and gravy over the weekend. I hope these stick around for a while. They are fabulous," another agreed.
According to the photos, each package contains 24 biscuits and costs just $9.99, so you'll be able to purchase enough to serve everyone on your holiday guest list without breaking the bank. If you've been looking for a side to balance out your big holiday meal, are shopping for the perfect Christmas morning breakfast, or are just a big fan of biscuits, you'll want to give Robinhood Meetinghouse's cream cheese biscuits from Costco a try. If they're half as good as the reviews say, you won't be disapointed.