McDonald's Japan Is Rationing Fries To Deal With Food Shortages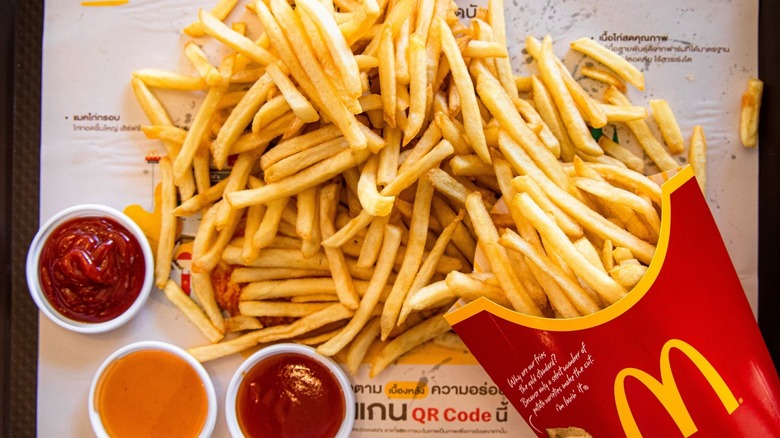 JAMOND/Shutterstock
Even as we approach 2022 and the third year of the pandemic, supply-chain-induced shortages of just about everything continue. Among the food shortages rounding out the current calendar year are french fries — specifically, those from McDonald's restaurants in Japan. To combat the troubles posed by limited fry supplies, the locations are currently having to ration the spud-filled side dish. As Bloomberg reports, only small sized servings of McDonald's french fries will be offered through December 30 of this year. However, customers will receive a 50 yen discount, which amounts to 44 cents. Hash browns, though also made with potatoes, will be served as normal.
Meanwhile, Stateside customers can still get heaps of McDonald's fries for cheap. Thrillist reports that for the rest of the year, you can get a large order of McDonald's fries for $1 each week if you order through the McDonald's mobile app. Moreover, if you make a $1 purchase on Fridays, you get a free medium serving of fries. And yet, McDonald's fans in Japan must gnash their teeth on short-changed french fry proportions. 
Why can't McDonald's Japan access enough french fries?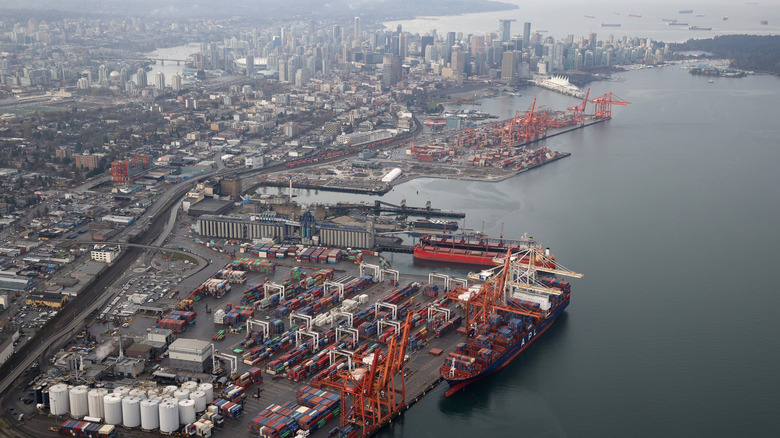 Justin Sullivan/Getty Images
Though many people might nod their heads in acceptance if McDonald's were to simply chalk up the lack of french fries at its Japanese locations to "supply chain issues," there's actually a more specific reason why the outlets are struggling to get the chain's famous side dish. According to Bloomberg, flooding around a key port in Vancouver, Canada, has prevented the restaurant from receiving its supplies.
For those who missed it, widespread flooding hit the Pacific Northwest and Vancouver, in particular, in November, damaging Canadian roads, railways, and bridges that are essential for trade. "There's $550 million a day of goods that normally traverse the gateway," Peter Xotta, vice president of operations and supply chain for the Vancouver Fraser Port Authority, explained to Fortune. With goods not reaching the harbor quickly, a queue of ships has accumulated around Vancouver, causing a backlog in shipping. While McDonald's Japan may end up finding an easier method to obtain its french fries, the incident does highlight how fragile these supply lines are, even without the coronavirus throwing a wrench from every possible angle.