This Viral TikTok Broke A Whataburger Record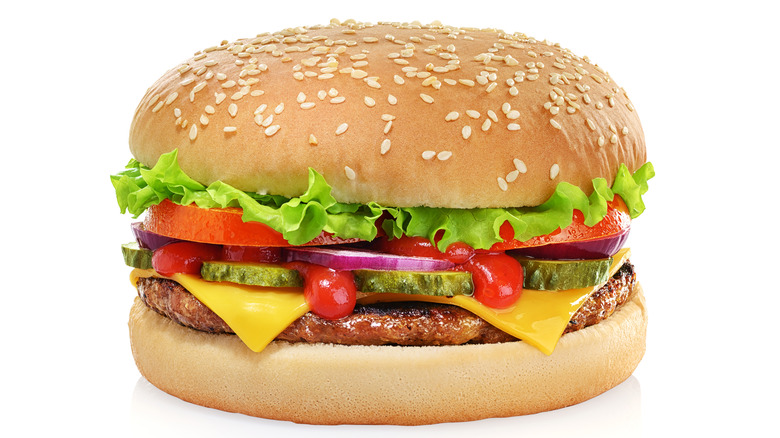 Andrei Kuzmik/Shutterstock
Known for its massive burgers, Whataburger has been a Texan staple since 1950. The restaurant made history with a burger that needed to be eaten with two hands, and is still going strong with over 800 establishments scattered across the South (via Whataburger).
While the single-patty Whataburger is comparable to the burgers at most other fast food places, the Double Meat Whataburger is a game changer. According to Business Insider, the burger being thinner and wider than the standard burger helps contain all the toppings and makes it easier to handle.
To be clear, Whataburger's menu does not list any eating challenges. However, with the ability to customize your burger, it's quite possible to create your own challenge. In 2017, one man customized a burger with 10 patties and 10 pieces of cheese, all of which he consumed in 24 minutes (via ABC 13). If this sounds impressive, just wait. 
Do it for the TikTok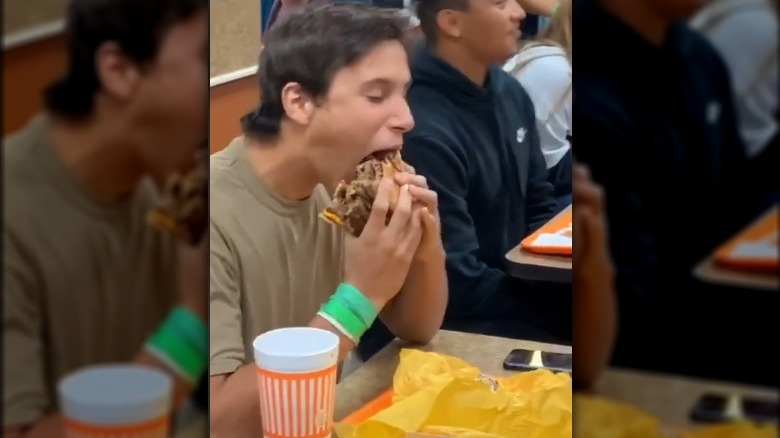 Blake Reynolds/TikTok
One Texas teen decided to try the unofficial 10-patty challenge himself. According to USA Today, Ethan Mueller's burger consisted of 10 patties and five pieces of cheese, costing a whopping total of $21. No condiments, though, so Mueller certainly wasn't doing himself any favors.
A TikTok posted by Blake Reynolds shows Whataburger staff and diners cheering the 16-year-old Mueller on as he works his way through the burger. He finished his custom monstrosity within 20 minutes, setting a new unofficial record. When he was later interviewed by Whataburger, Mueller confessed he did the challenge simply for "cred."
Since then, the video has racked up three million views and more than 744,000 likes. Mueller has been featured on Whataburger's website as well as various news outlets. Most of us will never come close to beating the record set by Ethan "Burger Boy" Mueller, but we'll settle for enjoying Whataburger's yummy food.