Instagram Is Loving Alex Guarnaschelli's Nostalgic Throwback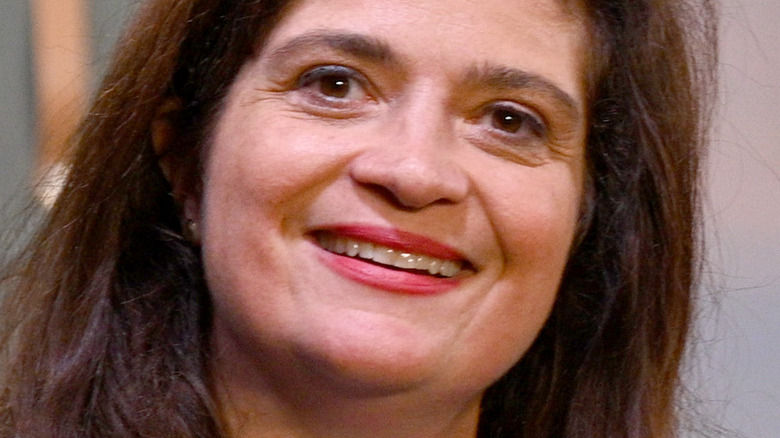 Dave Kotinsky/Getty Images
Alex Guarnaschelli has emerged as one of the top cooking personalities in America. According to the chef's website, Guarnaschelli now counts herself as an Iron Chef, has appeared on a variety of cooking shows, including "Chopped," as a judge, and has led Michelin-ranked restaurants across the world. While the personality has risen to stardom, she hasn't forgotten her roots and decided to show them off in a recent social media post.
Over on Instagram, Guarnaschelli shared a picture from over a decade ago. The image, depicting the chef in a white coat flipping vegetables, included a caption reading, "Flipping two pans of asparagus at my very first @beardfoundation dinner prob abt 15 years ago." The James Beard Foundation is a charitable organization that supports those working in the restaurant industry "by amplifying new voices, celebrating those leading the way, and supporting those on the path to do so." In addition to cooking for one of the nonprofit's dinners, Guarnaschelli has won a James Beard Foundation Award for her work on "Chopped" and served as a presenter at its annual awards ceremony. 
Fans love Guarnaschelli's old school look
Fans loved Alex Guarnaschelli's throwback photo and couldn't wait to share their excitement. "When did they start allowing middle schoolers to cook in the Beard Foundation kitchen?" wrote one admirer, and another remarked, "You look 16 years old!!!" 
Others chimed in to tell the chef how much they loved the photo's attitude, with comments like "So cool" and "Rock star" honing in on the sentiment. One user directly responded, "Longer than that I think babe. I did the brunch there with you 18 years ago..." while another said, "Great capture and the eyes of the young man in the background is great." Another follower also noticed the background chef, replying with, "The guy in the background was astounded." One sentiment summed up the thread best: "No wonder you are an Iron Chef today! Wow!"
Even back in the day, this cooking personality could hold her own against other chefs and had what it took to work alongside a vast breadth of talent. Fifteen years later, Guarnaschelli counts herself as one of the best chefs out there, and her hard-earned experience definitely helped her get to where she is now.