Padma Lakshmi Shared Her Super Relatable Holiday Travel Concerns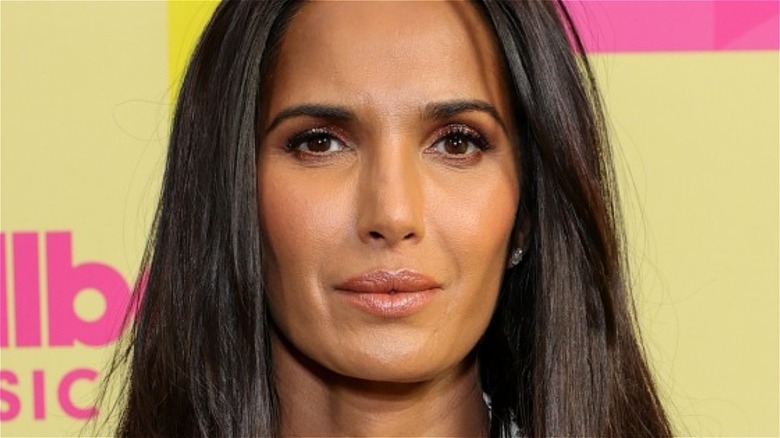 Rich Fury/Getty
Travel can be an absolute nightmare, especially around the holidays. According to Catch Carri, travel mishaps around the holidays can hit you anywhere. You might have issues with luggage that is lost, causing unnecessary spending and days without your important possessions. Or you might have issues with public transportation via train, bus, subway, taxi, or more. But those are nothing compared to concerns over travel in the new normal. Between last year and now, with COVID-19 on the rise, guidelines and mandates around travel from the CDC make things even more difficult and nerve-wracking.
The New York Times even quoted a former editor as saying "Smooth sailing is a thing of the past" when it comes to traveling in the midst of pandemic trauma. Due to the nature of celebs being just like us, Padma Lakshmi, the host and leading lady of "Top Chef," has the same concerns as the average traveler in these uncertain times, and she voiced them in a lengthy recent Instagram post.
The fear is contageous ...
Padma Lakshmi took to Instagram the other day in a call to arms, as it were, to check in with friends, family, and fans about their concerns as of late. Lakshmi asked if anyone is "a bit freaked out like I am?" She noted that she was worried bringing her parents to stay with her and her family in LA for the holidays due to the uncertainty of how wary "we need to be of others again and how small ... we need to decrease the circle of activities we have finally come to enjoy again after so many months."
She noted that despite being "vaxxed and boosted ... my family and I are all healthy so far and doing what we can to stay safe, but I'm still so worried." And she is certainly not alone in those feelings, with fans sharing commiserating sentiments like "Confused, frustrated, and a little depressed about what this means for our collective future" and "Yup. Totally freaked out." Here's hoping these concerns aren't necessary for much longer and that 2022 holds less worrisome times!