Reddit Hates This Starbucks Barista's New Kiwi Frappuccino Recipe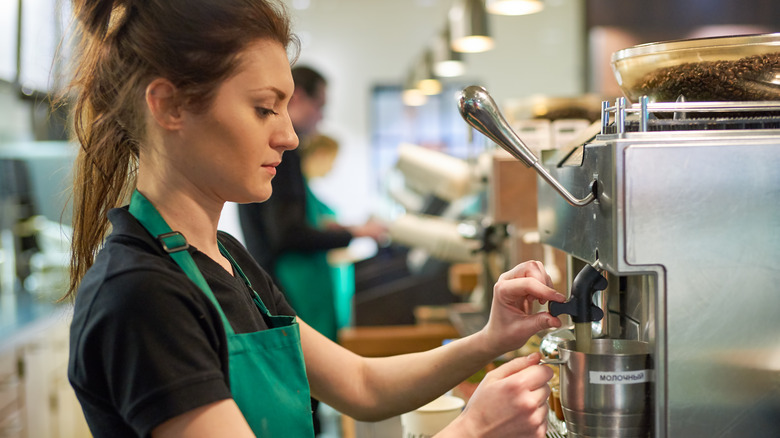 Sorbis/Shutterstock
If you're craving coffee, you can always count on a Starbucks somewhere close by. What started out as a single store in Pike's Place Market in Seattle, Washington (via Insider) has transformed into a coffee giant with more than 33,000 locations around the world (via Statista). Nowadays, Starbucks has become so popular that many people visit the chain daily for morning cups of joe, afternoon pick-me-ups, and late-night coffee runs in cities and suburbs alike. One thing that keeps loyal customers coming back for more is the popular specialty drinks that Starbucks has to offer, from pumpkin spice lattes in the fall to peppermint mochas in the winter. And let's not forget about their extensive year-round secret menu, an endless list of various, highly Instagrammable concoctions.
From Harry Potter Pumpkin Juice to a Team Edward/Team Jacob Frappuccino (via Taste of Home), when it comes to the Starbucks secret menu, the world is truly your sippable oyster. And the best part about this menu is that it's constantly updated with new caffeine-based creations. Yet, while some drinks are pure genius in a cup, others are not so much. One Starbucks barista took to Reddit to share their latest innovation: a Kiwi Frappuccino — and the followers on the thread sure didn't think this one was worthy.
Some hate the flavor, others don't like the complex recipe
A kiwi-based Frappuccino, shared on Reddit by barista @eddiespaghettio, consists of a kiwi base, coconut or whole milk, freeze-dried kiwi, and one pump cream syrup, topped with whipped cream and freeze-dried kiwi bits. While some people on the thread were excited to whip up their own version of this unique creation, for the most part, this drink recipe was met with harsh critique. "Kiwi + espresso = the worst thing I ever tasted," one person wrote.
Much of the negative feedback on the post came from other fellow Starbucks baristas, who know a thing or two about what makes a good drink. One barista harshly commented on the post, "This is vile."
While some complaints targeted the flavor of the Kiwi Frappuccino, other baristas seemed more concerned about the complex nature of the drink. According to Spoon University, all Starbucks employees go through an extensive two-week training where they have to memorize the entire drink menu. This includes knowing the unique drink code, espresso shot number, and flavor pump for every menu item. The last thing that they need is extra work and more over-the-top Frappuccinos to memorize. As one barista wrote, "Wait 'til you have to make this for three TikTokers during a rush" while another added, "I would refrain from posting creative barista drinks on any form of social media. That's how we end up with 50 god awful, highly customized frapps during rush."