Guy Fieri's Food Network Audition Proves He's Always Been A Star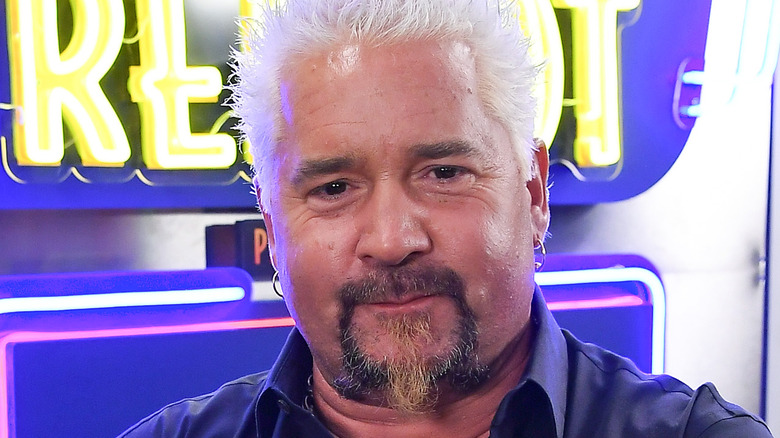 Steve Jennings/Getty Images
"Diners, Drive-ins and Dives" is a food reality television series following celebrity chef Guy Fieri traveling across America, interviewing restaurant owners, and chowing down in different dining establishments. This show, along with "Guy's Big Bite," his debut series that ran an impressive 10 years, helped make the TV personality a household name, as people began to adore his spiky, bleached hair and easy-going attitude (via Biography).
Fieri appears to be a natural on the screen, whether he's whipping up one of his own famous recipes or making it look easy as he strikes up conversations with other chefs, restaurant owners, and customers. If you ask him, however, he'd disagree, as he once stated, "I'm not a TV person. I was never groomed for this — I think what people get is that I am the same guy; I am just being Guy," (via VARIETY).
Perhaps that's why viewers are drawn to the culinary icon — he's simply being himself.
Fieri's audition video was meant to be a joke
Although practice makes perfect, in the case of Guy Fieri, his audition video proves that sometimes no experience is necessary. Fieri displayed his effortless ability to capture the attention of an audience, cracking jokes and even using a little sketchy language. "Even from only a two-minute video, you can just tell that Guy Fieri was born to host shows," shares one Buzzfeed contributor, who continues, "He already had the charisma and the personality for it, even before being 'trained' during his season of Food Network Star."
You may be shocked to learn that Fieri wasn't even interested in being on a reality TV show, but two of his friends insisted that he make a tape and hounded him until he sent it in. "I was trying to make it so that nobody would actually take it," the "Tournament Of Champions" host admitted (per FOODBEAST). During an interview on "The Moment" podcast, Fieri even shares that he ended up sending his audition video in late because he was scared, admitting, "And so I delay it enough so that the expiration of entering it happens."
Although he adopted the attitude that the audition would be a joke, we guess the joke was on Guy because he certainly didn't expect the casting director would love his audition, let alone that it would make him a star.