Why You Shouldn't Soak Mussels, According To Alex Guarnaschelli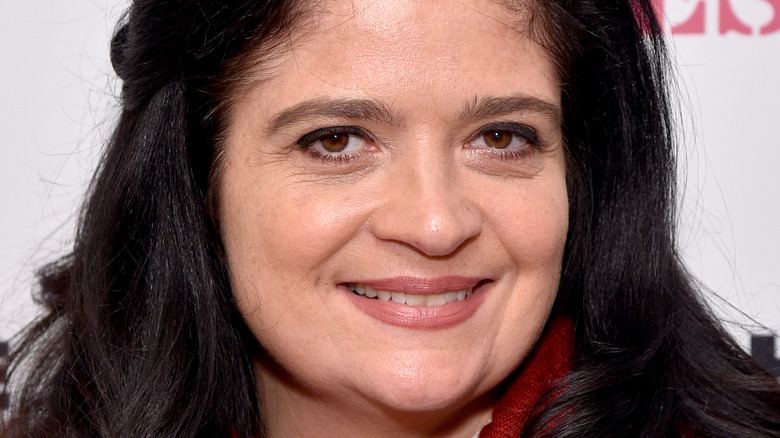 Bryan Bedder/Getty Images
Few things are as fun to eat as a steaming bowl of fresh mussels. An upscale, yet casual finger food that can be devoured right out of the shell, these scrumptious bivalve mollusks are a real crowd-pleaser. They can be enjoyed by stuffing and baking, grilling on skewers, steaming, or adding them to a soup, pasta, or stew. Perhaps one of the most simple and popular preparations is to sauté them with a bit of wine, shallots, garlic, crème Fraiche, and fresh herbs (moules à la marinière) and serve with a big crusty French baguette and a properly chilled bottle of wine (via Taste Atlas).
Diverse as they are delicious, mussels are found in both saltwater and freshwater and they are quite nutritious, according to Web MD. High in iron, calcium, and vitamin B12, as little as three ounces of mussels provide up to 40% of the daily recommended amount of protein for the average person. Depending on where you go, ordering mussels in restaurants can be rather costly, but preparing them at home is a cheaper and easier option. Chef Alex Guarnaschelli from Food Network offers some tips for home cooks when it comes to handling mussels.
The 'do's and don'ts' of mussel preparation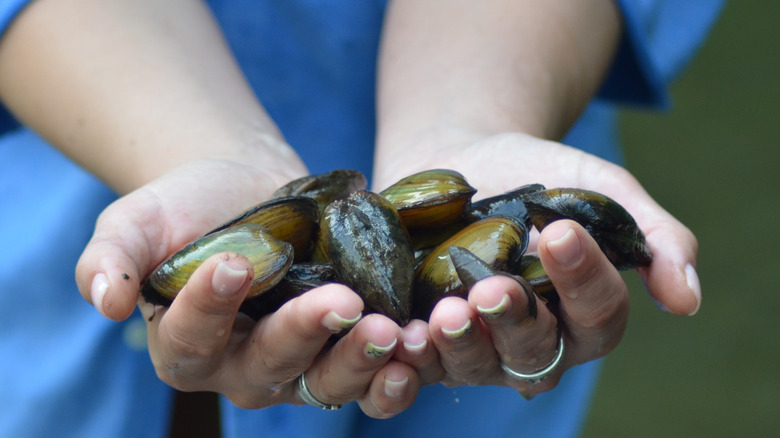 Bear_186/Shutterstock
The first thing to do when it comes to cooking mussels at home is to make sure to buy fresh mussels that are alive. If you need help, ask your fishmonger or another expert at the seafood counter of your local grocery store. Avoid mussels that are dry and chipped or have a fishy smell. Epicurious recommends looking for mussels that are fully closed and that have a shiny and wet-looking shell.
Most widely recognized for her 2012 title on "The Next Iron Chef: Redemption" and her hosting gigs on "Supermarket Stakeout" and "Chopped," Alex Guarnaschelli is no stranger to cleaning and cooking mussels (via Food Network). She warns against soaking mussels in water in a misguided attempt to clean and purge them of impurities. Guarnaschelli shared on Twitter that this can often have the opposite effect as freshwater can kill live mussels. She also suggests that the debearding of mussels should be done as close as possible to the time of cooking. All of which is sound advice when it comes to prepping mussels for cooking at home.