Jamie Oliver Has A Tasty Solution For Your Holiday Turkey Leftovers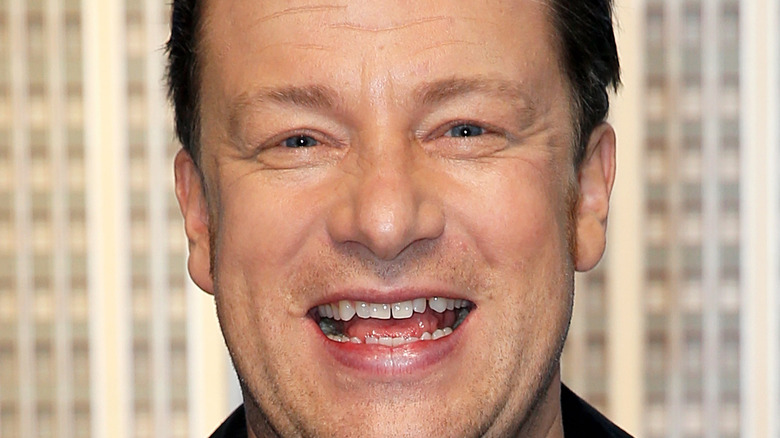 Dominik Bindl/Getty Images
Tick ... Tick ... Tick ... Hear that, guys? It's the leftover turkey clock, and it is ticking. You don't have much time left if you want to magically transform your holiday turkey leftovers into brand-new, crowd-pleasing dishes, like chef Jamie Oliver does at this time of year. Luckily, Oliver's Instagram page is chock-full of smart suggestions for what to do with all those Tupperwares of turkey you have lurking in the back of the fridge. And one post, which combines what are probably two of a college student's favorite things — leftovers and burritos — has a recipe that couldn't be easier to make, customize, and devour.
"Still got some leftover turkey?" Oliver asks in his Instagram post caption. "My festive burritos will bring a welcome refresh on those in-between days. Get everyone to build their own using their favourite megamix of fillings." The chef collaborated with Tesco grocery stores to bring you the collection of "#ChristmasLeftovers" that he's so excited about, but it's the collab between turkey, chipotle sauce, rice and beans that gives us a second helping of holiday cheer. 
Oliver's Instagram post is a two-parter: the second slide is a photo of his creation, festive burritos that are bursting at the seams with colorful corn salsa and steaming chipotle turkey. But the first slide is a video in which Oliver hosts a mini-clinic on making the burritos themselves (with a little help from sponsor Tesco's ingredients, of course). And truly — they look pretty simple.
Festive turkey burritos are simple, tasty, and leftover-friendly
If your post-holiday goals include zero waste and maximum burritos, Jamie Oliver is your guy. His Instagram post about turning leftover turkey into festive burritos is straightforward, too: After cooking some rice, and mixing a few bits and bobs to make a salsa (sweet corn, chopped tomatoes, black beans and cilantro are what Oliver picks for his pico), you take as much leftover Christmas turkey as you can handle, shred it, and cover it with a chipotle chili paste. Oliver throws it all together, then tops the concoction with feta cheese and wraps it up in a tortilla like Christmas present, before baking the burrito for about 25 minutes.
"Loving this," one user commented on the video. "It's super helpful." Another admitted, "No leftovers.. we ate it *all*" with a couple of laughing emojis. The festive burritos aren't the only advice Oliver offers on holiday leftovers; his Instagram page has been dominated by Christmas over the past couple of weeks. With recipes for the Big Dance itself — Christmas dinner — and plenty of posts about what to do with all the food you'll inevitably be left with afterwards, Oliver's Instagram is one-stop shopping for holiday food ideas. And with a cute kid picture and cocktail recipe or two thrown in for good measure, his page might be the only thing you need to end 2021 on a delicious note.